2012 Weeks to Visit Walt Disney World, Ranked in Order, Continued
By Dave Shute
2012 WEEKS TO VISIT WALT DISNEY WORLD, CONTINUED
For the first page of 2012 weeks to visit Walt Disney World, ranked in order, see this.
2012 WORSE WEEKS
The remaining 2012 weeks are not recommended—but still presented in order:
Weeks 15-20 all have moderate crowd levels, with different prices and weather. They are in order of least to most crowded.
15: 5/19/12. Similar to week 12 but with higher crowds and more summer like weather. Crowds moderate-minus. Prices moderate to moderate-plus
16: 6/2/12. Like week 15 but with even more summer-like weather. Crowds moderate-minus. Prices higher than week 15.
17: 11/3/12. Like week 7 except more crowded because of "Jersey Week"—teacher meetings in New Jersey, leading to a massive temporary immigration of New Jersey families to Orlando. Crowds moderate to moderate-minus, prices low.
18: 12/15/12. Thanksgiving 2012 is as early as it can be, putting it 33 days before a mid-week (Tuesday) Christmas. As a result, the first part of the week beginning 12/15/2012 will be great. However, both crowds and prices, which begin low, will build towards its end. Note that some have suggested that December 21, 2012 will be the slowest day ever at Walt Disney World. I personally don't believe this
19: 5/26/12. Crowds this week moderate-plus from Memorial Day. Prices moderate-plus to high.
20: 6/9/12. Similar to week 16 but crowds higher—moderate plus–as more kids are out of school by this point (60% vs. week 16's 30%).
Weeks 21-28 have one thing in common: they occur during but the peak of the hurricane season. They include in weeks 21-23 some of the lowest crowd weeks of the year, and weeks 24-26 are also low-crowd weeks.
They are ranked in order of first crowd levels, and within the same crowd level prices.
You could easily view the first three as tied—lowest crowds and low prices. I rank them with later dates being better because they may be less brutally hot.
21: 9/22/12
22: 9/15/12
23: 9/8/12
Week 24 is slightly more crowded than weeks 21-23, because of the effects of Labor Day, but shares their lower prices
Week 25 has similar crowds to 24, but slightly higher prices
Week 26 is the last of the low-price weeks in the peak of the hurricane season, with slightly higher crowds than week 25 from the last effects of summer breaks:
Weeks 27 and 28 have slightly higher, moderate to moderate plus, crowds compared to the others in this hurricane season group. More crowded in week 27 because of summer breaks, and 28 because of Columbus Day. Prices are lower week 27, and moderate week 28.
WEEKS TO AVOID
There's two groups of weeks to avoid: high crowd weeks, and weeks when rides are often closed.
The first group, ranked 29-45, should be avoided because of crowds ranging from high to unbelievable. (Click the table below for the exact ranking of these weeks, and for more specifics on crowds and prices.)
This group includes all of later June, July and early August (massive crowds, higher prices). June and early August are better than July. Prices go down in Deluxes starting in mid-July, and in the other resorts in early August.
It also includes the busy March Spring Break weeks beginning 3/10/2012, and the holiday weeks—President's Day week, the weeks before and after Easter, Thanksgiving week, and the weeks around Christmas.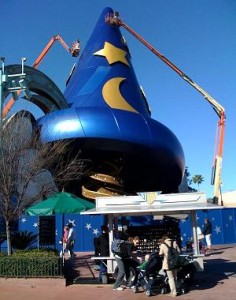 The next group includes the January and early February weeks when rides are often closed for repair or refurbishment—weeks 46-53.
Many of these weeks have the lowest crowds and prices of the year.
(But not all–click the table below for details).
However, this is the peak time for ride closures at Walt Disney World, especially the January weeks.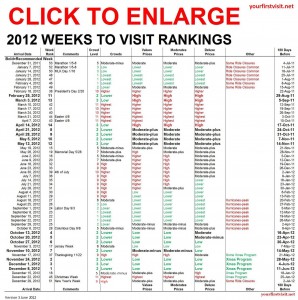 If this may be your only family visit, why go when you know some of the best of Disney World will be closed?
If you must go during this period, avoid the Martin Luther King (1/14/12 arrival date) Day holidays.
The Marathon Weekend (affecting arrival dates of 12/31/2011 and 1/7/2012) complicates and slightly crowds the parks as well.
MORE ON WHEN TO GO TO WALT DISNEY WORLD
RELATED STUFF