Easter 2011 at Walt Disney World
By Dave Shute
EASTER 2011 AT DISNEY WORLD
2011 Easter crowds (and prices!!) at Walt Disney World will hit a very high peak in the week beginning April 17 2011, and be almost as high for most of the week beginning April 23, 2010.
Try your best to avoid Walt Disney World during these two weeks.
For specific Easter events at Walt Disney World–ranging from where to find the Easter Bunny at Disney World to Easter Sunday services at Disney's Contemporary Resort–see this page on TheMouseForLess.com.
For off property Easter services, see this for places of worship near Walt Disney World.
At Walt Disney World itself, typically Easter services are held in the Fantasia Ballroom at Disney's Contemporary Resort, Mr. and Mrs. Easter Bunny greet kids at the Magic Kingdom, and Epcot has Easter Egg hunts. 
In addition, many Walt Disney World resort hotels hold "candy scrambles" Easter morning.
Check with your resort when you check in for more details.
WALT DISNEY WORLD CROWDS DURING THE EASTER SEASON
Disney World Spring Break crowds are driven by several factors.
The most important is the timing of younger kids' Spring Breaks, which, while distributed from early March to early May, strongly peaks the weeks before and after Easter, even in 2011 with its very late Easter.
Crowds likely will diminish late in the week following Easter–on April 27th or 28th.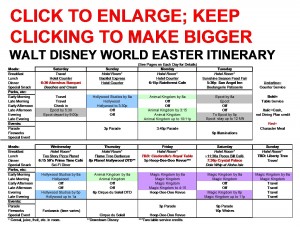 If you can only attend during the weeks before or after Easter, use the Easter itinerary.
(You can preview the Easter itinerary by clicking the image–but follow this link for the full details, including required changes, daily guides and a To-Do List.)
If you wish to see more on other spring break weeks besides those immediately around Easter, see this page.
MORE ON WHEN TO GO TO WALT DISNEY WORLD
RELATED STUFF