Spring Break 2011 at Walt Disney World
By Dave Shute
For Spring Break
2012

, click here.
OVERVIEW: DISNEY WORLD DURING THE 2011 SPRING BREAK SEASON
As I noted previously here, Disney World Spring Break 2011 is a little different because of how late Easter is–April 24, as late as it has happened since 1943.
Disney World Spring Break crowds are driven by three factors. 
The least important is college spring break dates, which will peak the first two full weeks of March 2011.
Next is the wish for Northerners to get out of the cold, which begins over President's Day weekend and continues through March
Most important is the timing of school kids's Spring Break dates.
I've recently analyzed 2011 public school spring breaks (March to May) for 135 school districts covering more than ten million kids. 
Based on that and other data, this page highlights the best and worst weeks to visit Walt Disney World during Spring Break 2011.
See also 2011 Weeks to Visit Walt Disney World, Ranked in Order.
SCHOOL SPRING BREAKS AND THEIR LIKELY EFFECTS ON 2011 WALT DISNEY WORLD CROWDS
I weighted the actual Spring Break dates and enrollment of these school districts based on proportionate visits from their geography to Walt Disney World (using as a proxy for this their percent of this site's visits, since Disney does not release that information). 
The many school districts that had both March and Easter breaks were included for both periods.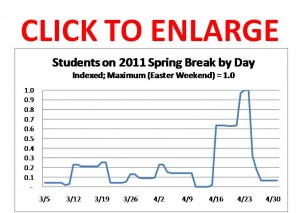 I then indexed the results so that the peak (Easter weekend) was set at 1.0, and made a chart out of them.
Some observations;
As usual, the peak period will be Easter Weekend and the week before it.
Because Easter is so late, many school districts that normally do Spring Break the week after Easter are doing something else in 2011. 
However, enough districts have a three or four day weekend including Easter Monday that I can't recommend the week beginning 4/23.  That said, those who arrive Wednesday April 27 or later that week should miss most of the Easter crowds.
March breaks are all over the place.  Many schools with March breaks also have an additional 3 or 4 day Easter weekend. The week of March 12th will be the March peak for crowding. 
Particularly good weeks will be those beginning March 5, April 2, and April 9.  Of these, the best will likely be the week of April 9, as hardly any kids are on break this week.
THE WEEKS OF SPRING BREAK 2011 AT WALT DISNEY WORLD
The following is based on this site's 2011 Weeks to Visit Walt Disney World, Ranked in Order.  Weeks in bold are recommended weeks.
Arrival: February 26, 2011 Week Rank: 10. Comments: Crowds: Lowest of year; Prices: Values/Moderates: Moderate plus; Deluxes: Moderate; Notes:
Arrival: March 5, 2011 Week Rank: 11. Comments: Crowds: Low to moderate; Prices: Values/Moderates: High; Deluxes: Moderate; Notes:
Arrival: March 12, 2011 Week Rank: 40. Comments: Crowds: High; Prices: Values/Moderates: Near Highest; Deluxes: High; Notes:
Arrival: March 19, 2011 Week Rank: 28. Comments: Crowds: Moderate plus; Prices: Values/Moderates: High; Deluxes: Near Highest; Notes:
Arrival: March 26, 2011 Week Rank: 27. Comments: Crowds: Moderate plus; Prices: Values/Moderates: Near Highest; Deluxes: High; Notes:
Arrival: April 2, 2011 Week Rank: 15. Comments: Crowds: Moderate; Prices: Values/Moderates: Near Highest; Deluxes: High; Notes:
Arrival: April 9, 2011 Week Rank: 12. Comments: Crowds: Lowest of year; Prices: Values/Moderates: Near Highest; Deluxes: High; Notes:
Arrival: April 16, 2011 Week Rank: 44. Comments: Easter 4/24 Crowds: Near highest; Prices: Values/Moderates: Highest of year; Deluxes: Near Highest; Notes:
Arrival: April 23, 2011 Week Rank: 43. Comments: Easter 4/24 Crowds: Near highest; Prices: Values/Moderates: Highest of year; Deluxes: Near Highest; Notes:
Arrival: April 30, 2011 Week Rank: 5. Comments: Crowds: Lowest of year; Prices: Values/Moderates: Moderate plus; Deluxes: Moderate; Notes:
MORE ON WHEN TO GO TO WALT DISNEY WORLD
RELATED STUFF