Review: Summer Nightastic at Walt Disney World
By Dave Shute
DISNEY WORLD'S SUMMER NIGHTASTIC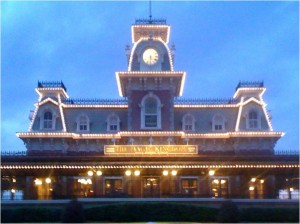 "Summer Nightastic" is Disney's name for five new or recycled things happening this summer (through mid-August) at Disney's Hollywood Studios, Epcot, and the Magic Kingdom:
The return of the old Magic Kingdom evening parade, the Main Street Electrical Parade, replacing Spectromagic
A new fireworks display at the Magic Kingdom, the Summer Nightastic Fireworks Show, replacing Wishes
Enhancements to the Tower of Terror at Disney's Hollywood Studios
The Sounds Like Summer Concert Series, a concert series at Epcot, and
The Rock 'n' Glow Dance Party at Disney's Hollywood Studios
Since the first three represent changes some of Walt Disney World's best loved attractions, I saw then last weekend, and comment on them below.
The upshot?  All three remain linchpins of a Walt Disney World trip, whether in their current form, or the ones they will go back to in August.
THE "RE-IMAGINED" TOWER OF TERROR
Those who have ridden Tower of Terror before will notice a new drop sequence, and a few other fun changes.
Without giving away the fun, the overall effect is to make a great ride even better.
THE SUMMER NIGHTASTIC FIREWORKS SHOW
A fireworks show based on elements from a defunct evening spectacle, the Pirates and Princesses party, has replaced Wishes.
Fans of Wishes should note that its best element has not been tinkered with.
Because of special features of the show, even more than is usually the case, the best place to see it is from the central hub directly in front of the Castle.  Seeing it from further back on Main Street is just not the same.
The new show is definitely a strong addition, and seeing the evening fireworks at the Magic Kingdom remains a key part of a Walt Disney World trip.
For me, though, I can't imagine a better story, musical track, or song selection for the Magic Kingdom's evening fireworks than Wishes, and I can't wait for it to be back.
Wishes is what my boys and I grew up with, all of us having been first introduced to it by my parents…and I cry every time I see it, from a combination of delight, nostalgia, and intimations of mortality.
THE MAIN STREET ELECTRICAL PARADE
Other Disney World veterans will probably have the same reaction to the return of the Main Street Electrical Parade after years of it being gone from Walt Disney World.
It replaces for the summer Spectromagic, and has returned from Disney's California Adventure, with a few new floats, and a general refurbishment.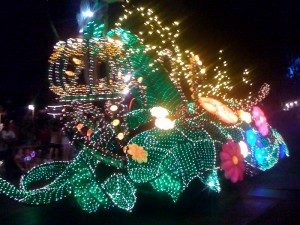 For those for whom it is new, the dated modulation of its introduction and orchestration will take a minute to get used to. 
After that it is great fun.
RELATED STUFF