Disney's Latest Fantasyland Expansion Update
By Dave Shute
DISNEY WORLD FANTASYLAND EXPANSION UPDATE
Walt Disney World announced at a press event changes to its previously publicized Fantasyland expansion plans.
As has been speculated for some time, the Fantasyland expansion will be less completely "princessy," and will include a previously unannounced new roller coaster ride, the Seven Dwarves Mine Train Ride.
Though the Mine Train is described as "moderately intense," that phrase covers a lot of ground, from the Matterhorn to Big Thunder Mountain, and it remains to be seen which end of this "moderate" spectrum Disney will follow.
My bet would be on the more extreme Matterhorn end of "moderate," to give Disney a little more competitive strength for the age groups flocking to Harry Potter.
Remaining from previously announced plans are the new E-ticket ride Under the Sea — Journey of the Little Mermaid, and a new Beauty and the Beast themed restaurant.
The new restaurant, "Be Our Guest," I'm guessing will use the latest version of the effects in the Animator's Palate restaurants in Disney's cruise ships, and will become the hottest Magic Kingdom dinner experience.
Also remaining are the plans to move and double Dumbo, with some NextGen in its queue, and to re-theme both Dumbo and some of the areas from the former Mickey's Toontown Fair as a circus.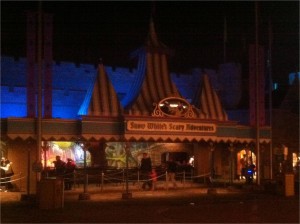 The "Pixie Hollow" plans are now gone, as are some of the more elaborate princess greeting areas.
Princess greeting instead will be smaller scale and in the current location of Snow White's Scary Adventures, which will be shut down.
Most of the above is likely to open in 2012, with the new mine ride likely to be open 2013.
WHAT DOES THE FANTASYLAND EXPANSION MEAN FOR FIRST TIME VISITORS?
Should first time family visitors who are unsure if they will ever return delay their trip until these rides open?
Those who have kids a lot younger than this site's recommended age—e.g. the youngest is 5, not 8—may wish to delay their trips until 2013 or so. Not only will this make the experience more age appropriate, but also you'll be able to see the newest stuff!
Families with kids right in the sweet spot of ages—8 to 11–need not delay, as there's still a world of wonderful stuff at the Magic Kingdom, best appreciated by kids this age!
Families with kids in between will have to make an individual judgment. How important is Ariel to you kids? Roller coasters? The more important either, the more you'd tend to wait.
RELATED STUFF