Where to Eat at Disney World
By Dave Shute
Chapter 7, Where to Eat, is one of four core chapters in The easy guide to Your Walt Disney World Visit—the 2017 edition of the best-reviewed Disney World guide book series, ever. (The other core chapters are When to Go, Where to Stay, and How to Spend Your Time.)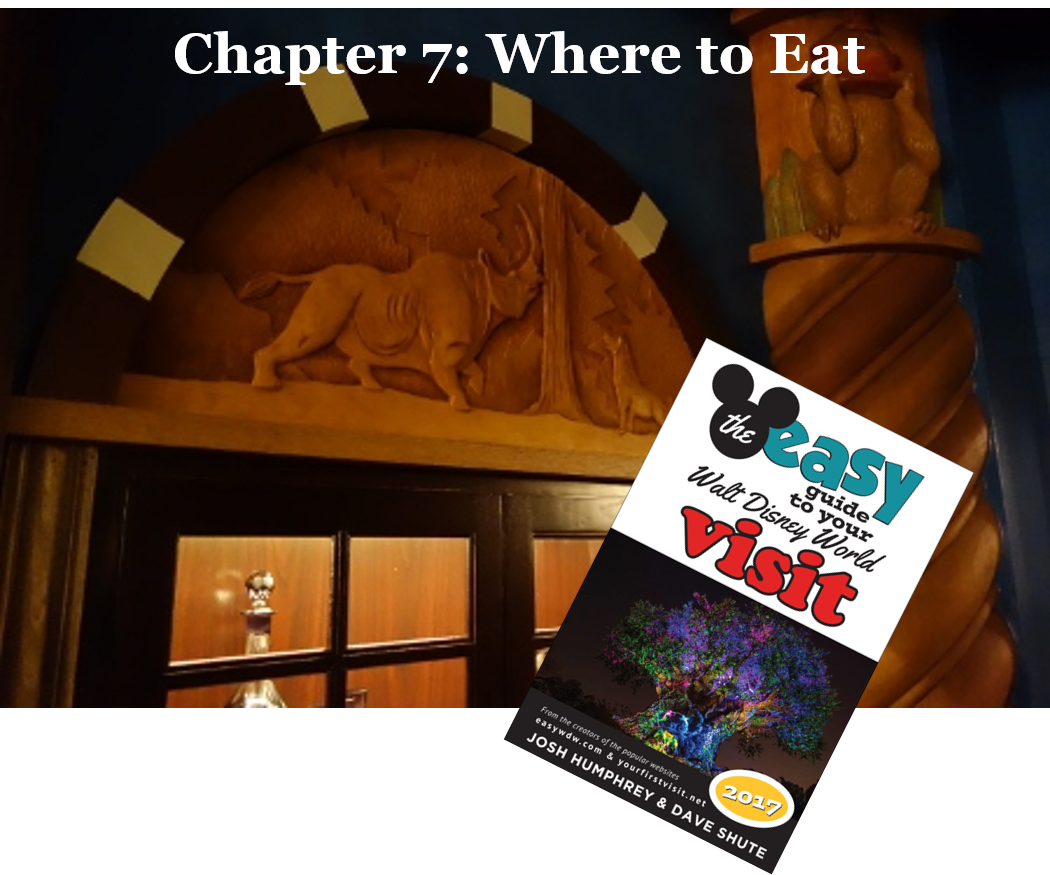 We—and especially my co-author Josh of easyWDW.com—put a lot into this chapter, as of the more than a hundred options you will be able to dine at only a few restaurants at Disney World, so understanding your alternatives and picking just the right ones for your party are one of the ways you optimize your Disney World experience.
There's been a dozen major restaurant openings or major-redos in the past year or so, and of these a least half a dozen are profoundly significant. So the 2017 easy Guide, updated as of early August and with more free updates yet to come, is a handy way to sort through all of what's new to pick just the best for you.
Chapter 7 of The easy Guide begins with the basics of Disney World dining, with a particular focus on suggestions that might make sense for various types of visitors.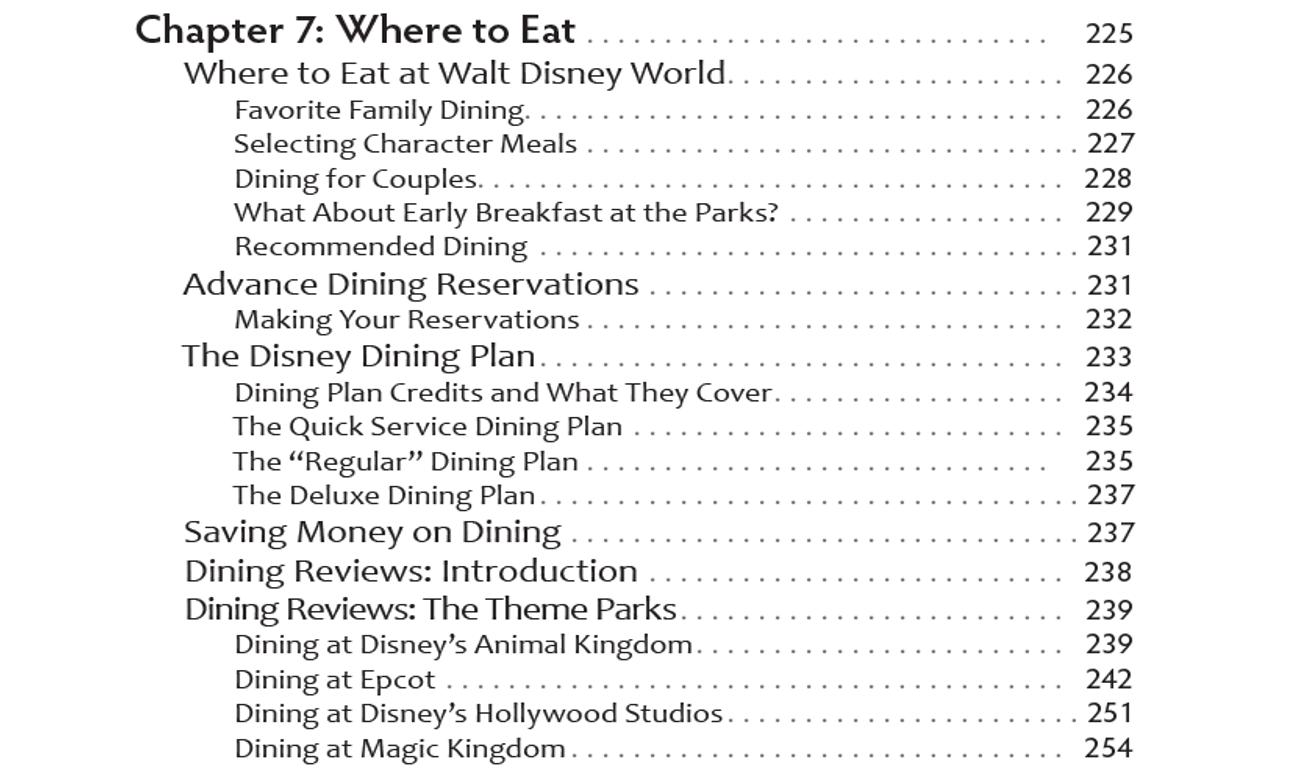 We then cover a couple of peculiar features of dining at Disney World, Advanced Dining Reservations and the Disney Dining Plan, and after some thoughts on saving money, turn to the meat of this chapter—overviews of dining in the parks, and individual reviews of all the table–service options in the Disney parks, Disney Springs, and the Disney-owned hotels. (See the excerpt above from the table of contents; If you don't know yet what "table service" means, you really need this book.)
For example, here's part of the overview of dining at Magic Kingdom, with some thoughts on the new table service restaurant here, Jungle Navigation Co., Ltd. Skipper Canteen:

And here's the full review of this restaurant later in the chapter: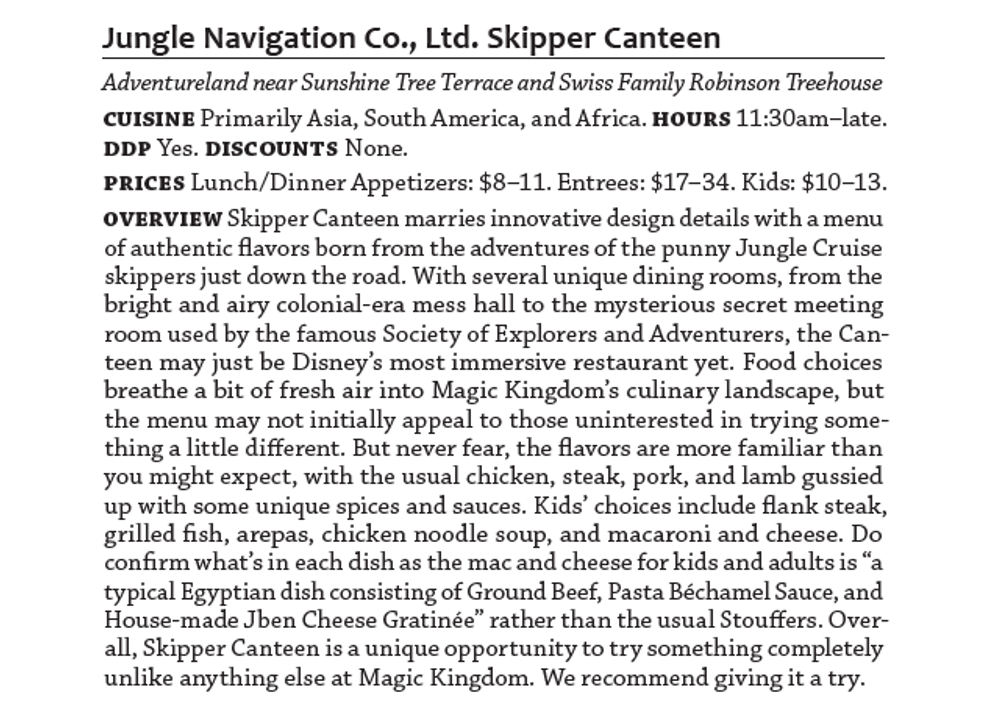 This is an example of the kind of care and detail you'll find in our reviews. And note that last lines of the first bit "Disney is expected to make changes that make the menu more appealing to the unadventurous." In fact, Disney just made some changes here, and they simplified the menu much less than we thought they would. (See Josh's note here.)
Because our is the only major Disney World guide book that offers free updates, buyers of The easy Guide 2017 will get for free the updated versions of the 2017 easy Guide that we'll be publishing later this year and in 2017, including changes to this text! See the image for how to get yours:

Disney Springs—the old Downtown Disney—has seen a particular renaissance in fine and fun dining. Josh's reviews of all the new and re-imagined offerings here are, for returning visitors looking to try something new, well worth the entire price of the book.
Here's some brief excerpts of a few Disney Springs reviews from Chapter 7:
Planet Hollywood: "Planet Hollywood is set to later in fall 2016 with a planetarium theme and new menu, though little else is known about what exactly will be offered."
Paddlefish: "Paddlefish replaces Fulton's Crab House in the same location in a riverboat on the water and it will be operated by the same company that elevated it into becoming one of the 15 most profitable restaurants in the country."
Morimoto Asia: "Officially helmed by Iron Chef Masaharu Morimoto Asia opened in October 2015 to great fanfare. The restaurant is sleek and stylish, with impressive chandeliers said to resemble jellyfish."
Jock Lindsey's Hangar Bar: "Jock Lindsey is Indiana Jones' longtime pilot and his bar is ornately themed to his hangar which was recently converted into a bar for the enjoyment of his fellow members of the Society of Explorers and Adventurers."
Homecoming—Florida Kitchen and Shine Bar: "Chef Art Smith is perhaps best known as the personal chef of Oprah Winfrey, but those that appreciate his history with Disney will remind you that he completed a Disney internship as well. Homecoming Florida showcases the state's fresh flavors with appetizers like house-made pimento cheese hushpuppies served with red jalapeño jelly and deviled eggs."
Frontera Cocina: "Celebrity Chef Rick Bayless, who operates around ten Mexican restaurants mostly in the Chicago area, brings what is easily Disney's best Mexican restaurant to Disney Springs"
The Edison: "Themed to a 1920s-period electric company, The Edison celebrates an era of invention, excitement, and imagination. Much more than just a restaurant, The Edison is expected to bring live singing, dancing, palm readers, contortionists, and a lot more."
The BOATHOUSE: "Offering picturesque waterfront dining, multiple bars inside and out, and a number of diversely themed dining areas, The BOATHOUSE brings upscale cuisine wrapped up in a casual atmosphere to Disney Springs."
STK Orlando: "STK is a significant departure away from anything else at Walt Disney World, blending an ultra-modern steakhouse aesthetic with an atmosphere that resembles more of a Las Vegas club than a traditional steakhouse."
For the rest of these reviews, and all kinds of great advice on Disney World dining, buy the book!
Ok, that's it for now. More to come on other changes in the 2017 easy Guide later! Meanwhile, buy the book, OK?



Follow yourfirstvisit.net on Facebook or Google+ or Twitter or Pinterest!!
RELATED STUFF