Where to Stay at Disney World from The easy Guide
By Dave Shute
There's no single topic that Disney World guide books, websites and forums get wrong more often than the Disney World resorts.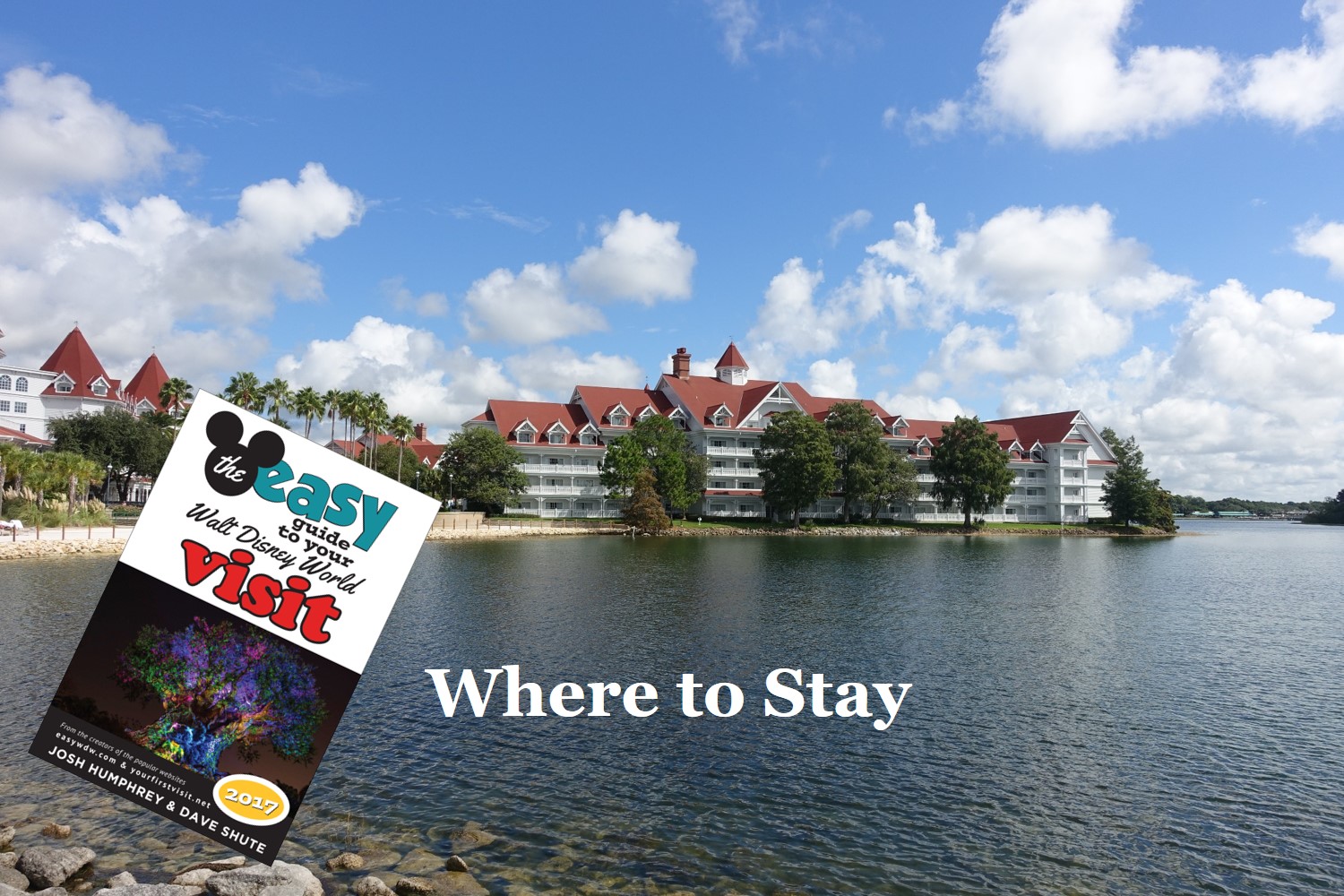 There's several obvious reasons for this—most important among them being that frequent and recent stays among all the room options is critical, but hard to pull off because of how much time and money it takes, so most don't bother.
Without frequent and recent stays, however, it's hard to offer accurate, up-to-date descriptions of the resorts and their rooms themselves, or to do sensible current comparisons among them. As a result, writers can mislead people about which rooms they will fit or be comfortable in, or which will best fit their plans, causing them to miss their best options.
Where you stay matters because you'll spend more than a third of your time in your resort, and, if you are like most people, you will pick just one of the more than 40 different options (including distinct room variants) on offer. Moreover, with reasonable options ranging from around $100 to $1,000 a night, what you spend on your room is the single biggest budget variable in your trip.
No one knows more about the Disney World resorts than my co-author Josh of easyWDW and I do. For example, I've stayed in 135 different Disney World-owned rooms, villas, suites, cabins, and campsites, (and also a dozen key non-Disney rooms at the Swan, Dolphin, Four Seasons, and Shade of Green) plus sat around here and there in the resorts and done next to nothing.
Chapter 5 of The easy Guide to Your Walt Disney World Visit, Where to Stay, brings together our experience and perspectives into a short, easy to read, but complete and accurate set of material.
We start with why we think you should stay at a Disney-owned resort—especially if you are a first-timer, or have not visited Disney World since FastPass+ began.
Next we go over the basic differences among the three main Disney resort price classes, highlighting pros and cons of the options within them as we go.
Then we do detailed reviews of each Disney-owned resort, so you can make the best fit to your budget, wishes, and preferences.
Finally we offer thoughts on the principal alternatives, including detailed reviews of the main non-Disney options.
Here's a bit of an example, a few lines from our review of Port Orleans Riverside: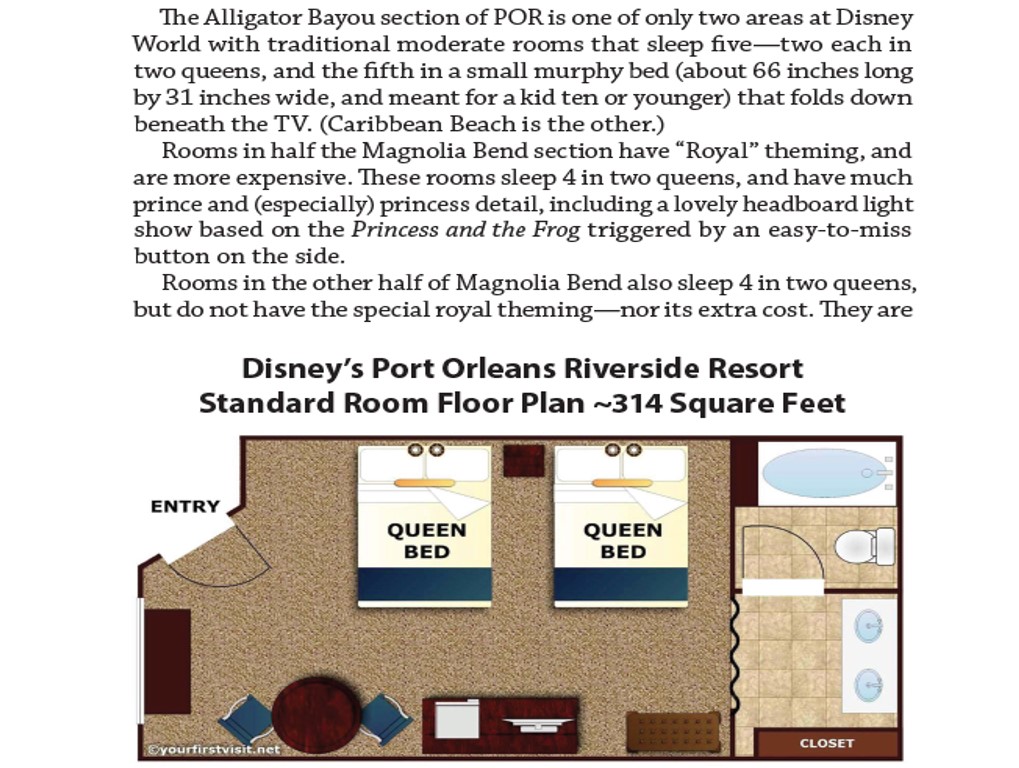 While we don't have everything right (I know of at least one floor plan I'll be fixing as part our next free update), a simple comparison will show you how hard it is to get things even close to right.
I just looked through the 2017 edition of a guidebook that I commonly recommend as an alternative to ours and have a lot of respect for (except for its materials on the Disney World resorts).
Here's some of the issues I found in its presentation of the Disney Word resorts:
Values
At Art of Animation, the claim that "The resort's Family Suites are rarely discounted" is wrong. The Family Suites have been included in discounts for years. It's the other rooms here, the Little Mermaid standard rooms, that have yet to be included in discounts.
Moderates
The description of the Port Orleans Riverside floor plan refers to a "trundle bed for child (54" long)" that has been gone for years, replaced by a ~66" murphy bed in 2012.
The refurb at the Cabins at Fort Wilderness yielded a queen bed in the back bedroom, not the incorrectly shown and described full bed.
At Coronado Springs, the "overly complicated…stamping tickets…and multiple tickets to pay" at Pepper Market are long gone.
Deluxes
The floor plan for the Animal Kingdom Lodge has the connecting door and mini-fridge in reversed positions.
The Beach Club floor plan is slightly outdated after its 2015 refurb.
The Contemporary boat service goes not only to Fort Wilderness, but also to the Wilderness Lodge.
The dressing area in Grand Floridian Rooms does not "include a sliding door that separates it from the sleeping area"—the dressing space between the sinks and hall is open, like in other Disney deluxe resorts.
The Polynesian floor plan shows an outdated sink and toilet layout; the Great Ceremonial House has two stories, not "four," and the Poly "sofas" are also flip-down beds.
The Swan room description ("large, round mirror") is outdated since its 2015 refurb, and both the discussion of it and an included reader comment about it confuse the Dolphin's bath for the Swan's bath.
Disney Vacation Club
Animal Kingdom Lodge's Kidani Village has 493 "rooms,"*, not " 324."
Bay Lake Tower One Bedroom villas do not include "the studio bedroom." The Studio bedroom is the second bedroom of lock-off Two Bedroom villas, and has no role in One Bedrooms. Also, Bay Lake Tower has 428 "rooms,"* not "295."
The Beach Club Studios floor plan is outdated, as it does not show the drop-down bed installed in the 2016 refurb, and its guest occupancy limit "4" is also wrong—it is now 5.
The BoardWalk Villas Studios floor plan is also outdated, as it does not show the drop-down bed installed in its 2015 refurb, and its guest occupancy limit "4" is also wrong—it is now 5.
The Old Key West One Bedroom description should include the fold out chair, rather than omitting it.
The Polynesian Studios probably should be labeled "Polynesian Village Studios," not "Polynesian Village Villas."
Saratoga Springs has 18 buildings, not "12." Its floor plan is mis-labeled as "Sarasota Springs."
The Villas at the Grand Floridian has 147 "rooms,"* not "200."
The Villas at the Wilderness Lodge has 181 "rooms,"*, not "136."
I have a lot of sympathy for those who try to write such material without recent frequent stays. It's hard to keep up with refurbs and other changes, and it's even harder to judge and write about them if you don't actually stay in the rooms, and as I've learned since I got into the guide book game, it's harder than you might think to assure that your new insights actually make their way into your book.
But, if you try, you can avoid errors like these, as we mostly do.
My most recent stays, by resort: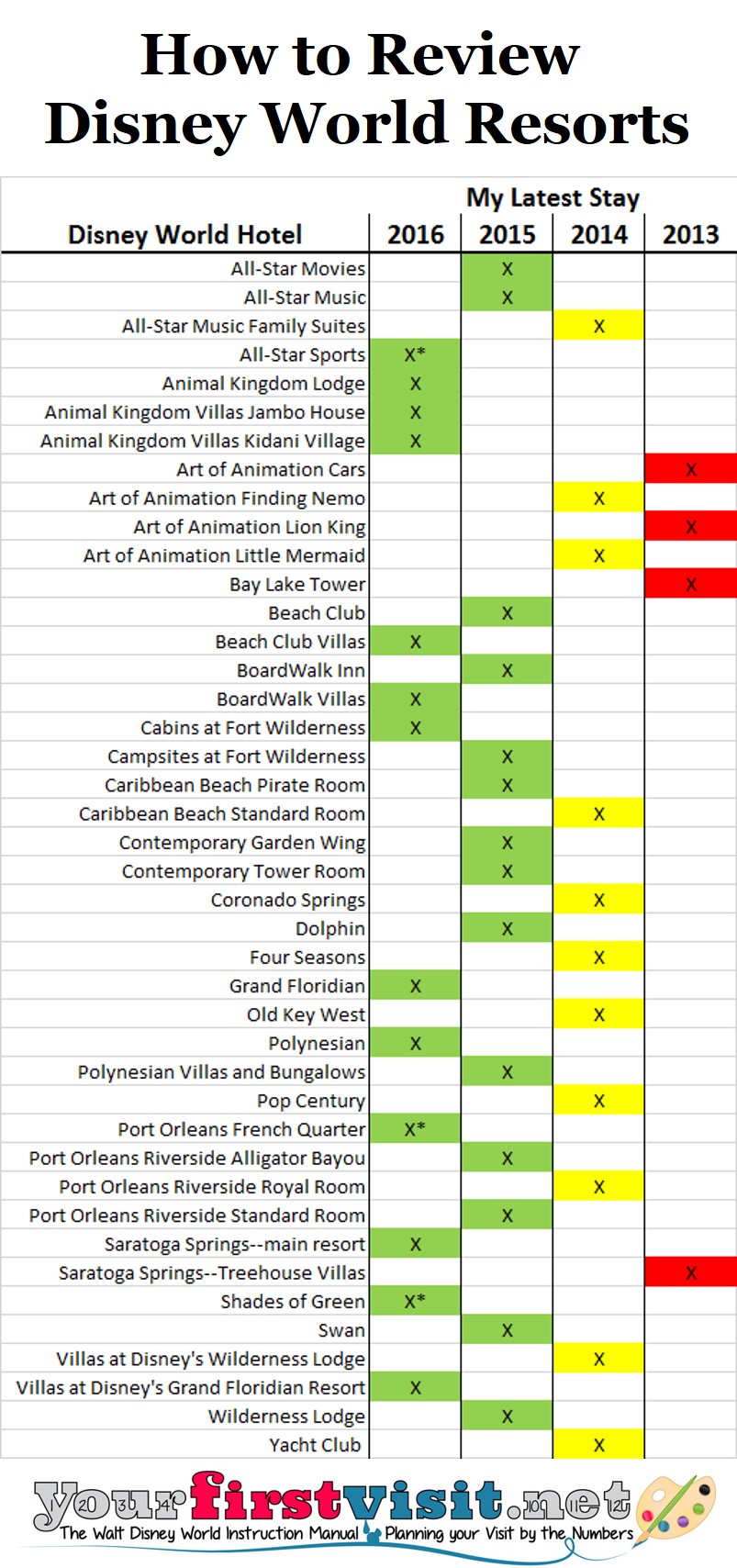 The asterisks indicate a stay booked for later 2016; the color code is to remind me where to go next, although some of these resorts are in refurbs or expected refurbs soon, so the priority will be to visit them when they are done—these include Kidani Village, Bay Lake Tower, the Dolphin, Coronado Springs, Pop Century, etc.
Ok, that's it for now. More to come on other features of the 2017 easy Guide later! Meanwhile, buy the book, OK?
And when you do, don;t forget to sign up for the free updates:



Follow yourfirstvisit.net on Facebook or Google+ or Twitter or Pinterest!!
*There's no one best way to measure DVC spaces. The only repeatable way is "keys," which is the number of separately rentable spaces. This is the industry standard, and what I have used above. Using this industry standard, a dedicated Two Bedroom Villa would count as one key, and a lock off Two Bedroom as two keys–one for the Studio, and one for the One Bedroom.
But since the proportion of lock-off vs dedicated spaces varies so much across the DVC resorts, for comparisons of relative scope it would also make sense to talk about bays, or about two bedroom equivalents (that is, bays divided by three), although the peculiar inventory at the Polynesian makes either of these a little less sensible than they used to be.
This particular guidebook sometimes uses keys, and sometimes seems to use something else, like two bedroom equivalents. For consistency, it should use one or the other, and I'd recommend keys.
RELATED STUFF