The easy Guide to Your Walt Disney World Visit 2017
By Dave Shute
The easy Guide to Your Walt Disney World Visit 2017, the latest installment in the best-reviewed Disney World guide book series, ever, became available on Amazon on August 4th.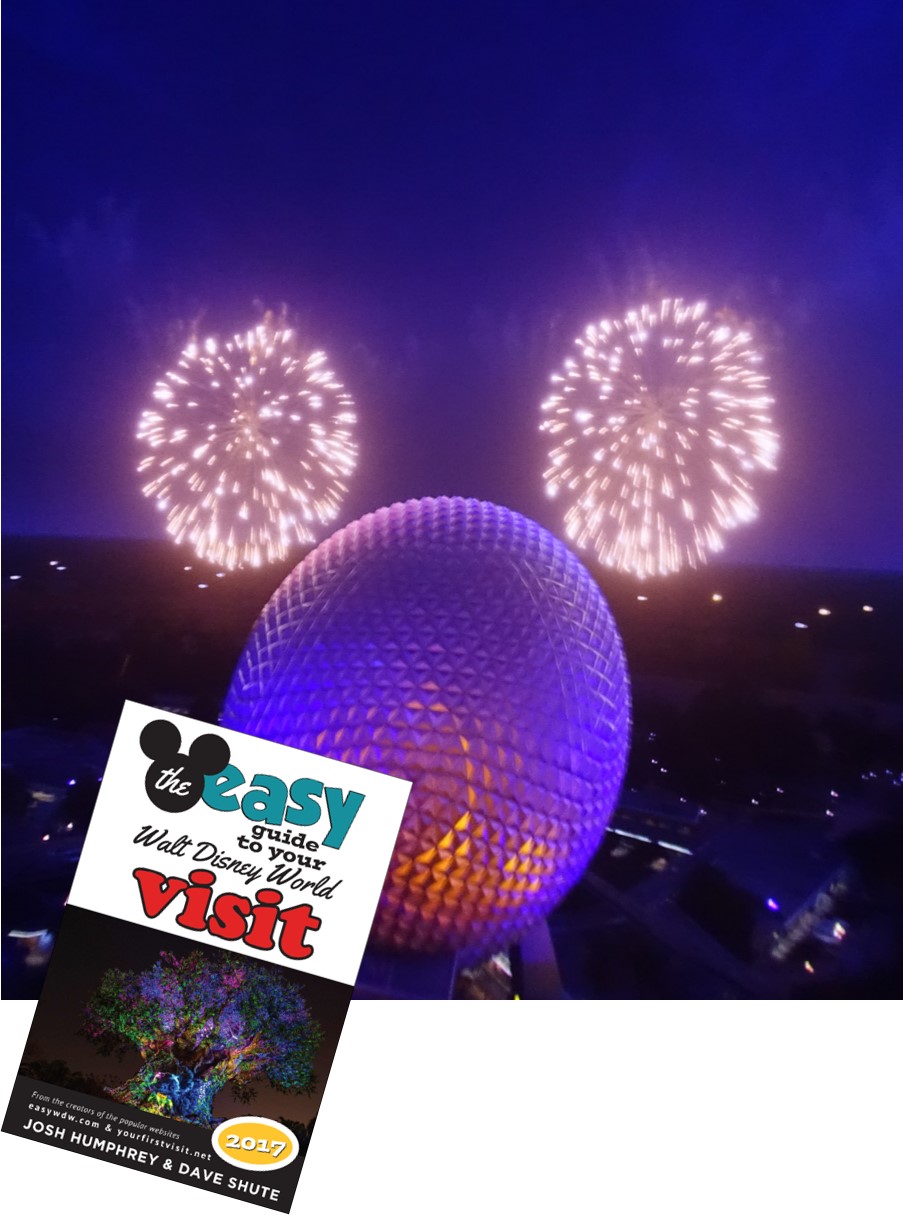 Particularly useful for first-timers, those who haven't visited recently, and for recent visitors looking for help with all the new attractions, restaurants and hotel refurbs of the last year or so, The easy Guide to Your Walt Disney World Visit 2017 helps you with all the key decisions you need to make to have a great Disney World visit.
In The easy Guide, my co-author Josh of easyWDW.com and I take you by the hand through each major planning topic.
We give specific advice on which choices to make, and for those who can't or won't follow our advice, we give all the additional details to help you make your own plans.
A few examples:
In Chapter 6, besides giving multiple detailed step by step itineraries, we also review all the Disney World attractions, including all the new or re-imagined ones that opened this summer, advising you on what they are, how appropriate they are for your group, when to ride them, and even where to sit!
In Chapter 5, besides recommending specific hotels by price level, we also give detailed reviews and floor plans of all the Disney-owned hotels and the key non-Disney ones, including the recently-opened hotels and all the latest refurbs
In Chapter 4, besides recommending specific periods of the year to go to Disney World, we also lay out all the details of 2017 with specific month by month overviews
In Chapter 7 we recommend specific restaurants, but also review them all, including the astonishing set that has opened in Disney Springs, the Animal Kingdom, and Magic Kingdom over the last year or so
Disney World has profoundly changed in the past few years.
First came its Fantasyland expansion, then the all-new FastPass+ program that has transformed how and when to plan for Disney World, then all the new attractions and restaurants that have come on line, then all kinds of price increases and changes in price seasons.
As a result, a good Disney World plan has never paid off more, and the failure to plan has never hurt more.
Josh and I have unparalleled experience with Disney World—he's in the parks several times a week, and I just stayed in my 129th different Disney World-owned room, studio, villa, suite, campsite or cabin–and we bring tested judgement from helping tens of millions of people plan their Disney World visits, on this site and on easyWDW.com.
We apply this experience and judgment together to The easy Guide to Your Walt Disney World Visit 2017 to make your Disney World planning straightforward, sensible… and easy!
The easy Guide is available as a paperback on Amazon.com here. A Kindle version will come out soon, as will a PDF version.


Follow yourfirstvisit.net on Facebook or Google+ or Twitter or Pinterest!!
RELATED STUFF