A Friday Visit with Jim Korkis: Disney's Grand Floridian Resort
By Dave Shute
Welcome back to Fridays with Jim Korkis! Jim, the dean of Disney historians and author of Jim's Gems in The easy Guide, writes about Walt Disney World history every Friday on yourfirstvisit.net.
THE OPENING OF DISNEY'S GRAND FLORIDIAN RESORT IN 1988
By Jim Korkis
"Journey back to the turn-of-the century…to another time and another place. The Grand Floridian Beach Resort. An oasis of elegance that's the first of its kind since the golden age of pleasure travel. Bright white towers and gabled roofs echo the Victorian architectural influence that has come to symbolize Florida's carefree winters and balmy summer nights," proclaimed newspaper advertisements in the summer of 1988.
Disney held a special press event June 23-26 that brought in 1,400 members of the media to celebrate the latest additions to Walt Disney World including Mickey's Birthdayland, the Norway pavilion's Maelstrom attraction, Mickey's 60th birthday and new productions at Disney MGM Studios (Now Disney's Hollywood Studios).
In addition, it was the official dedication of the Grand Floridian Resort that opened July 1, 1988. CEO Michael Eisner and actor Burt Reynolds, who then lived in Florida, cut the ceremonial ribbon stretched between two palm trees to open the Grand Floridian.
An orchestra played the song "That's Entertainment". An aquatic ballet was performed in the 275,000 gallon pool. Singers and dancers performed a medley of turn-of-the-century tunes.
Burt was honored by Disney as a "grand" Floridian at a gala dinner that night. Reynolds attended Florida State University on a football scholarship. He owned a 160-acre estate in Florida, dubbed Burt's Ranch, transforming it into a film studio where scenes for Smokey And The Bandit (1977) were filmed as well as operating a dinner theater in Jupiter, Florida.
Burt was actually in the area to tape a segment of the game show that he co-produced, Win, Lose or Draw, which was filmed at Disney MGM Studios.
The Grand Floridian was inspired by the Victorian era beach resorts built along Florida's east coast during the late 19th century and early 20th century when wealthy and famous people from the north would travel by train to warmer climes.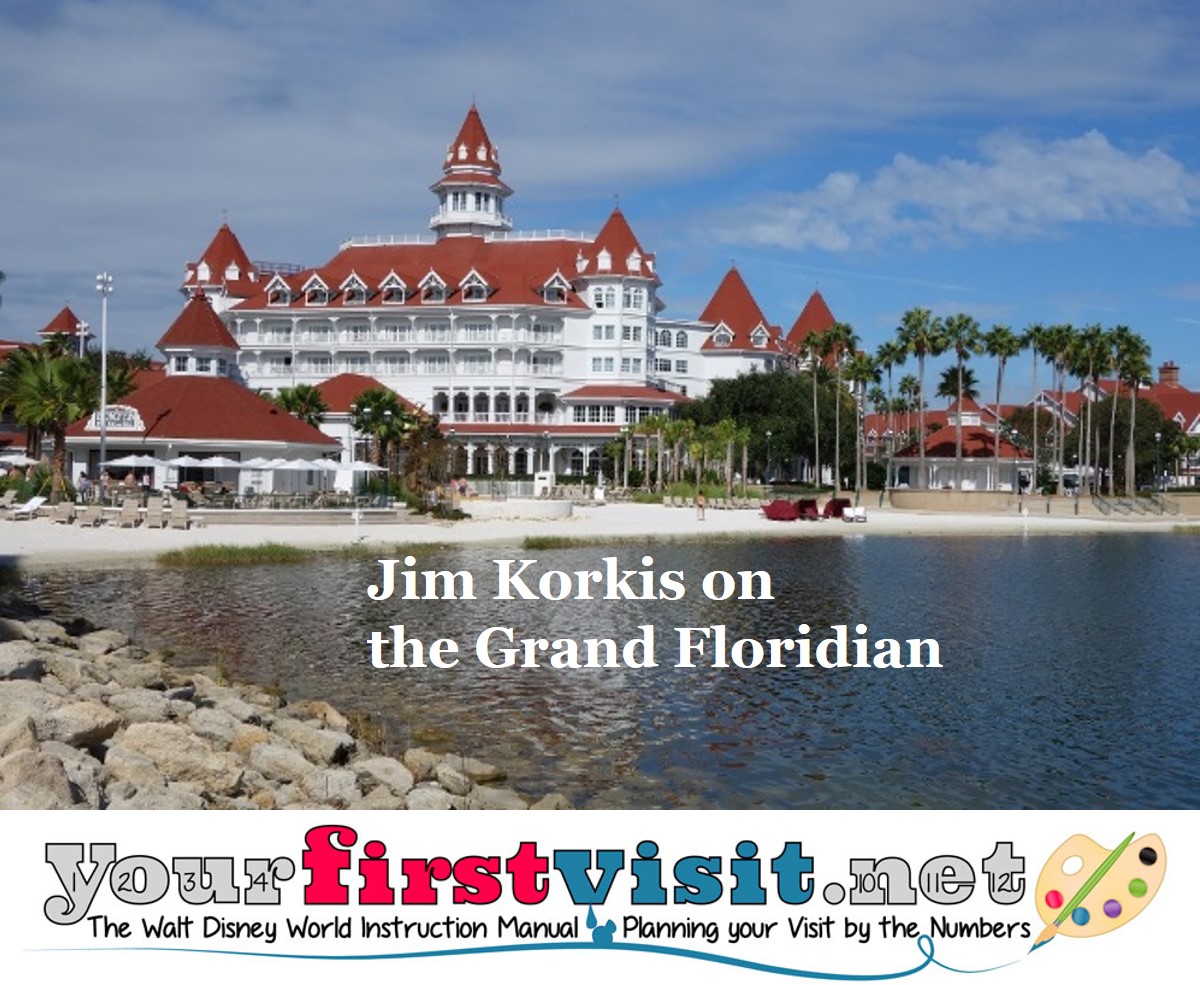 The exterior is noticeably influenced by the iconic Hotel del Coronado in Coronado, California, with red gabled roofs and white walls. However, design elements were also taken from the Mount Washington Resort in Bretton Woods, New Hampshire, the Grand Hotel on Mackinac Island, Michigan, as well as the Belleview-Biltmore Hotel in Bellair, Florida.
The Belleview Hotel, as it was initially known, was constructed by railroad tycoon Henry B. Plant in 1897 as a resort destination to boost tourist travel on his railroad line serving the west coast of Florida, which he had acquired in 1893. The hotel closed in 2009 and was demolished in 2015.
The name of the second floor bar Mizner's Lounge's comes from Addison Mizner, an architect who specialized in "Gatsby-esque" mansions in Palm Beach and Boca Raton.
The architecture of the Grand Floridian is a collage of American, English, French and Caribbean. Rather than a historically accurate Victorian color theme that would have been too dark and somber for this playful seaside resort, the Imagineers selected soft greens, blues and peaches.
Of particular interest, 1900 Park Fare restaurant features Big Bertha, an antique band organ built in Paris, France by Gavoli & Co at the turn-of-the century, which is installed in a wall fifteen feet above the guests.  It plays music utilizing simultaneously the instruments of pipes, drums, castanets, bells, cymbals, and xylophone played originally by paper piano-roll "books".
The organ was used from 1909 to 1955 in Ramona Park, an amusement park in Grand Rapids, Michigan known as the "Amusement Mecca of Western Michigan." The park was demolished in 1955 and the three antique band organs used for the merry-go-round went into storage in Alabama for many years where they were discovered in 1963 and restored.
The Grand Floridian Resort and Spa is a showcase of amazing details from the Chinese-style aviary in the lobby that was crafted in Spain to the vintage Victorian piano in the Lobby obtained from an estate in Georgia to the entrance of Victoria & Albert's that features eleven original maps of Florida dated from 1775 up to the period of railroad tycoon Henry M. Flagler's railway lines in the late 1880s.
*  *  *  *  *
Thanks, Jim! I'll be re-visiting the Grand Floridian and also the Villas there in my August/September trip! And come back next Friday for even more from Jim Korkis!
In the meantime, check out his books, including Secret Stories of Walt Disney World: Things You Never You Never Knew
, which reprints much material first written for this site, and The Vault of Walt: Volume 4, and his contributions to The easy Guide to Your First Walt Disney World Visit, all published by Theme Park Press.
Follow yourfirstvisit.net on Facebook or Google+ or Twitter or Pinterest!!
RELATED STUFF