Thanksgiving 2015 at Walt Disney World
By Dave Shute
THANKSGIVING 2015 AT WALT DISNEY WORLD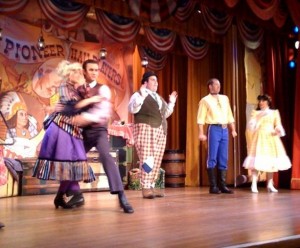 Thanksgiving week at Walt Disney World is busy–particularly Wednesday through Saturday.
While not as crowded as some other holiday weeks–Easter and Christmas, for example–it can be very challenging, and the material below gives some hints on how to deal with it.
WALT DISNEY WORLD 2015 THANKSGIVING WEEK ITINERARY AND DINING
Park schedules indicate that this site's FastPass+ Itinerary for High-Crowd Weeks mostly works for Thanksgiving Week, with one change and one however.
The change is that you need to swap First Sunday and Wednesday in both the itinerary and its To-Do List.
The however is that the parks–especially the Magic Kingdom and Animal Kingdom–likely will open an hour earlier than it indicates many days Thanksgiving week, and may also have morning Extra Magic Hours added as well–making the day start two hours earlier than indicated on the itineraries.
So you'll need to stay in touch with schedules–even on the night before–to make sure when you need to arrive to beat park openings.  As these openings are announced I'll update this page, but see below for links to Disney's calendars.

Moreover, a couple of other things are worth noting.
First, this itinerary has you off on Thanksgiving morning, and at the Animal Kingdom park Thanksgiving afternoon, with all meals at counter service joints.
Believe me–that's a wonderful way to spend Thanksgiving.  Animal Kingdom likely will be the least crowded park, and you'll need a low-impact day by this point in your vacation anyway.
However, if you are looking for something both more formal and fun in your Thanksgiving dinner (not necessarily in menu, but in ambiance and waiters and such), then consider moving your Hoop-Dee-Doo Revue reservations from First Sunday evening (changed from Wednesday, remember?) to Thursday evening.
A more formal option would be to take advantage of the nearness of the Animal Kingdom Lodge–just a short bus ride away–and book dinner at Boma or Jiko there.
Note that to get a sit-down meal on Thanksgiving it's critical that you make your dining reservations well in advance. See this for more.
SEEING EPCOT'S CHRISTMAS PROGRAM
Starting the day after Thanksgiving, Epcot is open thirty minutes later, and a special Christmas version of Illuminations is shown nightly at 9.30p rather than 9p. Moreover, the Candlelight Processional also begins the Friday after Thanksgiving.
Even though Epcot will be quite crowded Friday, you may wish to swap the Monday and Friday itineraries to see these elements of Epcot's Christmas program.
UPDATED PARK SCHEDULES
You can get updated park operating hours when you arrive at Walt Disney World. If you want to know what's up before then, check the park calendars a day or so before you depart for Florida, and then while you are there as well.
Click the links for park calendars
And Disney veterans–please feel free to add more suggestions for Thanksgiving dinner at Walt Disney World to the comment box below!
Follow yourfirstvisit.net on Facebook or Google+ or Twitter or Pinterest!!
RELATED STUFF