Review: Four Seasons Resort Orlando at Walt Disney World
By Dave Shute
OVERVIEW: FOUR SEASONS RESORT AT DISNEY WORLD FOR FIRST TIME VISITORS

The Four Seasons Resort Orlando at Walt Disney World Resort (the full name, which only its mom uses) is the first deluxe-level hotel to open in Disney World since the Animal Kingdom Lodge opened more than 15 years ago, and the first ever five-star resort on property.
Not owned by Disney, it does not share in various Disney hotel guest perks like Magical Express or access to Extra Magic Hours, the Dining Plan or to FastPass+ booking 60 days out.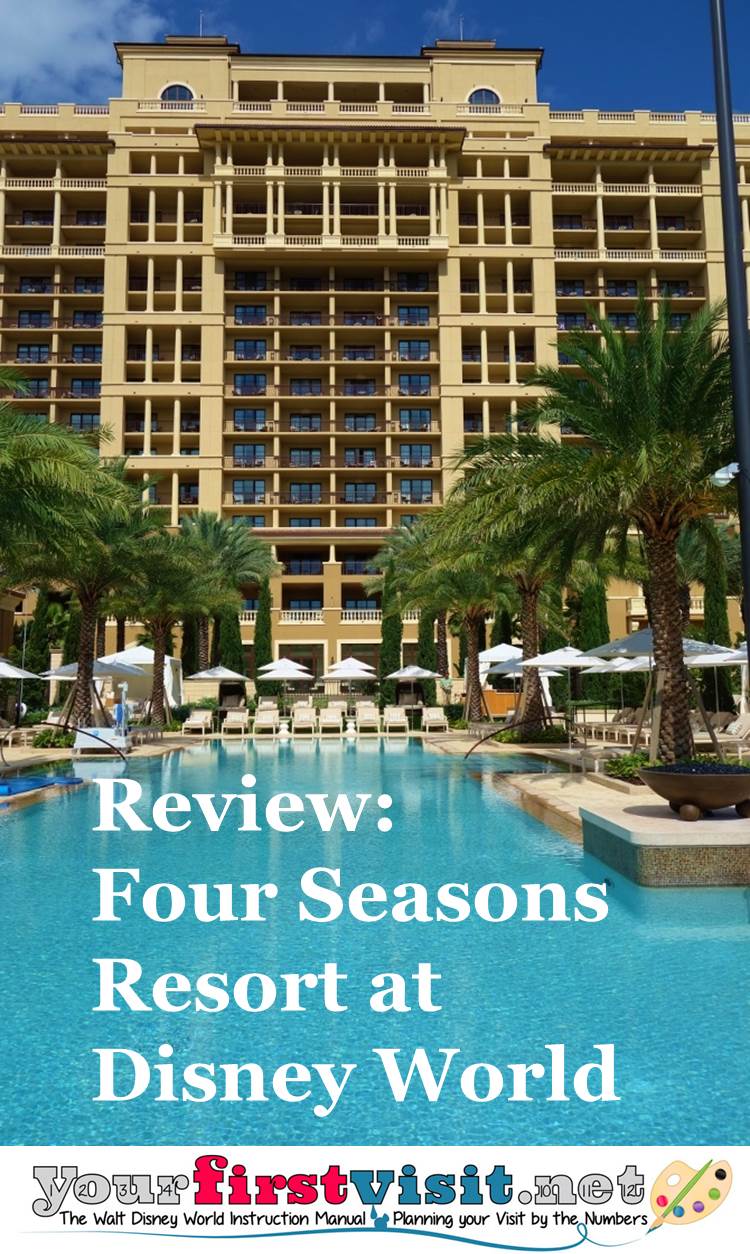 It also has its own transportation system and does not use Disney buses for hotel-park transport.
Its transport ranges from every half hour (to the Ticket and Transportation Center) to hourly to Epcot, the Animal Kingdom, and Hollywood Studios.
This transport is not yet well attuned to operating hours–with, for example, first morning arrivals at or after rope drop at Epcot and Hollywood Studios, and last pickups at Hollywood Studios just 35 minutes after Fantasmic is scheduled to begin.
It is supported by some Disney cast members for planning help, but has even less Disney theming than Shades of Green.
I rank hotels on this site for first time family visitors who may never return, and because of that put pervasive kid appeal as the first criterion, and after that transportation convenience. So with its slender kid appeal (other than the pools) and transportation issues, I can't really rank Four Seasons Orlando highly for first timers who will be spending most of their time at the parks.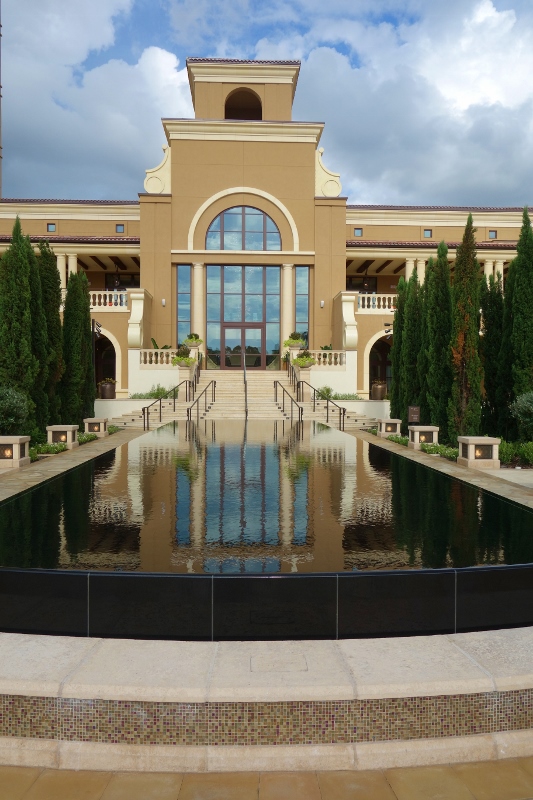 But for returning visitors who will be spending time relaxing at the hotel, and who have cars and can thus work around the shuttle schedule issues, Four Seasons Resort Orlando is a spectacular place to stay, with a level of service and amenities unmatched elsewhere at Disney World, the best pool complex on property, great dining for adults, and enormous and very comfortable rooms.
I had a chance to stay in it both in August 2014, its opening month, and in September.  Everything wasn't done yet–as of my September visit, the gift shops were still not open, and neither was Capa, its 17th-floor Spanish steakhouse. But enough was going on to see and judge what this resort will be.
OVERALL LOOK AND FEEL OF THE FOUR SEASONS RESORT ORLANDO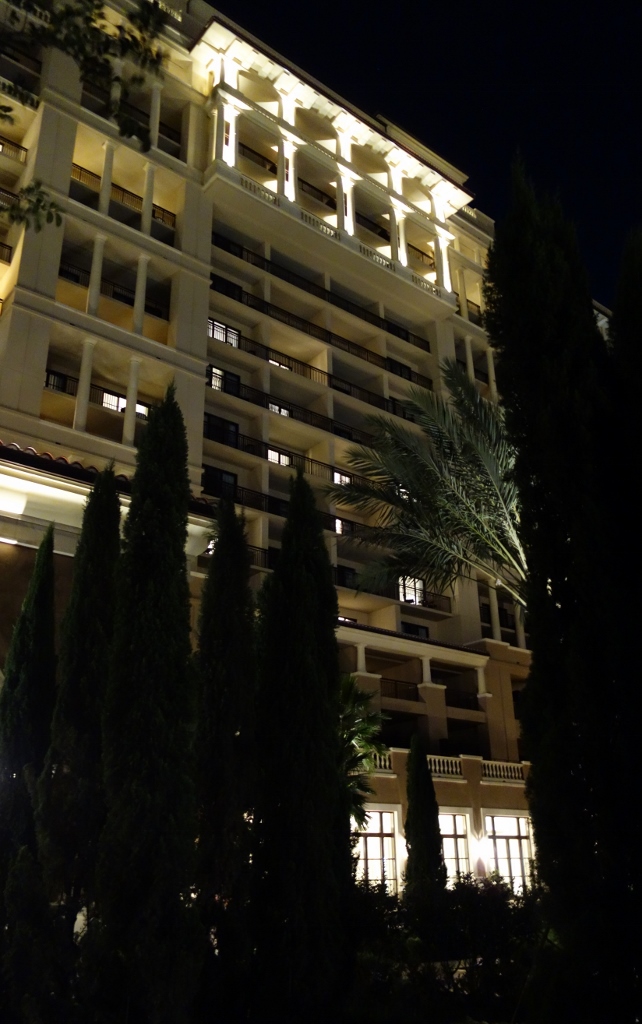 The main point is that once you arrive on the grounds of Four Seasons Resort Orlando, you could be almost anywhere. With next to no Disney design or decorating touches, nor any architecturally playful elements, the overall feel is simply that of a lovely high end resort.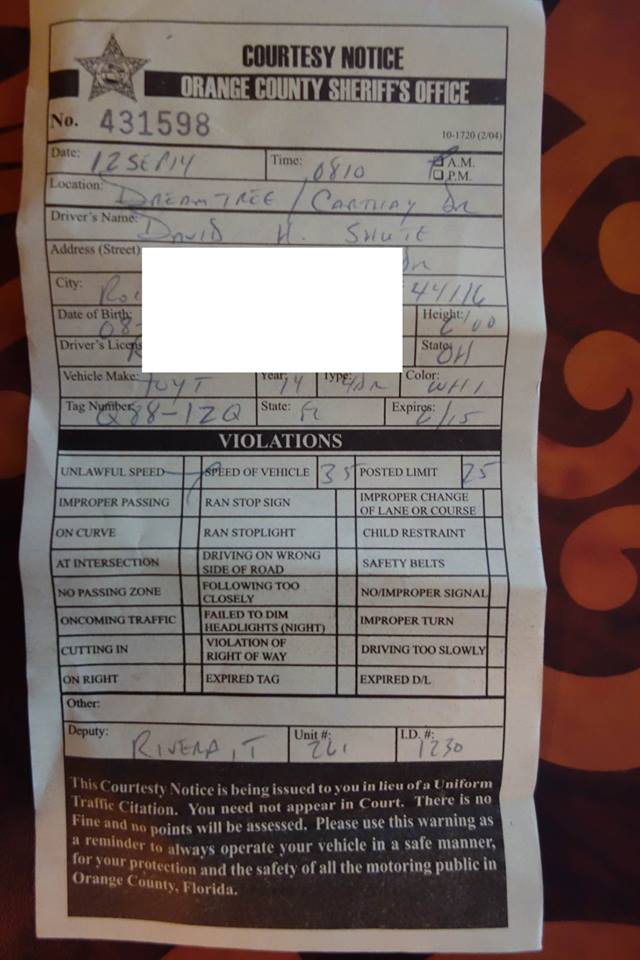 The seventeen story tall building is deep in the Golden Oak area of Disney World, between Fort Wilderness and Port Orleans Riverside. Note that the speed limit back here is 25 mph.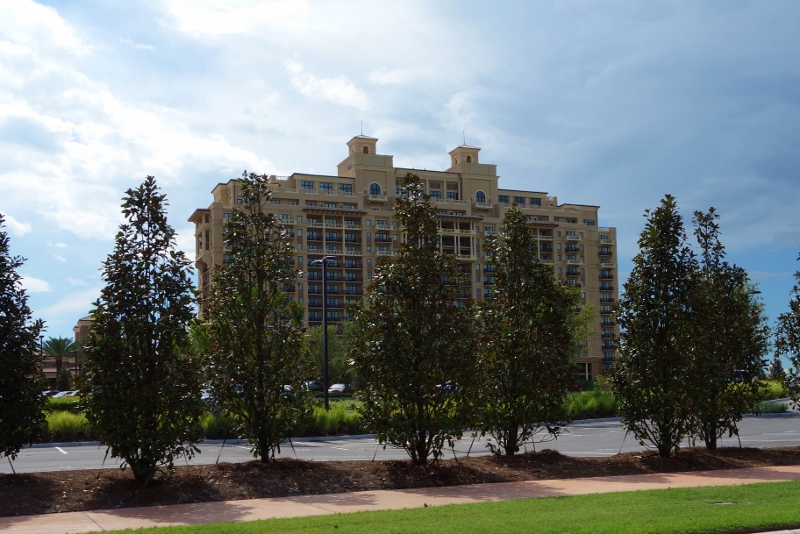 The building is quite lovely, though I never really fully captured its appeal in a photo. The architecture has elements of the Spanish Colonial Revival style, mixed in with a bit of Tower of Terror.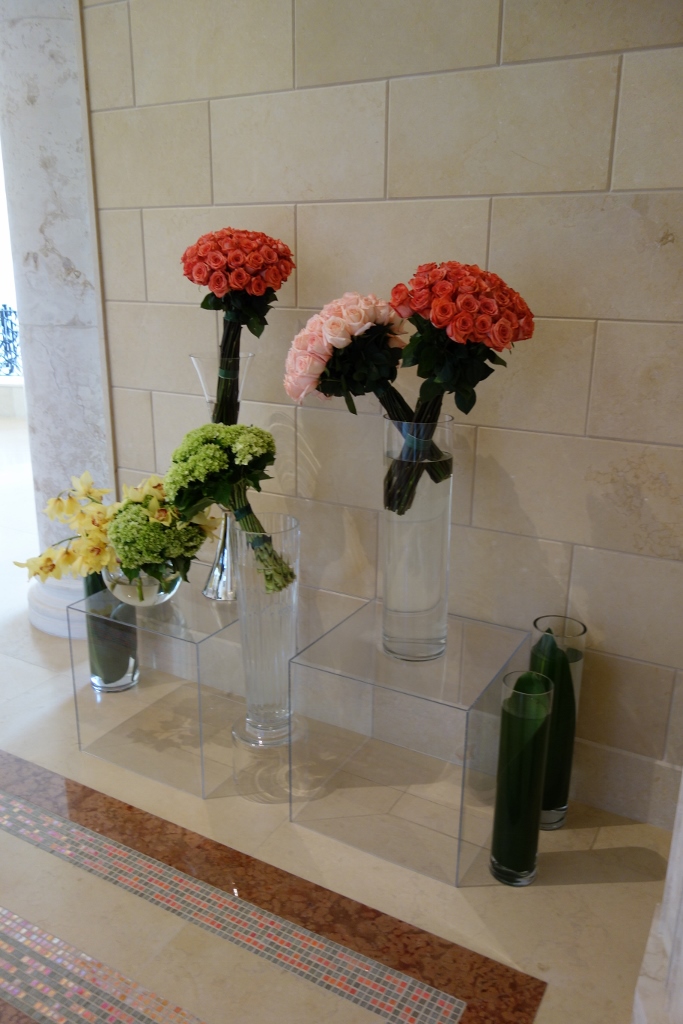 In a contrast to the Disney resorts, you'll see more greenery than flowers in the landscaping–making the flowers that you do see, such as these on the lobby level, that much more welcome.
The slender Disney theming here is wonderful for some–those who have enough Disney in the parks themselves, or those staying here largely for purposes other than playing in Disney World: a convention, a wedding, simply relaxing at a luxurious resort. But it's not so fun for others.
ACCOMMODATIONS AT THE FOUR SEASONS RESORT ORLANDO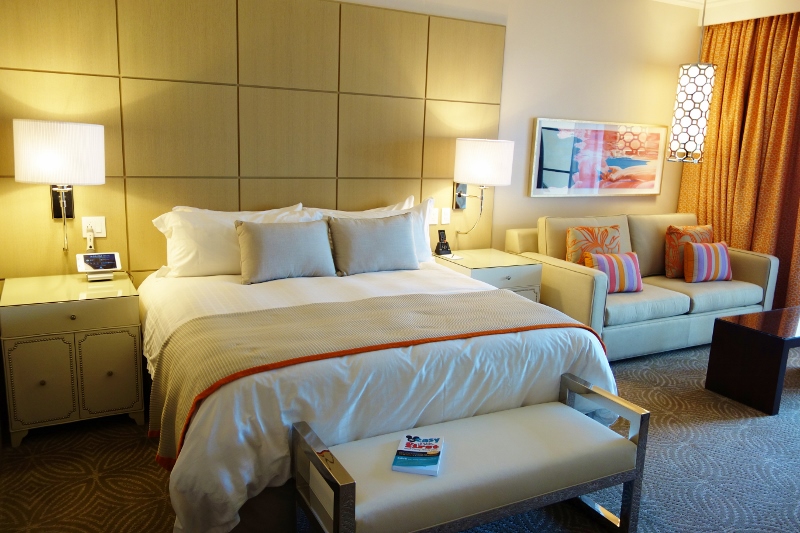 You could reserve the nine-bedroom suite that's available here among the more than 60 suites on offer.  For a lot less you could book 80 or so rooms at Pop Century, losing however a certain je ne sais quoi.  Or you could, like I did, book standard rooms.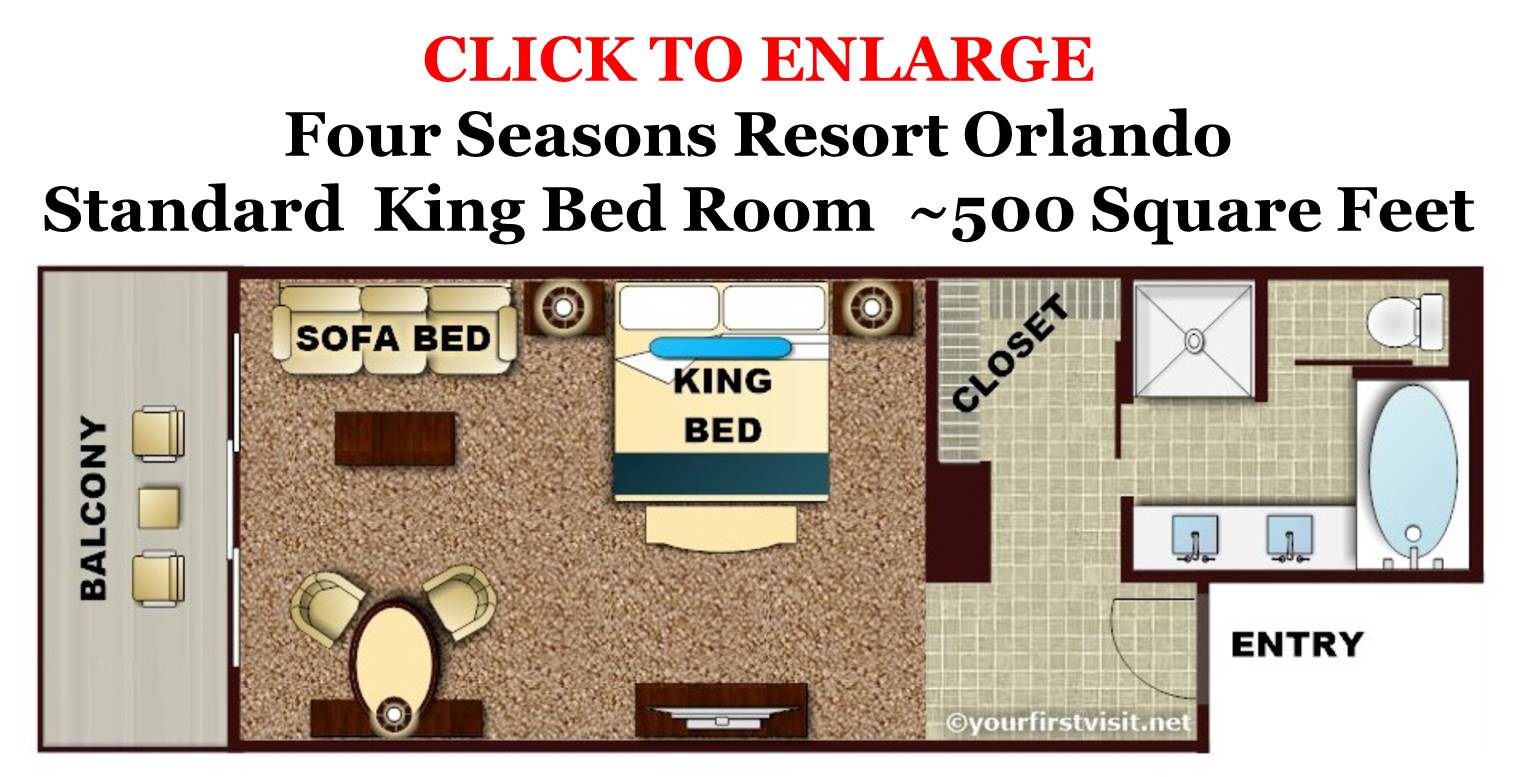 Standard rooms here come in two flavors: one with a king bed and a couch that folds out into a bed, and one with two full beds. I've stayed in each type. The king room floor plan is above, and the full room plan below.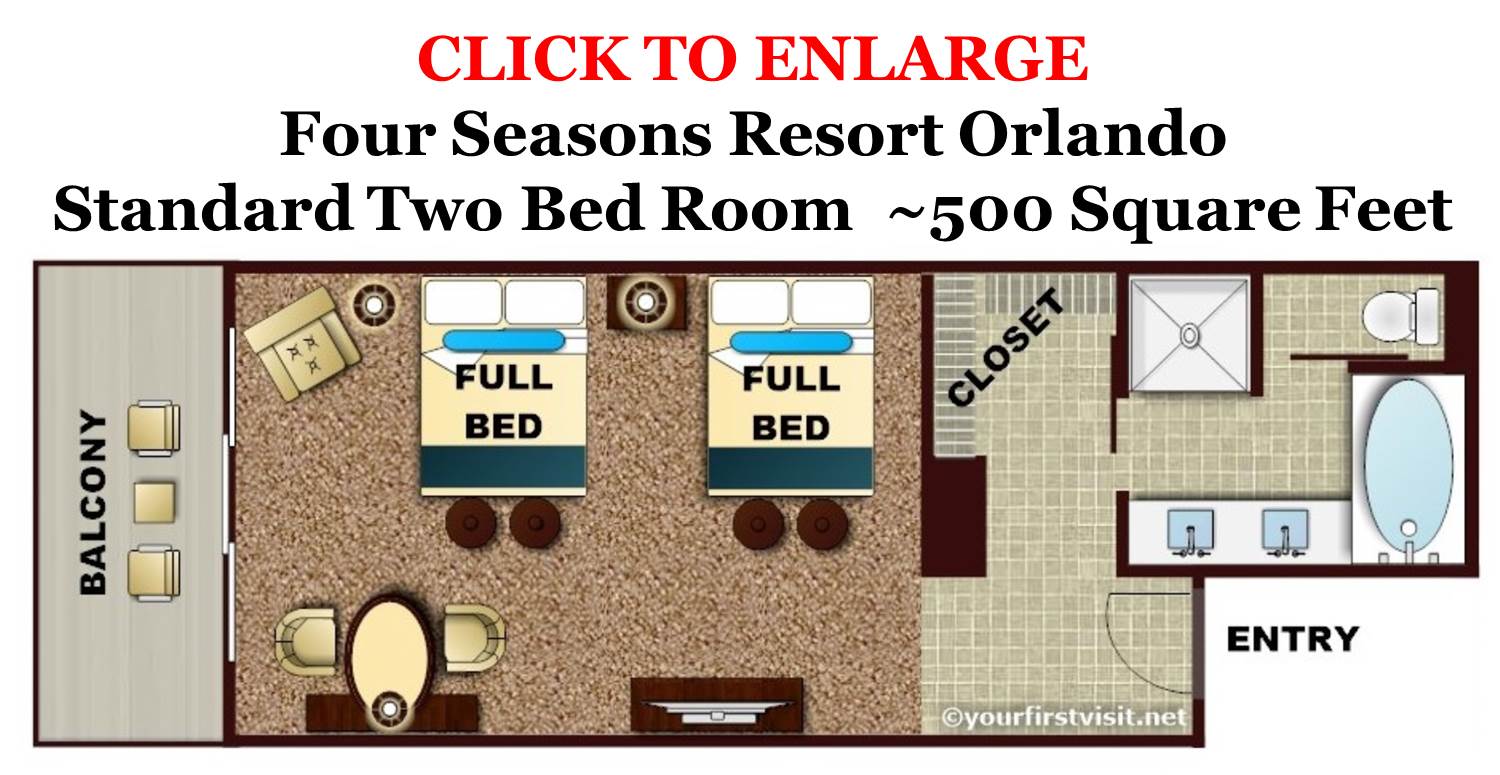 Either choice yields an enormous room–with 500 square feet they are, according to Four Seasons, the largest in Orlando–a simply huge closet, tons of storage, and a nice, though mostly undivided, bath (the toilet is set off in an opaque glass surround).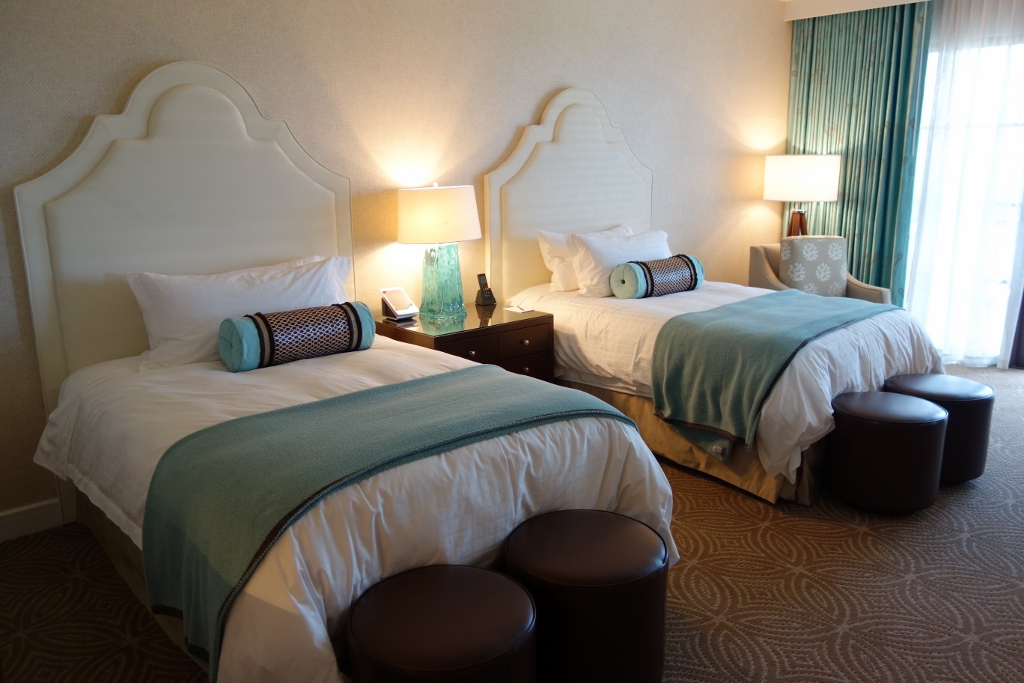 I can't imagine why adults would want a room with full sized beds, so pretty much everyone who is booking just one room should aim for the king/sofa bed combo.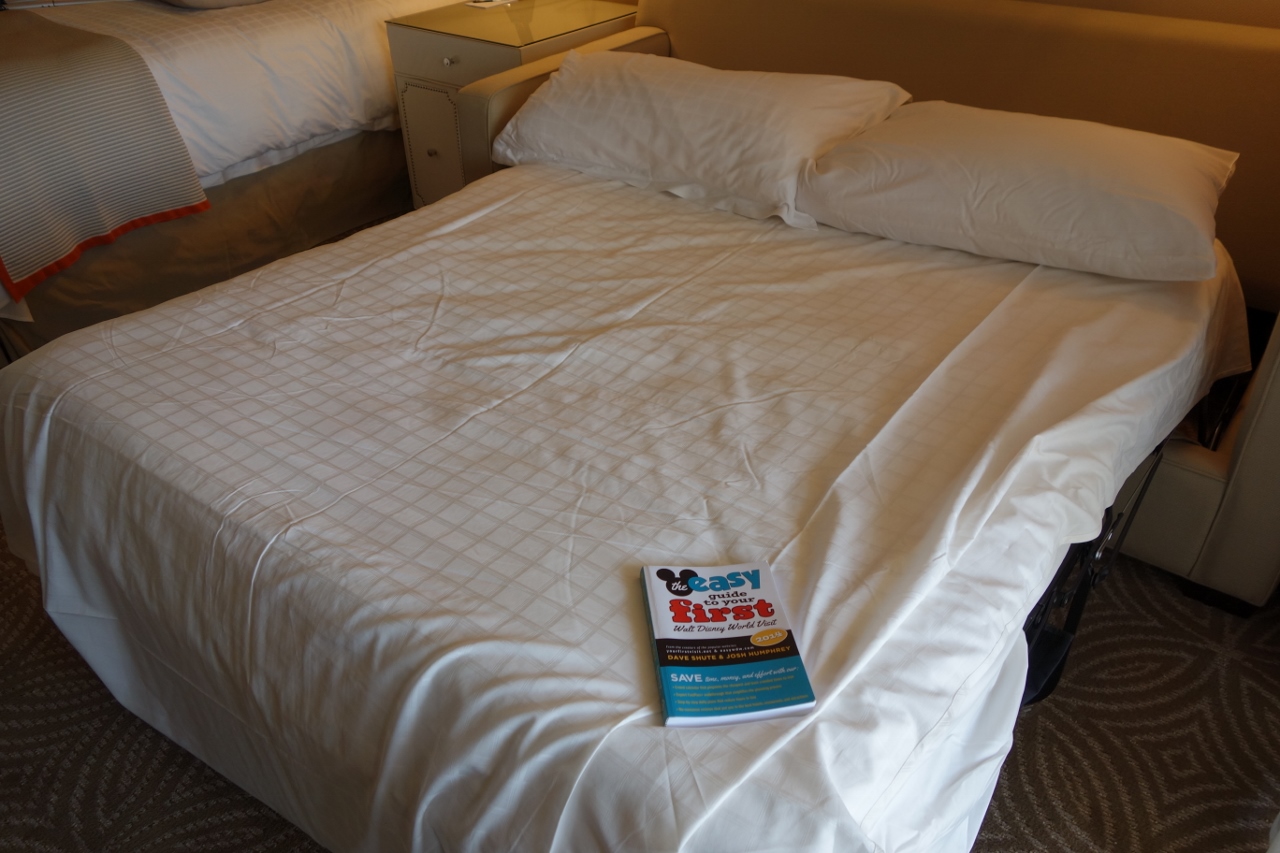 The sofa bed at the Four Season is the most comfortable such I've ever slept on, and puts the sofa beds in the Disney resorts to shame. I measured it as 60 inches wide by about 72 inches long–as wide as a queen, but shorter.  The cushion is an astonishing 6+ inches deep.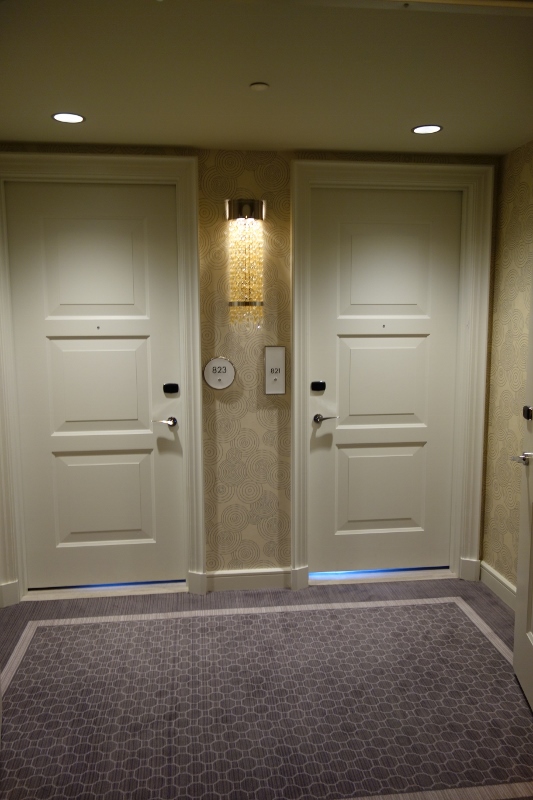 But I'm not seeing the why of the full beds–at Disney, even the Caribbean Beach Resort is getting queens. Likely these rooms are designed for kids/staff, with the expectation that the parents/bosses would be in a connecting king room. Many rooms are built in pairs of king rooms connecting with full rooms, with deep entries to both that allow another set of doors to close off the front doors of the connecting spaces from the hall.
VIEWS AT FOUR SEASONS RESORT ORLANDO
Park View rooms are worth the extra money. One long side of the Four Seasons overlooks the parking lot and construction; the other side overlooks the pools, and, at a distance, both Epcot and the Magic Kingdom–much to be preferred.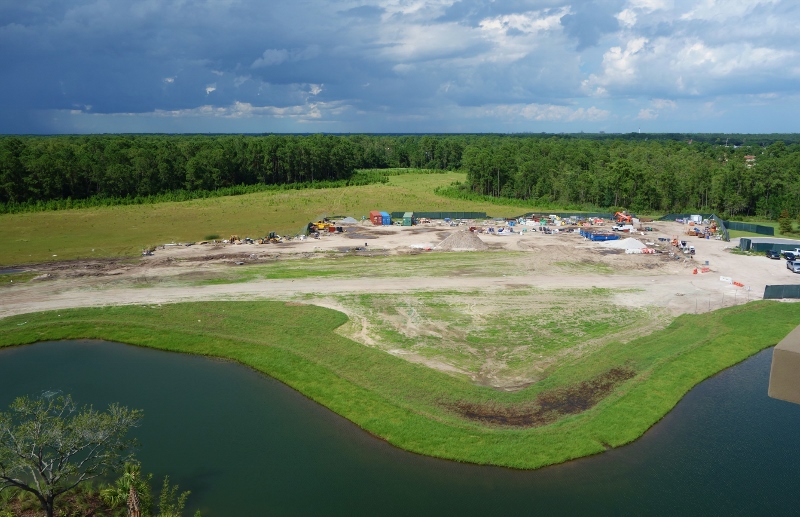 Here's one of the worst views–the east view from my tenth floor room at the short north edge of the building, on my first stay.
Even though the fireworks really are quite distant, the pool and water views are themselves spectacular.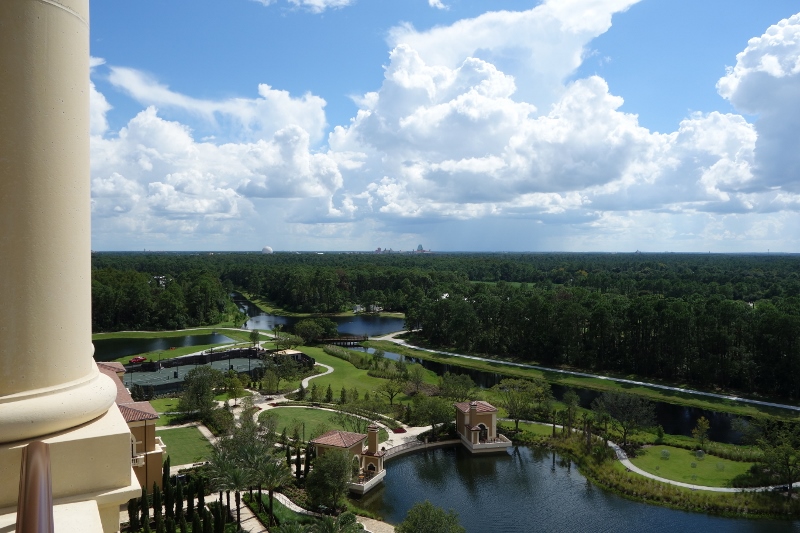 From my 12th floor Park View room on my second stay, you can see Epcot in the distance from one side of my balcony–Spaceship Earth and the Swan and Dolphin…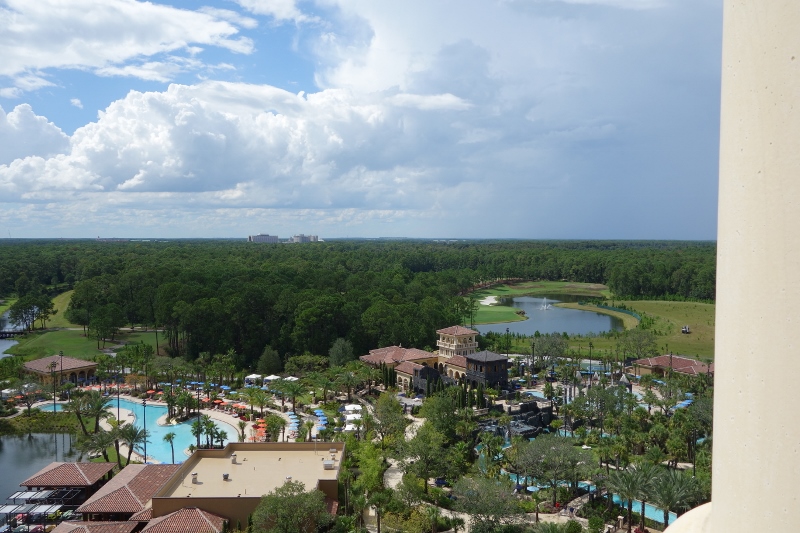 …and the Magic Kingdom from the other, with the distant bulks being the Contemporary and Bay Lake Tower.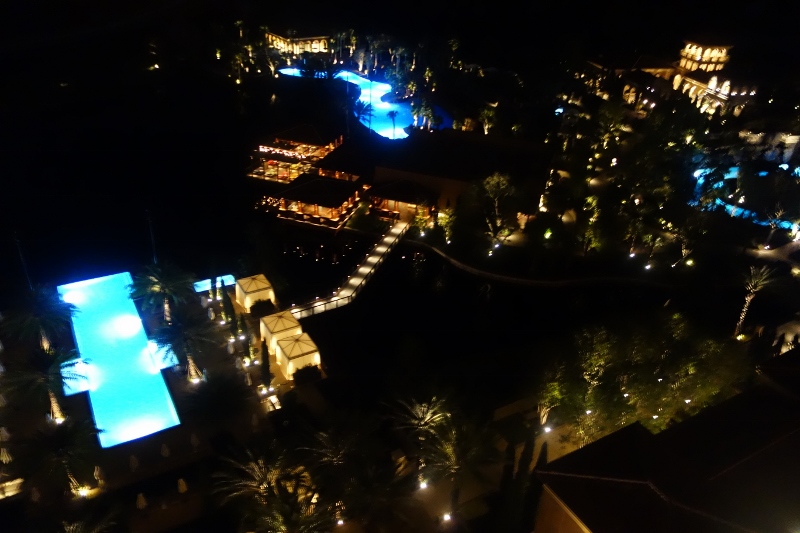 The night view of the pools is particularly nice…and speaking of them, just a few quick word on the pools–more to come later.
THE POOLS AT THE FOUR SEASONS RESORT ORLANDO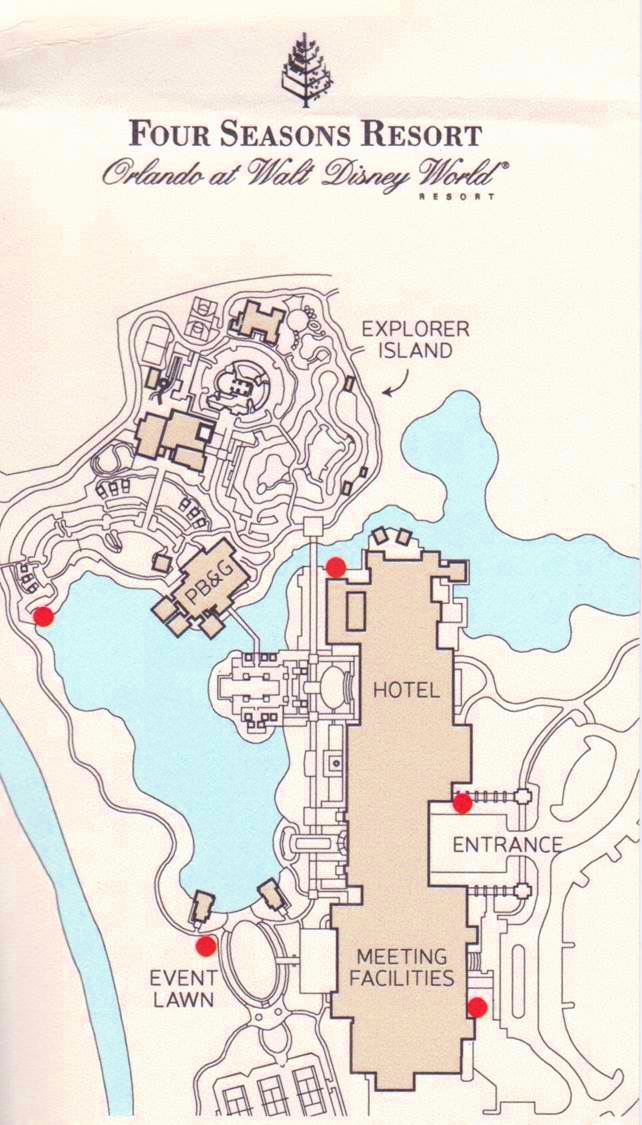 The pool complex at The Four Seasons is better than the pools at any Disney owned resort–yes, better even than Stormalong Bay at the Yacht and Beach Clubs.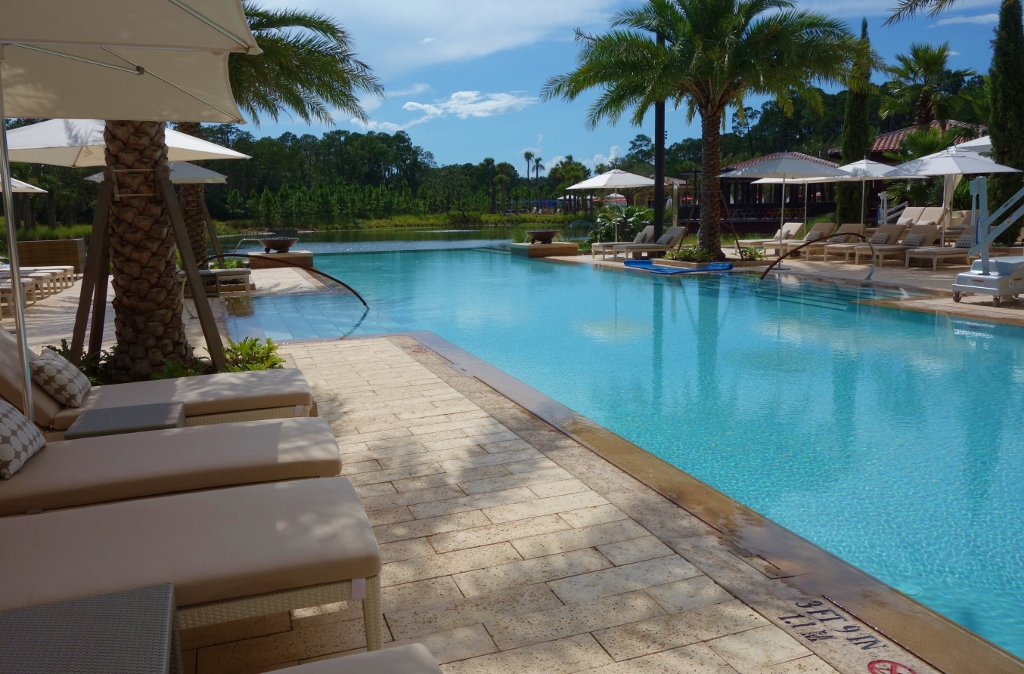 There's four pools here: a lovely adult-only infinity pool…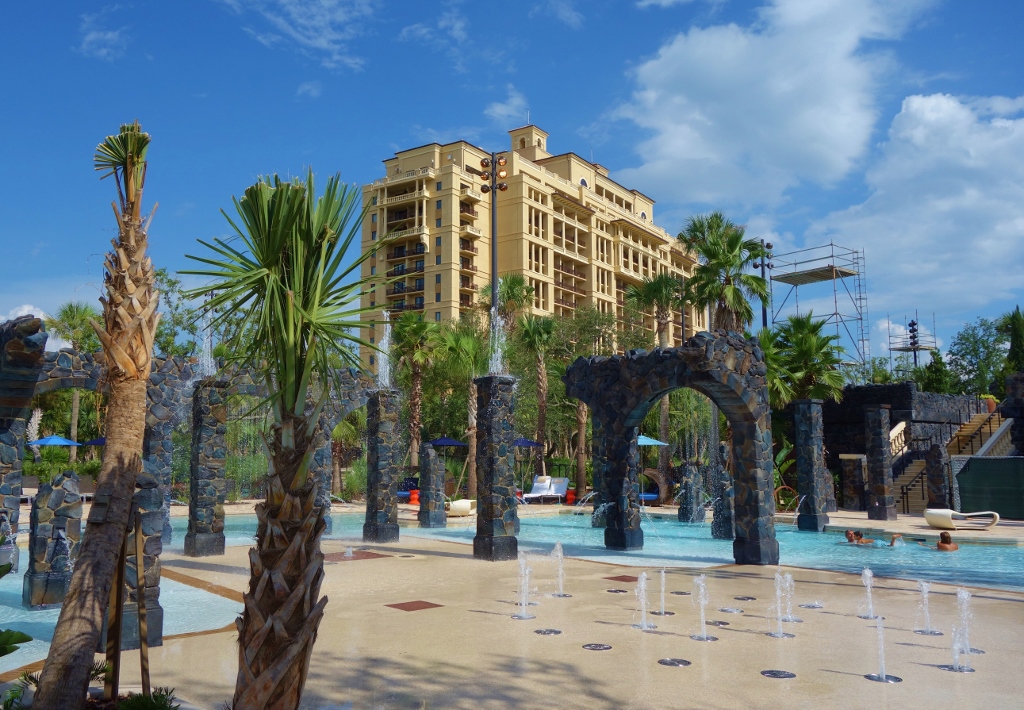 …and then in the separate "Explorer Island" area  (see the map above) three more pools: a kids pool and splash and play area that itself is bigger than most Disney World main pools…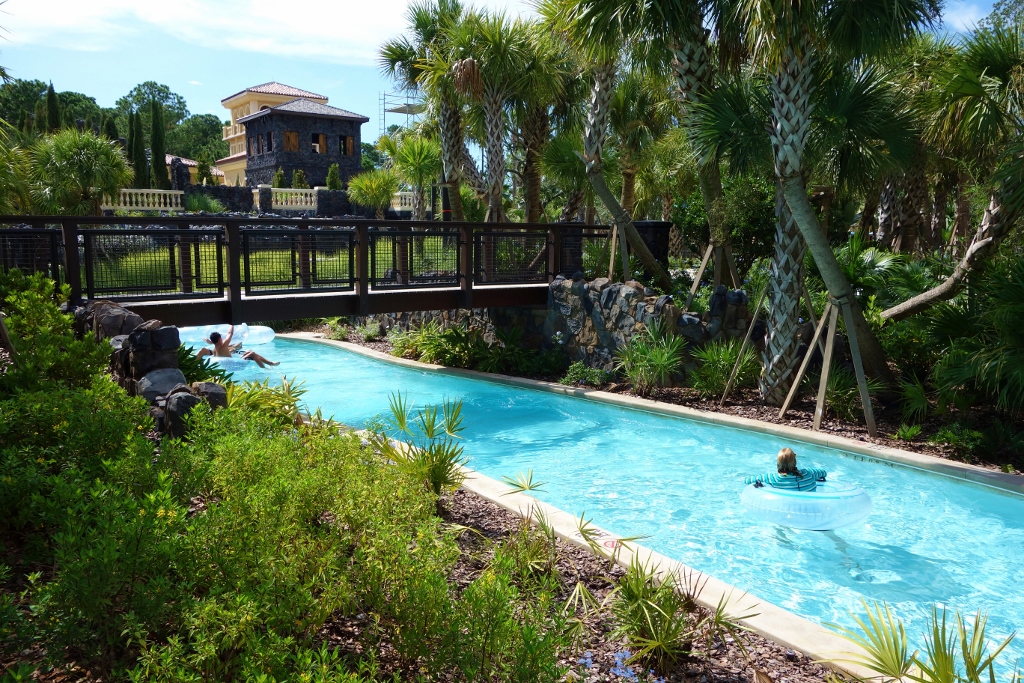 …a lazy river pool…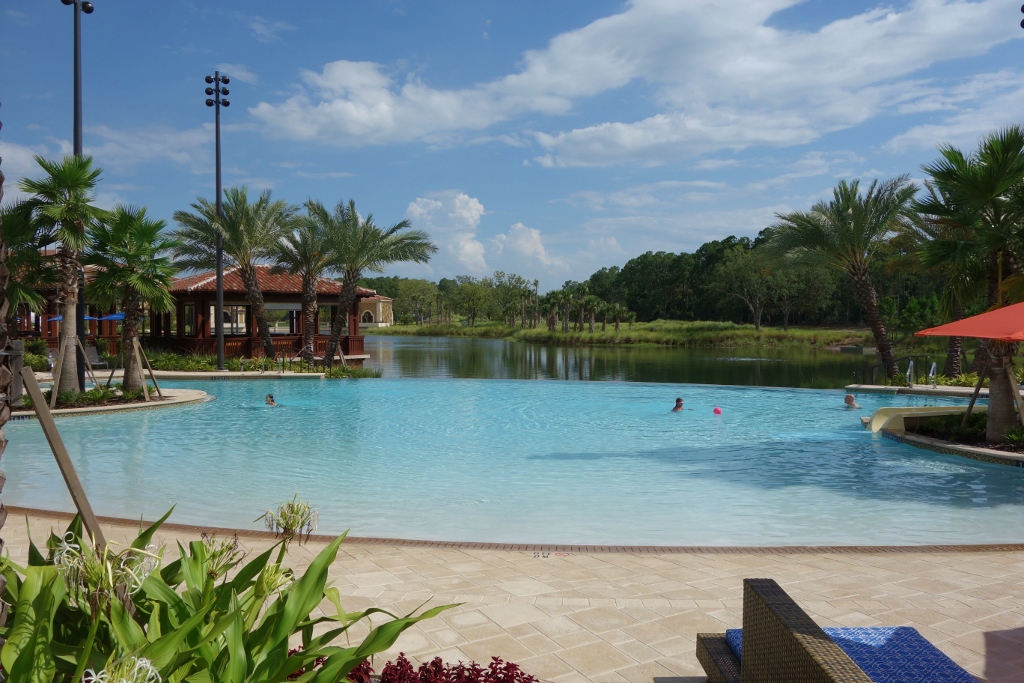 …and a large and long family pool.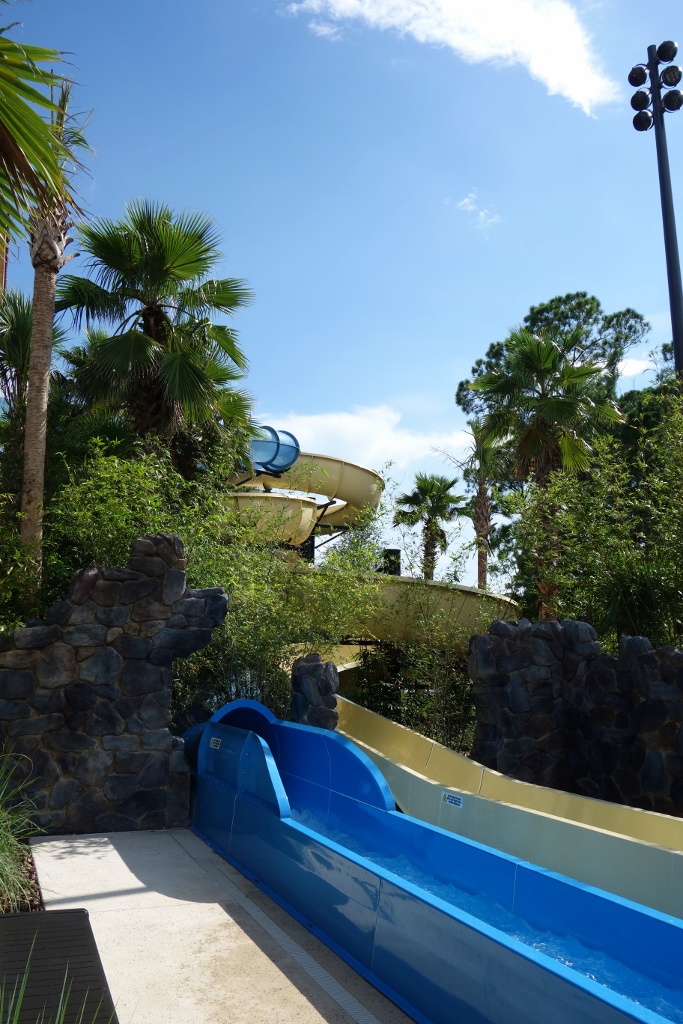 There's also dual pool slides, one open and one enclosed, that splash down into their own landing zone near the kid's water play area.  Pool lovers will simply love the offerings at the Four Seasons.
DINING AT THE FOUR SEASONS RESORT ORLANDO
There are five restaurants at Four Seasons: PB&G, the pool bar and grill; Cuban-American dining in Plancha at the golf clubhouse; Capa, a 17th-floor Spanish steakhouse; Ravello, with downstairs Italian dining and an upstairs bar (with its own bar menu, but where you can also order off the Ravello main menu). There's also a grab and go coffee shop, Lickety-Split.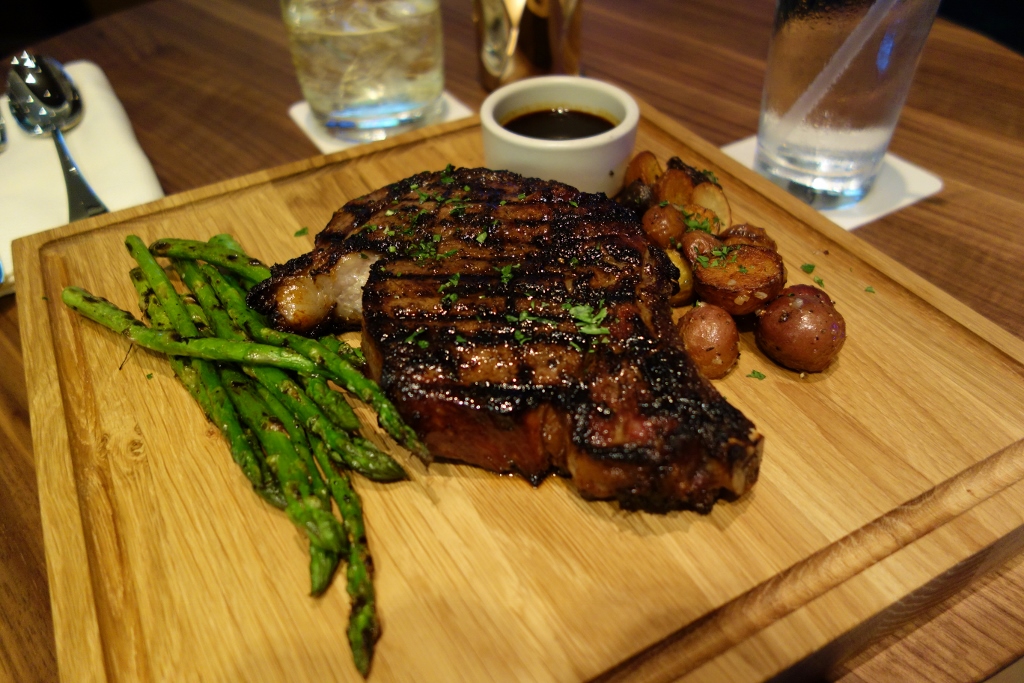 The only one I had a chance to experience on my 2014 visit was the Ravello bar, where I ordered a wonderful ribeye off the main Ravello menu.
Unadventurous, I admit, but I was here to watch Monday Night Football–steak seemed to suit. It was glorious (the food, I mean, not the game)–as nicely seasoned a steak as I've ever had…
Anyone can book meals at the Four Seasons…and I suspect many will. I'd suggest you dress for dinner at Ravello, Plancha, and Capa–though I saw plenty of people in shorts in Ravello.
Note: in April 2016 we had dinner at Capa, and it was less formal than I expected it to be.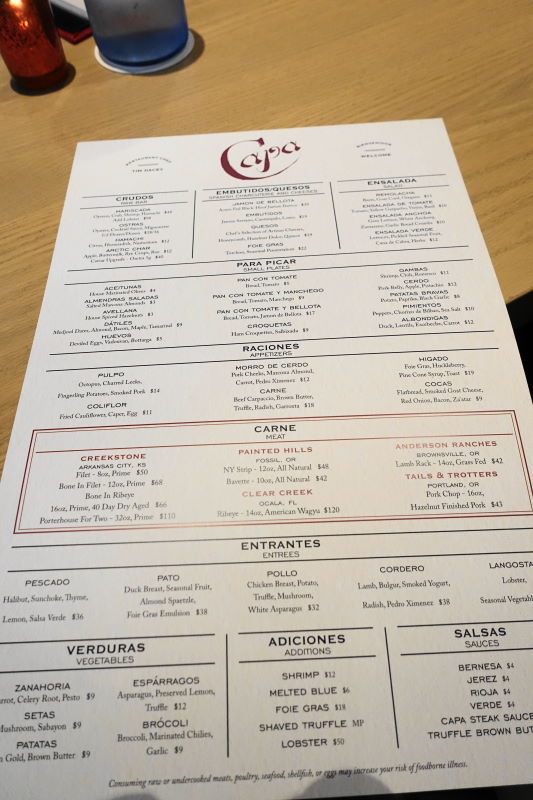 The Capa menu (click to enlarge)–note the beef organized by origin…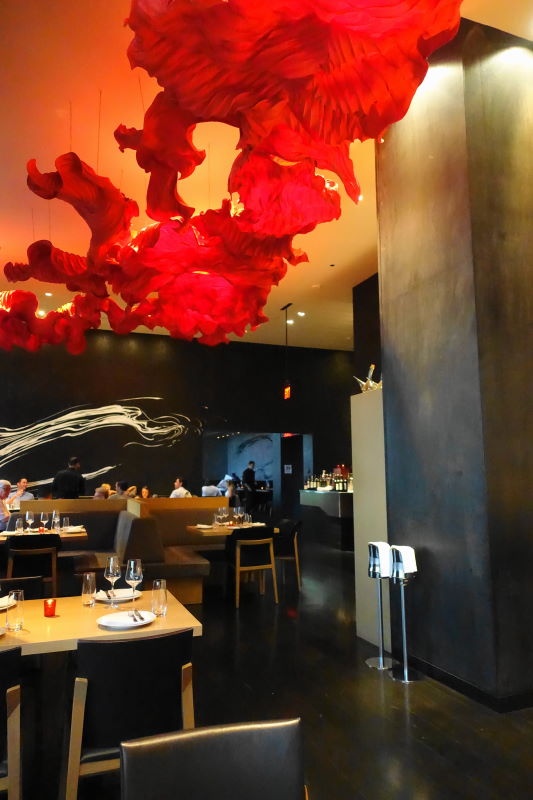 …and the setting.
PARK TRANSPORTATION AT THE FOUR SEASONS RESORT ORLANDO
All parking is valet, and getting your car in and out is fast and very straightforward. For those guests who want to use Four Seasons transport to the parks, there's two options.
One option is the free shuttles. There's two free shuttle routes:
One leaves on the hour and goes to the Transportation and Ticket Center (TTC), a monorail or ferry ride away from the Magic Kingdom, then the Animal Kingdom, then back to the Four Seasons.
The second leaves on the half hour and goes to the TTC near MK, Epcot, Hollywood Studios, and back to the Four Seasons
The result is twice hourly service to and from the TTC with its easy access to MK (and Epcot), and hourly to the other parks, with some stops in between. The scheduling is not right–the shuttles begin too late and end too early–and the frequency is not sufficient.
The other option is to pay for town car service, at $16 for Epcot and HS, $18 for MK, and $29 for AK.
THE STAFF AND THE GUESTS AT THE FOUR SEASONS RESORT ORLANDO
I have been in a lot of hotels (including more than a hundred different rooms at Disney World itself…), but only have stayed a couple of dozen times at five star resorts–mostly Ritz-Carltons, but also a few InterContinentals and Four Seasons.
People who haven't stayed in such often have two questions: will the staff treat me like a peon, and how supercilious are the other guests?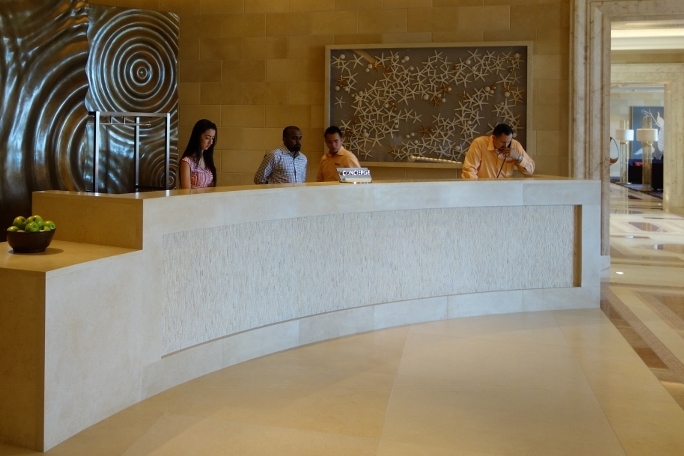 I loved, loved, loved the staff here, from the valets through the front desk folk to the pool staff to the Ravello team, and all the other staff I walked by in less structured settings. They were friendly, cheerful, and helpful.  They were a little more formal than Disney cast members–it was always "Hello," or "Good Afternoon," not "Hi!"–but they were most welcoming.
The other guests I was a little less keen on.  Three vignettes:
A Four Seasons staff member was touring me through Explorer Island. An overly thin guest walked up and simply straight out immediately interrupted us to demand a drink. The staff member told her she would be right with her, and after the guest walked away, I said to the staff member that she should feel free to take care of that guest and that we could return to our chat later, which is how things unfolded
Most people know how to wait for an elevator, and in what order to board one when it comes, based on where they are standing in proximity to the doors, as balanced out among men my age by gentlemanly factors.  But one tall wiry father with his tall wiry teenage son simply tried to elbow me out of the way to enter the elevator ahead of me. Luckily I've spent enough time walking on Oxford Street to know how to tenaciously preserve my little bit of this green Earth
A short wiry father with his short pre-teen son walked by in matching Speedos…
Now the hotel was not busy during my visits, so the sample size here of fellow guests encountered is small…but really??
PRICING AT THE FOUR SEASONS RESORT ORLANDO
Guest rooms here range from $545 to $2,000 per night. Suites range from $1,050 to $12,000 per night.  Add taxes and valet parking, and soon that adds up to real money.
My full-bed and king bed rooms were at the lower end of that scale, putting them 10-25% higher than the least expensive rooms in the monorail resorts the same time I stayed.
However, now through December 19 the Four Seasons Resort Orlando is offering a buy two nights, get the third free deal, which will put it below the cost of three nights in a monorail resort at standard rack rates. (You still may pay less at a Disney deluxe via a deal.)  To book a room at the Four Seasons, start with my friends at Destinations in Florida.
PHOTO TOUR OF STANDARD ROOMS AT THE FOUR SEASONS RESORT ORLANDO
This review continues here!
PAGES:  1  |  2  |  3  |  4  |  5  |  Next
Follow yourfirstvisit.net on Facebook or Google+ or Twitter or Pinterest!!
RELATED STUFF