A Lesser-Known Tip for Large Families at Walt Disney World
By Dave Shute
THE LEAST EXPENSIVE ON-SITE OPTION FOR LARGE FAMILIES AT WALT DISNEY WORLD
Welcome to the first stop aboard Magical Blogorail Teal. Enjoy the ride as this month we discuss some lesser known tips and tricks for Walt Disney World visitors.
This site has tons of advice for large families trying to figure out where to stay.  It begins here, then continues with
But there's no great lower-priced answer for staying on site with a really large group–say ten people.
What I recommend on Large Families: Value Prices for groups of this size is a family suite and a standard room at Disney's Art of Animation Resort, at a price (during the 2013 Fall price season)  of $45/person/night. Another even less expensive option is two Alligator Bayou rooms at  Port Orleans Riverside, at $41/person/night.
The problem with both these options is that your rooms might be a real hike apart…and no one would ever call them cheap…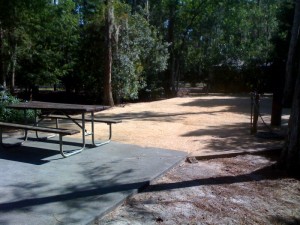 Or ten people could tent-camp at The Campsites at Disney's Fort Wilderness Resort for about $62 bucks a night during the same season*…or about $6.20 per person per night.
Fort Wilderness campsites hold as many as ten people, and, in a change from past practice, there's no difference in cost between one person and ten on the site. That's my lesser known tip!
However, tent camping at Disney World is not for the inexperienced, and not really a good idea for first time visitors.
PROS AND CONS OF LARGE FAMILIES TENT CAMPING AT FORT WILDERNESS
Disney's Fort Wilderness Resort is the best campground in the U.S., and compared to other large family options, the price can't be beat.
But you are still outdoors in Florida, and what with the summer heat, tornado season, hurricane season, etc., there's not many months I'd recommend even considering tent-camping there.
There's much more on this in the detailed review that begins here, but the short answer is I'd only recommend tent camping at Disney World mid-October-January, and May.
There's more–even during these milder months, the potential for strong sun or heavy rain is always there. 
You need the right gear–backpacking-style full coverage rain flys for the tents (huge tarps can serve this role), strong dining flys with extra guys and spare poles, additional tarps to use as sun shades, etc.
You also need sand stakes and extra tent guys, as the tent pads are soft sand.
In other words, these campsites work best for experienced, well equipped campers. 
Having it be your first tent-camping experience since Cub Scouts, and showing up with just a cooler, grill, sleeping bags and a typical family tent that only keeps out gentle rain falling straight down, is a recipe for misery.
I'm not keen on Fort Wilderness for first time visitors, either.  Dining is limited, it's hard and confusing to get around, and the internal transport system can easily waste an hour of your family's time a day.
But for around six bucks per person per night for families of ten, at the best family campground in America…it's sure worth thinking about!
*The seasons at Fort Wilderness are different than those at any other resort–see this for the details.
MORE LESSER-KNOWN DISNEY WORLD TIPS FROM MAGICAL BLOGORAIL TEAL
Thank you for joining me today. Your next stop on the Magical Blogorail Loop is Kathy's The Many Adventures of a Disney Lovin' Spectrum Mom.
Here is the map of our Magical Blogorail loop should you happen to have to make a stop along the way and want to reboard:
RELATED STUFF