Review: Disney's Grand Floridian Resort & Spa, Continued
This is the second page of this review. For the first page, click here.
MORE ON DISNEY'S GRAND FLORIDIAN RESORT
There are currently 8 official Disney owned and operated deluxe resorts at Walt Disney World.
In their recommended order for first time family visitors, they are
Many of these also offer Disney Vacation Club ("DVC") studios and villas, all for rent to the general public–see this for more on the Disney Vacation Club resorts.
A DVC property at the Grand Floridian is expected to open in 2013. See this for more.
ROOMS AT DISNEY'S GRAND FLORIDIAN RESORT
All Disney deluxe resorts have standard rooms; concierge rooms, which Disney calls "club" rooms; and suites. (See this for more on suites at Walt Disney World.)
At Disney's Grand Floridian Resort, multiple room types exist. Standard rooms, and most club/concierge rooms, sleep either four or five, five in two queens and a fold-down day-bed. "Dormer" rooms sleep 4 in two queens, are a little smaller than standard rooms, have much smaller balconies, but offer a vaulted ceiling.
King bed rooms are also available.
The Grand Floridian also has multiple types of deluxe rooms and a ton of suites. I'll return to these in a minute.
The next part of this review focuses on standard rooms, and in particular on a five-person room. (For a floor plan of a standard room, see the first page of this review.)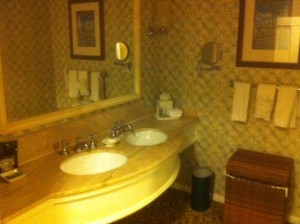 The rooms in the Grand Floridian were completely refurbished in 2007.
When you enter a standard room, you'll find on one side a good-sized closet.
On the other side is the bath, with double sinks and a separated toilet and tub area.
The hall opens into the large bedroom space.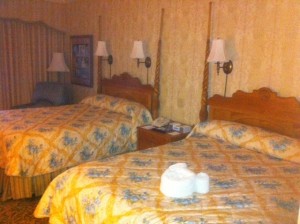 One side of the bedroom space contains two nicely spaced and decorated queen beds, separated by a small bedside table.
The beds have reading lights on either side, but both lights of a bed are controlled by a single dimmer switch.
So either both of a bed's reading lights are on, or neither. Odd.
Between them and the balcony is an upholstered chair.
Some floor plans show a table and chair here instead. I don't know if the furnishings vary, or if the floor plans that show these are from before the last renovation. If you know, leave a comment below!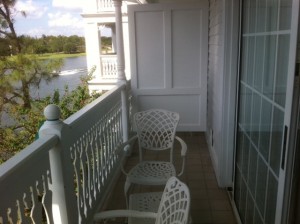 Standard room balconies are large, extending the full width of the room.
On the opposite wall to the bed side is a couch that converts into a bed, a combined dresser/ minifridge, with the TV mounted on the wall above, and a well-lit desk.
My son complained bitterly about the daybed–while sleeping in until noon–so I tried it out one night, and found it just fine. It easily fits six-footers.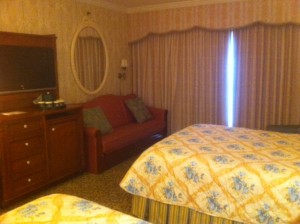 As I noted on the first page of this review, the furniture on this side is jammed together to fit without blocking the connecting door.
Rooms without connecting doors will have better massing and proportions along this wall.
The four drawers you can see in the photo are the only ones in the room–drawer storage is short for such an expensive resort.
CONCIERGE ROOMS, DELUXE ROOMS, AND SUITES AT DISNEY'S GRAND FLORIDIAN RESORT
I generally advise against special room types for first-time visitors, as they won't be spending much time in their rooms. However, they may be well worth it for families intending to spend more time at the Grand Floridian Resort than implied by this site's itineraries.
TikimanPages.com has a great discussion of the value of concierge rooms here. Though focused on the Polynesian, it applies to any deluxe resort.
Many Grand Floridian concierge rooms (Disney calls them "club" rooms) are the same size as the rest of the resort's rooms. However, there's also several types of "Deluxe" concierge rooms, and more than two dozen one and two-bedroom suites.
Deluxe rooms (and most one-bedroom suites) don't offer any more sleeping capacity–some offer less–they just give you more space, and more separate spaces, for your family to live in.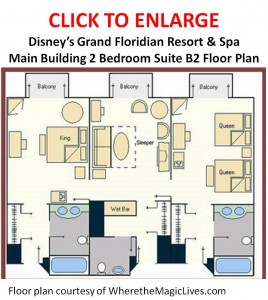 Most one bedroom suites are two bays wide, and most two-bedrooms three bays.
Two bedroom suites are often a near-standard queen and a near-standard king room on either side of a central parlor room, with connecting doors.
This permits the queen and king rooms to be booked separately if there isn't demand for the suite, or the king and the parlor rooms to be booked as a one-bedroom suite.
See the image–courtesy of Channing at WheretheMagicLives.com.
Exceptions in the main building include the Walt Disney Suite and Roy O. Disney Suite, the equivalent of 4 bays each, and the Presidential Suite, also known as the Grand Suite, about five bays.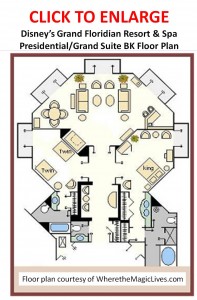 These are each folded into main building turrets–very cool.
See the image for the Presidential Suite floor plan–also courtesy of Channing at WheretheMagicLives.com.
The two Outer Lodge Hospitality Suites on the first floors of Conch Key and Sago Cay are four bays each.
They have the usual standard king and queen connecting rooms at the end, separated by a two-bay living space.
These two suites, often used for convention special events, each also have large private outdoor patios, perfect for watching Wishes.
As you can tell…suites at this resort are quite different.  Work with a travel agent if you are interested in suites at the Grand Floridian.
For more on suites, see this, and for more on larger families seeking deluxe options, see this.
Note that to all the capacity figures above you can add a child under three in a crib. A crib fits nicely between the dresser/TV and the closet.
THE THEMING OF DISNEY'S GRAND FLORIDIAN RESORT
This review continues here.
PAGES: Previous | 1 | 2  |  3 |  Next
RELATED STUFF