Category —
WDW Magazine
WDW MAGAZINE
WDW Magazine is the best digital magazine about Disney World out there. Every month it brings articles about Disney World from a group of writers that my buddy, editor Carl Trent, calls his "dream team," even though I am on it, and a gorgeous set of images from photographers that really are a dream team.
A digital subscription to WDW Magazine brings you not only the magazine itself every month, but also access to all its back issues and to its subscribers-only Facebook group, WDW101 live chats on Tuesdays at 9pm, and new digital wallpapers each month!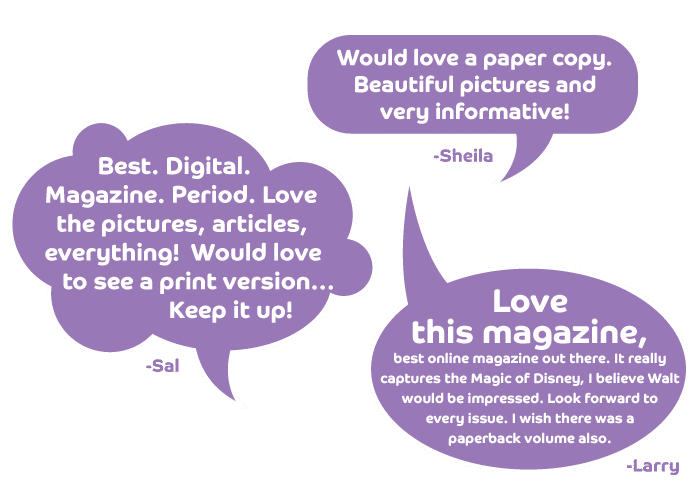 What could be better? Well, frankly, if you've ever seen the images in WDW Magazine, what could be better is a print edition—and a trial of a print edition is coming!
THE PRINT TRIAL OF WDW MAGAZINE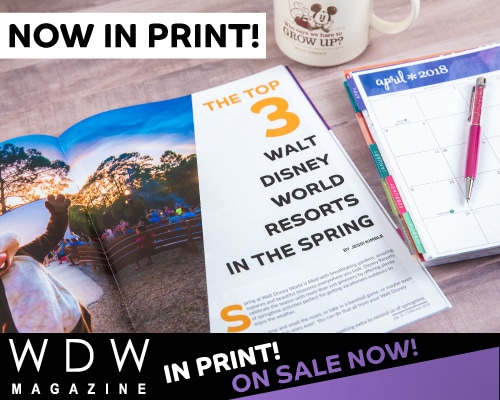 The WDW Magazine team is offering—in June only—the ability to buy three printed versions of WDW Magazine—the August, October and December issues—for only $30 (that is, $10 each, and your money will be refunded in full if, after you receive the August edition, you don't think it is worth it).
When you purchase the WDW Magazine print trial you'll receive three shiny new issues of WDW Magazine in print:
The "New And Coming Soon" issue delivered in August
The "Autumn Arrives" issue delivered in October
The "Holly Jolly Holidays Are Here" issue delivered in December
Each issue contains 60 stunning pages.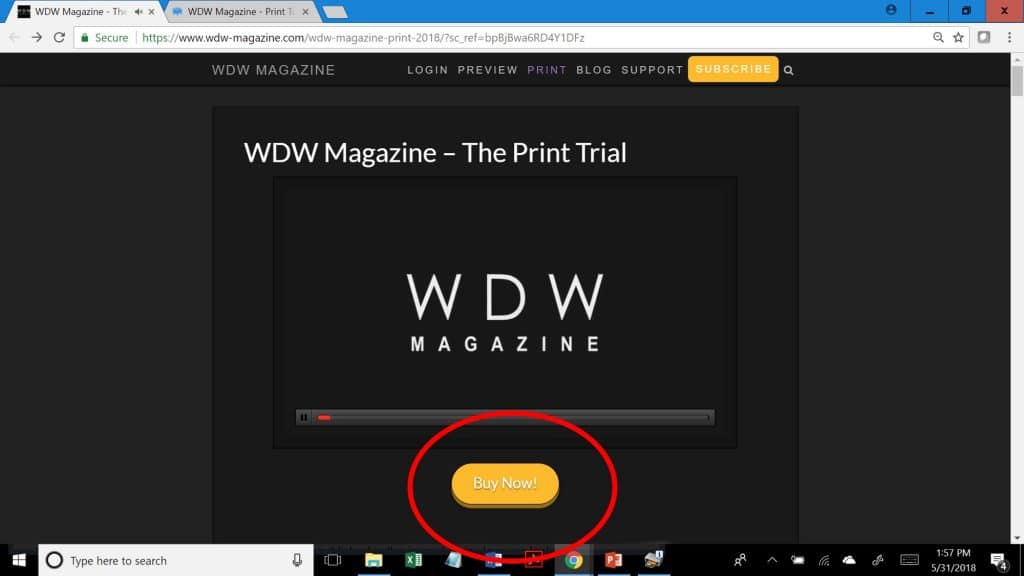 To sign up for the trial, go here and click the central button I've circled above in red.
It's called a trial because if enough people sign up for it, then WDW Magazine will offer further print issues after 2018. But you'll get the August, October and December issues regardless of how many people sign up!
If you are a Disney World fan, I can think of only one better way to spend your money between visits, so strongly suggest you sign up for the WDW Magazine print edition trial! You have to sign up in June 2018 to be part of the trial.
Note that you can also still simply subscribe to the digital edition. If you subscribe only to the digital edition, you won't get the print version, but you will still get a ton—you'll get the digital version of the August, October and December issues, plus more news and other material that doesn't fit into the print version. And you'll also get the digital issues for the months that aren't printing an issue (June, July, September, November, etc.). Plus you get the back issues and other perks I'd noted near the beginning of this post.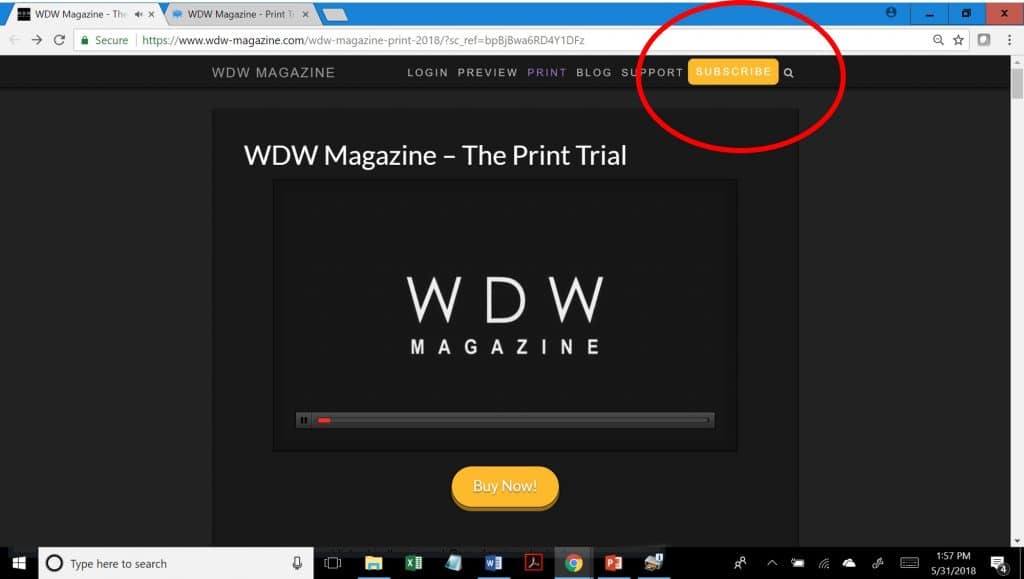 To subscribe to the digital edition, go here and click the button circled in red at the top right. That will open a page from which you can subscribe to either the digital edition or the print trial.
BUT WAIT, THERE'S MORE
Over the course of June, Carl will be doing four Facebook Live parties to celebrate the print trial.
There will be a bunch of giveaways in these shows, and at each show someone will win a signed copy of the top-rated Disney World guidebook I co-author with Josh of easyWDW.com, The easy Guide to Your Walt Disney World Visit!
Already have a copy? Give it to a friend, and keep the signed copy for yourself!
MY NEW ROLE ON THE MAGAZINE
I've been writing for WDW Magazine for almost five years, continuously since its inaugural issue. I've written more than 50 instances of my column for first-time visitors, and also written articles on the Disney World resorts. Also, each year Carl and I co-write an overview of the best times to visit during the upcoming year. This overview is set up as a debate, and I believe that every time we've disagreed, I've been right (although I didn't actually check…).
This set of topics makes perfect sense, since my expertise on first time visits, on when to go, and on where to stay is pretty well known.
But the WDW Magazine team did a survey—and discovered something we should have thought of years ago—that the audience of the magazine is almost entirely frequent returning visitors, not first-timers.
So my monthly column, beginning with the July issue, will be about the Disney World resorts—news, refurb updates, and every month a mini-review of a resort I've recently stayed in (I've stayed in more than 150 Disney-owned rooms, suites, studios, villas, cabins and campsites). The mini-reviews will be shorter versions of the resort reviews in The easy Guide to Your Walt Disney World Visit, as the reviews on this site with their thousands of words and hundreds of images are too long!
So check out WDW Magazine—either the digital version, or the print trial, or both! Remember that you can only sign up for the print trial in June. And if you subscribe to either via a link from this page, Carl will sprinkle a little pixie dust on me in return! So thanks—and I predict you'll love it…


Follow yourfirstvisit.net on Facebook or Twitter or Pinterest!!
June 1, 2018 2 Comments