To-Do List–Disney World Genie+ with TRON Itinerary
By Dave Shute
TO-DO LIST FOR DISNEY WORLD GENIE+ WITH TRON ITINERARY
This To-Do List is for the Disney World Genie+ with TRON Itinerary.
This itinerary requires that you stay in a hotel that is eligible for both Early Entry and 7a booking of ILL rides, and like everyone else you must also purchase park tickets for your specific dates, and in addition must book specific park reservations for each day of your trip.
In terms of supply and demand, specific hotels are the hardest elements to book, next hardest (but usually much easier so long as you have enough time before your visit) are park reservations, and after that, tickets themselves are easiest to book. However, you can't make park reservations until you have tickets, so the actual order is 1. Hotel; 2. Tickets; 3. Daily park reservations.
As I write this, Disney World hotel reservations are available online through the end of 2023.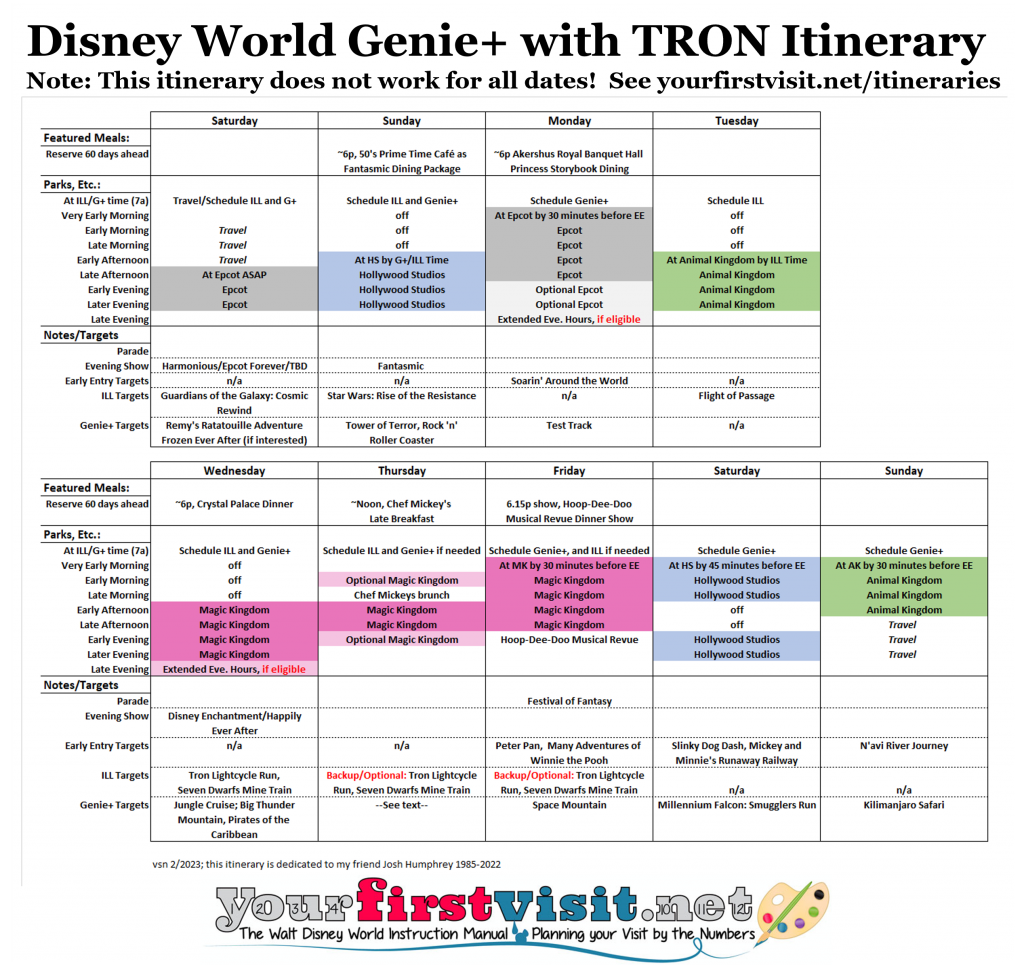 A. MORE THAN 180 DAYS BEFORE YOUR PLANNED ARRIVAL DATE
Confirm your budget, planned dates, intended hotel, kids' development and heights, and your transportation choice and its availability for your planned dates.
Create your My Disney Experience account here and add your family members to it
Set up your hotel and tickets. Call 407-939-7675 (preferred, because this allows you to tell the reservationist which building at your resort you wish to be in), or click here to use Disney's online system. If you are following my itinerary, you want the hotel you've picked for eight nights, and nine day "one theme park per day" tickets.
After you have your tickets, book your park reservations:
First Saturday: Epcot
First Sunday: Disney's Hollywood Studios
Monday: Epcot
Tuesday: Disney's Animal Kingdom
Wednesday: Magic Kingdom
Thursday: Magic Kingdom
Friday: Magic Kingdom
Second Saturday: Disney's Hollywood Studios
Second Sunday: Disney's Animal Kingdom
Make sure your hotel and tickets are linked in your account, and then make your daily park reservations.
Make your plane reservations, if flying. Make any other needed transportation arrangements.
B. 181 DAYS BEFORE YOUR ARRIVAL DATE
Disney Dining used to begin booking 180 days from one's arrival date. As I write this, booking begins 60 days from your arrival date. So I technically don't need this header here. But I am reserving space for it in case things change—and to put you on notice that things might change.
The dining you need to book is as follows:
First Sunday night, around 6p, dinner at 50's Prime Time Café as the Fantasmic Dinner Package at Disney's Hollywood Studios
Monday night, around 6p, dinner at Akershus Royal Banquet Hall (character meal with princesses) at Epcot
Wednesday night, around 6p, dinner at Crystal Palace, Magic Kingdom (character meal with Winnie the Pooh and friends)
Thursday morning, late breakfast, around noon, Chef Mickey's, Contemporary Resort, near Magic Kingdom (character meal with Mickie, Minnie, Donald, Pluto, and Goofy)
Friday evening, 6.15p show, Hoop-Dee-Doo Revue, at Fort Wilderness, near Magic Kingdom (dinner show)
C. 61 DAYS BEFORE YOUR ARRIVAL DATE
Login to your MyDisneyExperience.com account the day before, click the "Things to Do" tab at top right, under Dining hit "Make Reservations," and practice trying to reserve restaurants for the day before your arrival (hint: use the search box at the upper right).
This may well drive you crazy, but it works much better than it used to…
D. EXACTLY 5.50am EST, EXACTLY 60 DAYS BEFORE YOUR ARRIVAL DATE
1. Be on the restaurant website by 5:50am eastern time, and have your first reservation all set up on the page. Keep refreshing, as you will be let in as soon as Disney's system decides it is 6a. Book the restaurants from the list above on the days and time noted.
2. Do online check in, requesting as you do any special location points.
3. Order and customize your MagicBands.
E. JUST BEFORE/EXACTLY 7am EST, EVERY DAY
Every day at 7a you will need to book times for Genie+ rides, ILL rides, or both. This includes your first day, when you likely will be doing this from home. On Genie+ days, you'll need to buy Genie+ first, every morning, before 7a.
My friends at Destinations in Florida, the long-time travel agent partners of this site, can do most of this work for you!  Contact them using the form below.
Follow yourfirstvisit.net on Facebook or Twitter or Pinterest!!
RELATED STUFF