New Itinerary Coming that Adds TRON Lifecycle Run and Dining
By Dave Shute
NEW DISNEY WORLD ITINERARY COMING
Update: This itinerary is now published.
I've almost completed a revised itinerary for arrival dates beginning April 1, 2023 that incorporates both the opening of TRON Lightcycle Run at Magic Kingdom and also re-inserts recommended reserved dining into the To-Do list and daily plans.
In terms of which days in which parks, it is largely identical with the current itinerary, so the To-Do list for that itinerary is still mostly valid, but it has the following changes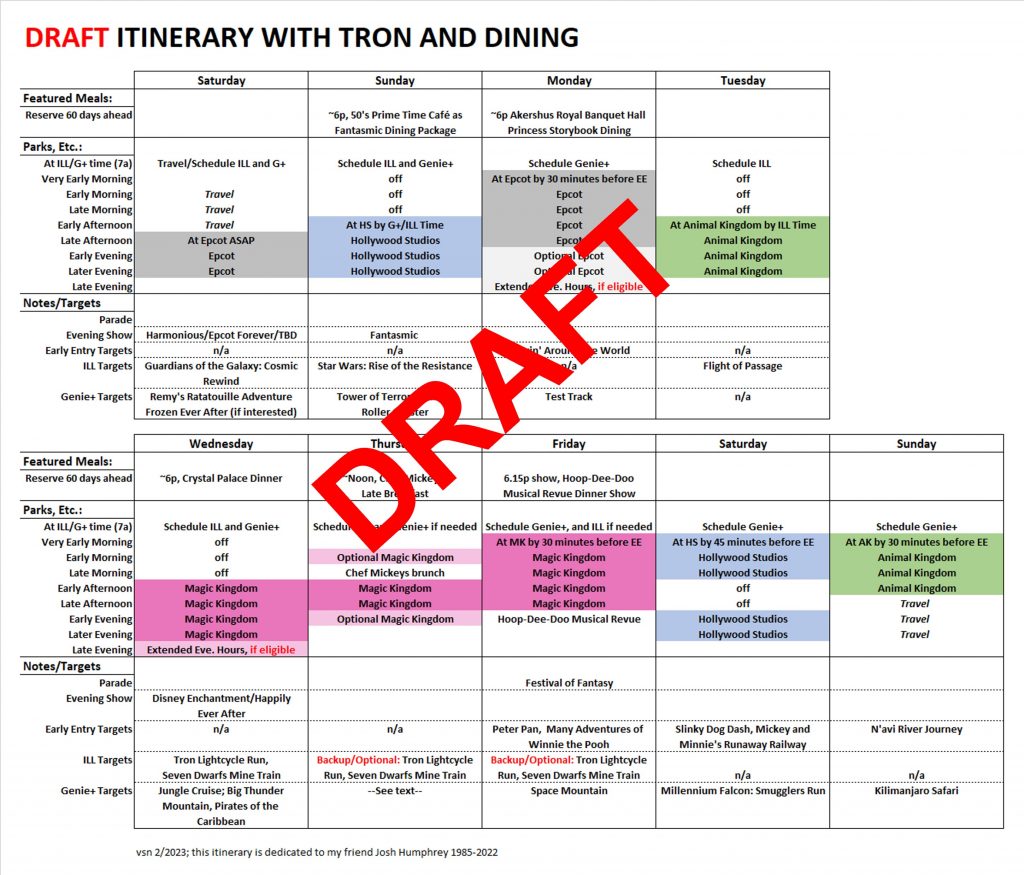 First, Thursday becomes an additional Magic Kingdom day, not an off day, so you have to buy a nine day rather than an eight day ticket, and also add a park reservation for Magic Kingdom on Thursday.
Second, you need to reserve as soon as you are within the 60 day window of your resort check in the following dining:
Sunday at ~6p: 50's Prime Time Café as Fantasmic Dining Package
Monday at ~6p: Akershus Royal Banquet Hall
Wednesday at ~6p: Crystal Palace
Thursday at ~noon: late breakfast at Chef Mickey's
Friday at 6.15p: The 6.15p showing of Hoop-Dee-Doo Musical Revue
I hope to have all the details out by next week, but the above are the time-sensitive changes.
Follow yourfirstvisit.net on Facebook or Twitter or Pinterest!!
RELATED STUFF