Fridays with Jim Korkis: Delicious Disney
By Dave Shute
Welcome back to Fridays with Jim Korkis! Jim, the dean of Disney historians, writes about Walt Disney World history every Friday on yourfirstvisit.net.
YOUR PERSONAL DISNEY LIBRARY (56)
By Jim Korkis
It has never been my intention to review travel books because there are just too many of them and they quickly go out of date, nor has it been my intention to review Disney cookbooks because cooking is definitely outside my area of expertise–I have never used a recipe in any cookbook!
However, there are always exceptions, especially if the book offers something out-of-the-ordinary like the Unofficial Disney Parks Cookbook I previously reviewed on this site. Delicious Disney falls into that same category because even if you ignore every single recipe in this book, there is still enough material of value if you are interested in Walt Disney World history to add this book to your collection.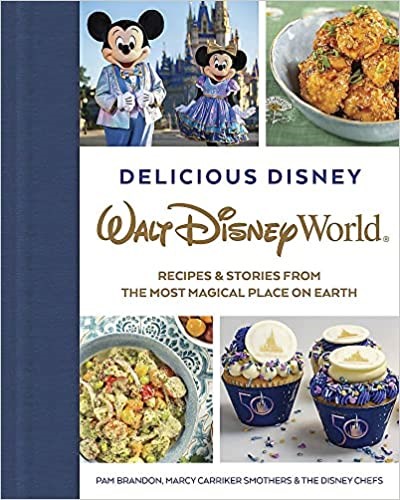 The co-authors of Delicious Disney are Pam Brandon, who is well known in the Disney foodie community for authoring over twenty cookbooks officially approved by Disney, and Marcy Smothers, who authored Eat Like Walt and Walt's Disneyland: A Walk in the Park with Walt Disney. Her credentials as a Disney historian who does original research and shares previously undocumented material are very solid.
It is the contribution of Smothers that makes this book interesting and valuable, with her adding historical background, selecting appropriate quotations, and also influencing the images that are included.
In fact, Delicious Disney starts with a rarely known quotation by Imagineer John Hench: "It was Walt's idea that while dining was an experience, we should augment it in any way we could. After all, he was a showman." That quote is accompanied by a black-and-white photo of Walt and Hench from 1965 experiencing the newly remodeled Plaza Inn on Disneyland's Main Street.
Delicious Disney is nine chapters running 320 pages and its binding makes it difficult to use in a kitchen setting. Some have complained about which recipes were chosen to include and which were left out. For me, I felt there was a nice balance of recipes from yesteryear to some favorites of today and all of them covering the Walt Disney World parks and resorts.
I liked seeing the recipe of the Handwich, the "one-hand sandwich", actually developed by Imagineering, that was hugely popular when it debuted at WDW in 1987. Of course, more familiar recipes are included as well like the Canadian Cheddar Cheese Soup from Epcot's World Showcase, Tonga Toast from Disney's Polynesian Village resort, and the Grapefruit Cake from Disney's Hollywood Studios.
In addition, there are several recipes served today on WDW property that are plant based. Beverages have their own separate chapter, featuring Walt Disney's Scotch Mist, the Kungaloosh from the sorely missed Adventurers Club, Orange Bird Flip, Huckleberry Punch, and more that I have not seen in other cookbooks.
Again, I was very excited to see not only a large clear photo of the dish itself that was being discussed but photos of the location (many of them being photos I hadn't seen before) and wonderful examples of concept art for the restaurants and large, clear images of classic menus.
As always with Disney Editions books, the color photos are magnificent and I appreciated that some of those photos were close ups of details in the restaurant with the text focusing on the storytelling and theming of the locations.
I debated about purchasing this book but now that it is in my collection, I would certainly look forward to a sequel if it included similar material presented in a similar manner.
*  *  *  *  *
Thanks, Jim! And come back next Friday for more from Jim Korkis!
In the meantime, check out his books, including his latest, Off to Never Land: 70 Years of Disney's Peter Pan and Final Secret Stories of Walt Disney World!
Follow yourfirstvisit.net on Facebook or Twitter or Pinterest!!
RELATED STUFF