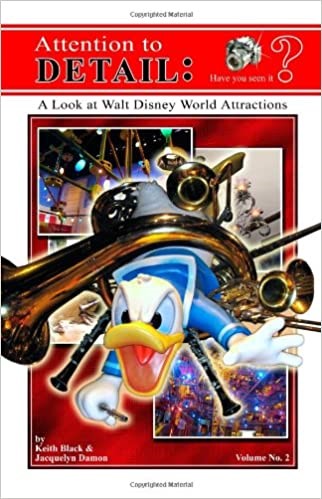 Welcome back to Fridays with Jim Korkis! Jim, the dean of Disney historians, writes about Walt Disney World history every Friday on yourfirstvisit.net.
YOUR PERSONAL DISNEY LIBRARY (54)
By Jim Korkis
With today's technology, it is possible for just about anyone to publish a book and have it remain in print, but without publicity, many of these small volumes often go unnoticed. I am constantly stumbling across these "surprise" books while looking for something else.
Attention to Detail: A Look at Walt Disney World Attractions was self-published in 2010 and was apparently successful enough focusing on the four WDW theme parks that a second volume in the same style and size with more material was released in 2014.
Since these books were published roughly eight and twelve years ago, they feature some images of things that are no longer in the parks (which I consider a bonus) but also do not have images of some of the more recent additions to the parks.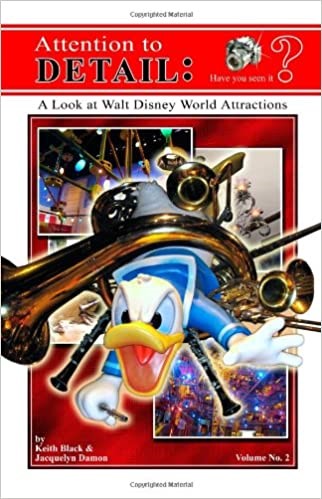 As the book proclaims, "There is always more to discover when you pay attention to detail!" which is a belief I heartily support. One of the things that makes a Disney theme park experience different is the attention to detail that is seamlessly incorporated into everything.
The book is formatted much like a quiz or hunt to encourage visitors to the four WDW theme parks to look a little closer at the details.
It is a small book with only 75 pages but each of those pages usually features three good-sized full color pictures thanks to the photography of Damon. Unlike too many self-published books these photos are clear and have great composition to show the detail with no confusion about what it is. I wish more books had photos this good when discussing details in the parks.
Apparently Damon also contributed to the text but it is clear the majority of that text is by Black who has a background in architecture and engineering. Like many writers, he had no access to the back story or nomenclature of the things he depicts. Like many other writers about Disney, he is simply a typical park visitor with a healthy curiosity and is depending upon what he actually sees.
He and his wife and two daughters took their first trip to Walt Disney World in 2003 and he began to recognize things that others took for granted but that he realized had a greater purpose than mere decoration.
The book goes through three levels: Weenie, Prop and Pixie Dust with each section zooming in a little closer. Besides each photo is an area for the reader to make notations and after each section there are hints about where the image is located in which park. At the end of the book is an Answer section that has two or three sentences for each of the ninety-nine details depicted in the previous pages.
The book has two short scavenger hunts for details designed for a family or group of friends. I found them clever without being frustrating. It is clear that the authors meant all the material to be fun and inspire visitors to pay better attention to what they were seeing.
I found the book charming and it made me smile. It includes several photos that even gave me pause. Obviously, this is not a "must have" book, but I was glad to discover it and its sequel and include them in my research library. It may be a little challenging to get a copy of both books but this first volume was easily obtainable.
*  *  *  *  *
Thanks, Jim! And come back next Friday for more from Jim Korkis!
In the meantime, check out his books, including his latest, Final Secret Stories of Walt Disney World and Disneyland Historical Highlights!
Follow yourfirstvisit.net on Facebook or Twitter or Pinterest!!