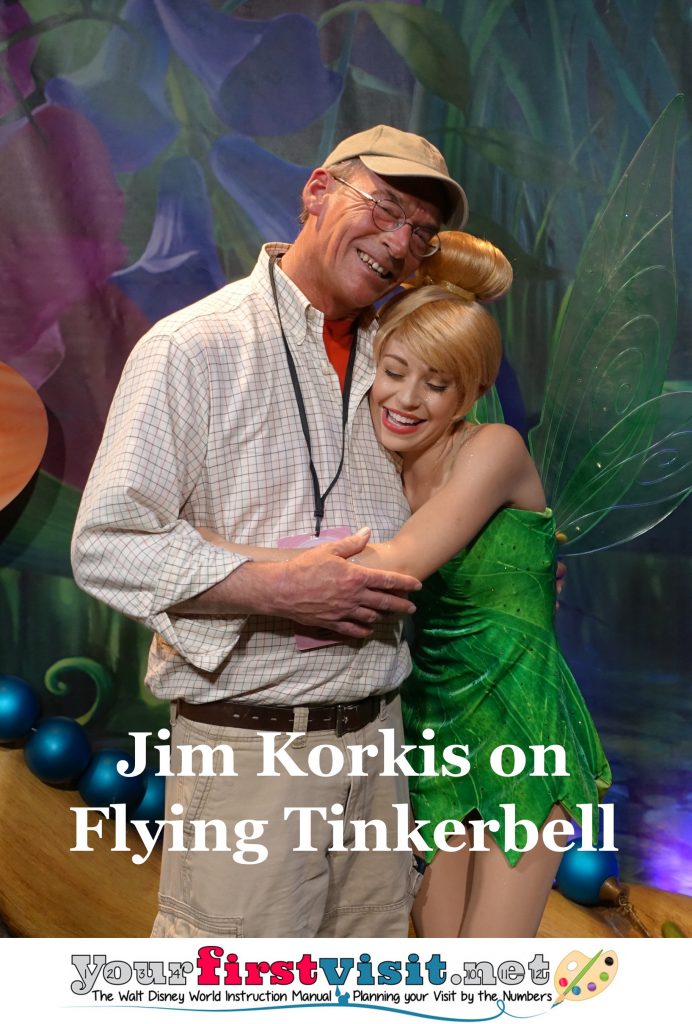 Welcome back to Fridays with Jim Korkis! Jim, the dean of Disney historians, writes about Walt Disney World history every Friday on yourfirstvisit.net.
FLYING TINKERBELL IN MAGIC KINGDOM
By Jim Korkis
Tinker Bell was always closely associated with Disneyland because of her appearances on the weekly Disney television show. In the early days, one of the most frequently asked questions by guests at the new theme park was "Where is Tinker Bell?"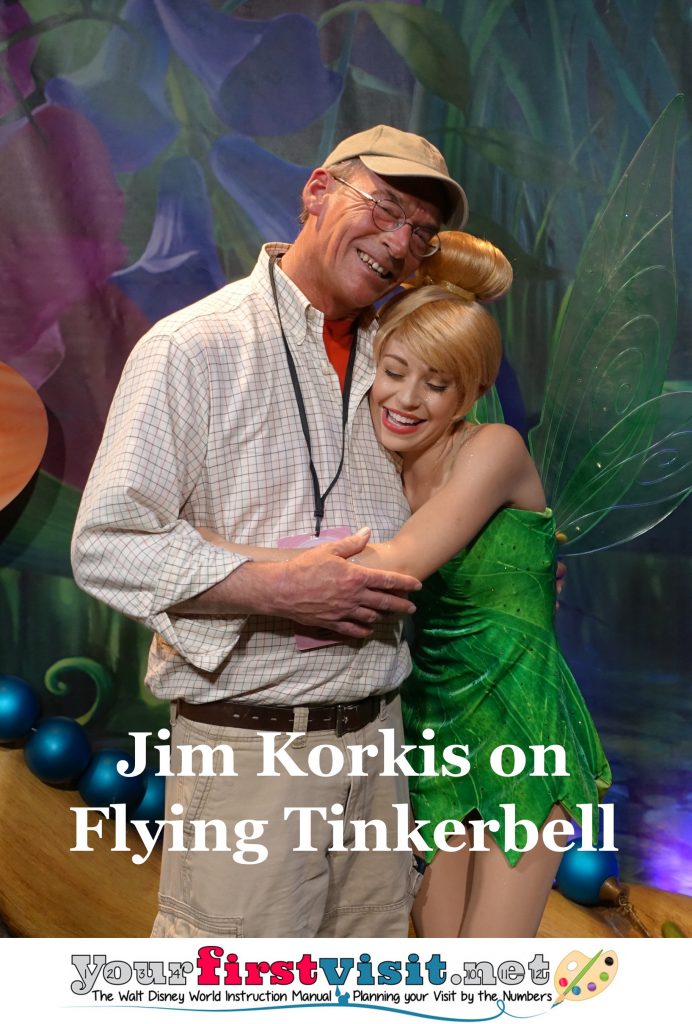 In 1958, Walt Disney saw a special concert show of Disney music at the Hollywood Bowl where a live Tinker Bell flew off the top of the amphitheater. He hired the same artist, Tiny Kline, a seventy year old grandmother, to re-create that same experience at Disneyland.
In the summer of 1961, Kline took her first flight off of the Matterhorn to signal the start of the fireworks. The entire trip took approximately thirty seconds. Kline passed away in 1963 from cancer and passed the wand on to a succession of other flying Tinks.
Many things immediately transferred from Disneyland to Walt Disney World when Walt Disney World opened, including the Candlelight Processional. However, it took until a special Fourth of July fireworks show that debuted July 3, 1985 for Tinker Bell to fly in Walt Disney World, from Cinderella Castle to Tomorrowland in front of more than 60,000 guests.
Disney Legend Bob Matheison told me in an interview 2015: "The first girl out in Florida to do Tinker Bell was actually a receptionist during the day and earned extra by flying across the sky at night. I forget her name, but I can remember what she looked like. It was tough to find someone to do that because it doesn't look as high looking up as it does looking down."
As part of the audition process, applicants are put in the costume and hauled up a hundred feet in the air by a crane and swung around to see how they can handle the height situation, "fly gracefully" and how well they can maintain a pose.
A Cast Member needs to be small and light enough for the harness and cables to hold, but heavy enough to have the momentum to sail down the cable and not get stuck.
Unlike at Disneyland, at Walt Disney World it is a straight flight from Cinderella Castle to Tomorrowland.
About an hour before the fireworks show Tinker Bell begins putting on her makeup and climbing the stairs and eventually taking a ladder to her place, 189 feet up, inside Cinderella's Castle. There is room at the top for Tinker Bell and one other Tech person. The door she climbs out of is only four feet tall.
Once the cue is given the tech person literally shoves Tinker Bell out of the window to get enough momentum, and depending on the shove off, and the wind resistance, Tinker Bell can fly anywhere from 20 to 35 miles per hour for the flight.
At the top of the Tomorrowland Terrace there is a gymnast mat up on its side waiting to bring Tinker Bell to a screeching halt. Before she gets to the mat, there are two techs standing on the roof with a type of blanket net spread open to "catch" her.
Tinker Bell is wearing a battery pack in a backpack, to make sure that her wings are fully illuminated, but that isn't the only thing in the backpack; she also has a rope in case she meets wind resistance or didn't get a good shove. If that happens, Tink Bell turns off her lights and pulls herself hand over fist the rest of way down the wire to the top of the Tomorrowland Terrace on a metal platform close to Buzz Lightyear/Laugh Floor.
Once there, and out of sight of our guests, she reaches into her backpack and pulls out that rope. She then drops it to the two techs that are standing on the roof, and they pull her the rest of the way to safety.
The techs who catch her have a black bag to put the flight equipment in (which is identical to the bag they went up into the castle with from the launch position) and a moving blanket. They have to grip the moving blanket REALLY hard since she is really moving quickly and then run fast to sort of match her speed and she would literally crash into the blanket they were holding to slow her down.
*  *  *  *  *
Thanks, Jim! And come back next Friday for more from Jim Korkis!
In the meantime, check out his books, including his latest, Final Secret Stories of Walt Disney World and Disneyland Historical Highlights!