Fridays with Jim Korkis: The Species Survival Program at Disney's Animal Kingdom
By Dave Shute
Welcome back to Fridays with Jim Korkis! Jim, the dean of Disney historians, writes about Walt Disney World history every Friday on yourfirstvisit.net.
THE SPECIES SURVIVAL PROGRAM AT DISNEY'S ANIMAL KINGDOM
By Jim Korkis
Even the Covid pandemic can't stop nature. July 2021 was a big month for babies being born to the animals at Disney's Animal Kingdom.
A Nile Hippopotamus calf made its debut July 12 in the park's Safi River on Kilimanjaro Safaris, joining nine other hippos in the family (also called a bloat), including mother Tuma and father Henry.
The following day, Western Lowland Gorilla mom Azizi gave birth backstage and can be seen onstage with her new child along with father Gino and the infant's big brother Cory at Gorilla Falls Exploration Trail. The new arrival marks twelve gorillas currently in Disney's care.
Finally, Humphrey, a Masai Giraffe calf, made his savanna debut July 29. He was born June 10, but spent time backstage bonding with mom Lily. He can be seen on Kilimanjaro Safaris, and can be recognized by the heart-shaped markings dotting his coat.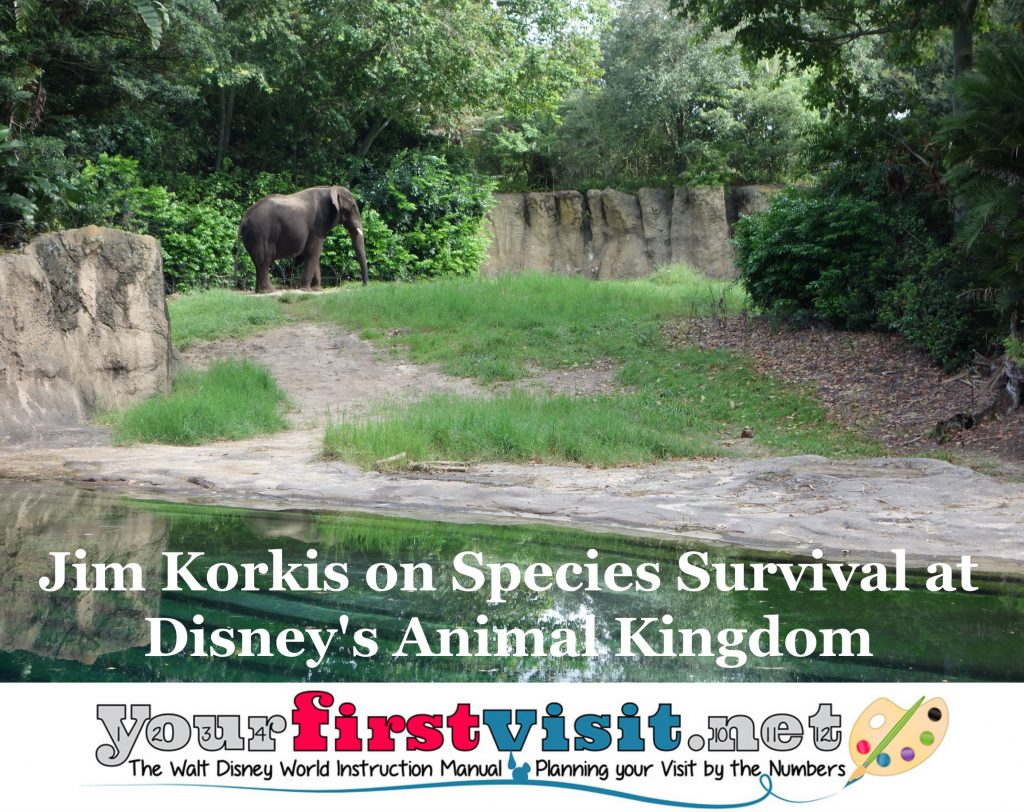 Giraffes are a vulnerable species facing extinction in the wild, with a population decline of 40 percent over the past 30 years. There are roughly 35,000 Masai giraffes left in the wild, and their population continues to decline due to poaching and habitat destruction.
Hundreds of birds and animals have been born at Disney's Animal Kingdom. Some were born even before the park was officially opened on April 22, 1998.
The very first animal births were a female kudu (a kind of African antelope) on October 1997 and a baby lowland gorilla in November 1997. Disney's Animal Kingdom is part of the Association of Zoos & Aquariums (AZA) species survival programs that involve cooperative breeding and management for critical species.
Disney's Animal Kingdom has been able to successfully breed many vulnerable animals, including black rhinos which are endangered in central and southern African as well as white rhinos which are endangered in east and southeast Africa, northeast Sudan and northeast Nigeria due to poaching for their valuable horns. Disney's Animal Kingdom was able to breed two black rhinos and six white rhinos just in its first ten years.
Scott Terrell, director of animal and science operations for Walt Disney Parks & Resorts, said "Accredited zoos and aquariums participate in breeding programs for a variety of reasons, including helping to ensure excellent health for the animals in our care by maximizing genetic diversity and so people will be inspired to conservation action as a result of seeing live animals face-to-face when they visits places like Disney's Animal Kingdom."
How important is the species survival plan? In 2008 Disney's Animal Kingdom was responsible for five of the eleven Micronesian kingfisher chicks (a very rare bird with a world population at the time of only 81) born worldwide.
Disney's Animal Kingdom has also been responsible for the birth of Key Largo woodrats (an endangered species only found on Key Largo in Florida), and akapi (a large African mammal only found in the Ituri Forest in the Democratic Republic of Congo) among many others.
In addition, Disney's Animal Kingdom has been responsible for the births of African elephants, a threatened species and difficult to breed. The first calf, a male named Tufani, was born May 2003, followed by Kianga, a female born in July 2004 and another female Nadirah, born December 2005.
In August 2017, two adorable Sumatran cubs named Anala and Jeda were the first Sumatran tiger cubs born at the park. Fewer than 500 Sumatran tigers are left in the wild due to threats such as habitat loss, poaching and the illegal wildlife trade. The cubs belong to Mother, Sohni, and Father, Malosi, and can be seen at the Maharajah Jungle Trek.
*  *  *  *  *
Thanks, Jim! And come back next Friday for more from Jim Korkis!
In the meantime, check out his books, including his new books Vault of Walt: Volume 10: Final Edition,   Kungaloosh! The Mythic Jungles of Walt Disney World and Hidden Treasures of Walt Disney World Resorts: Histories, Mysteries, and Theming, much of which was first published on this site.

Follow yourfirstvisit.net on Facebook or Twitter or Pinterest!!
RELATED STUFF