Fridays with Jim Korkis: How President Clinton Got to Talk in the Hall of Presidents
By Dave Shute
Welcome back to Fridays with Jim Korkis! Jim, the dean of Disney historians, writes about Walt Disney World history every Friday on yourfirstvisit.net.
HOW BILL CLINTON GOT TO TALK IN THE HALL OF PRESIDENTS, PART ONE
By Jim Korkis
The Hall of Presidents attractions re-opened on August 3, 2021, with a new audio-animatronics figure of President Joe Biden.
Breaking from recent tradition, this new version does not include a speech from the new president himself, but rather just a brief introduction and a recitation of the oath of office. Details on a table beside Biden include his signature Ray-Ban aviator style sunglasses, a vase of beautiful peach blossoms that represent his home state of Delaware, and The Penguin Book of Irish Poetry.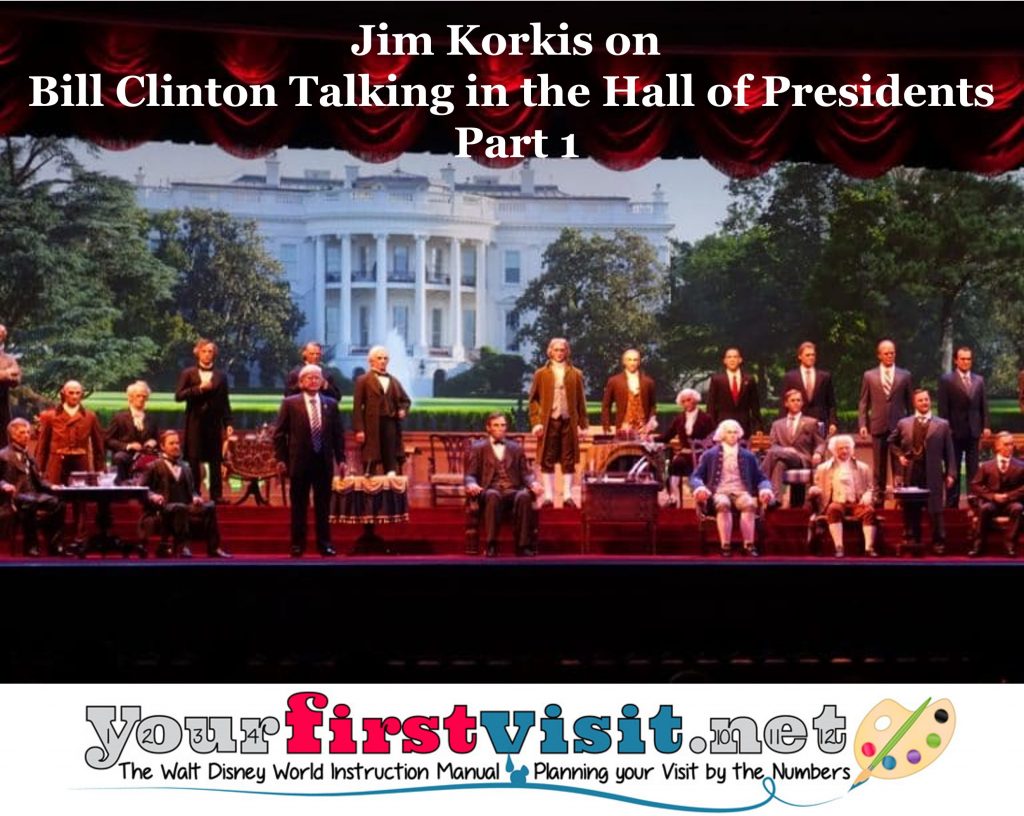 While Biden is the 46th president, there are only 45 figures in the Hall of Presidents rather than 46. That's because Grover Cleveland is the only man to serve as president in two non-consecutive terms.
In October 1993, Imagineering added President Bill Clinton to the attraction, for the first time speaking in his own voice. This new approach was retained when George W. Bush, Barack Obama and Donald Trump became President.
In early 1992, head of Imagineering Bob Weis approached Rick Rothschild about doing something to increase attendance at the attraction. The proposal was for a multi-media theater show combining historic film re-creations with stage scenes featuring the latest technology in audio-animatronics.
CEO Michael Eisner felt that Disney could not afford such a drastic re-do at that point. He suggested doing something simpler that spotlighted President Clinton, so Imagineering came up with the idea of featuring the newest president giving a short speech in his own voice.
Richard Bates and Debbie Jardot of the Walt Disney Company's Washington, D.C. office approached the president's staff outlining the overall show concept, and the staff requested a script.
The script was a collaborative effort, with Eisner serving as leader and making changes and suggestions to the work of Marty Sklar, Tom Fitzgerald, Rick Rothschild and Justin Segal. The White House staff was satisfied with the result.
The president approved the idea and sent his personal information (shoe size, pants measurements, and other physical characteristics) to help construct the audio-animatronics figure that was made before the speech was recorded. However, the more difficult hurdle was finding recording time in the president's schedule, not only because of his many commitments, but also because of shifting world events that required his attention.
As a result, Imagineers was on 24 hours notice to record for several weeks, even having WDI talent coordinator Gabrielle Reynolds searching for the best Clinton "sound alike" available, as backup. Finally, Friday, September 3, 1993 at 4:00pm was confirmed.
They had to check the acoustics in different rooms at the White House because since the figure would stand on an open stage, it was vital that the recording not sound like it was done in a small enclosed space where voices reverberate off the walls. At the last moment, one of Clinton's speechwriter, Jonathan Prince came with changes to make the speech sound more like the president.
It was taped in the Library with two cameras, one to record the full body and the other capturing close-up facial nuances. In addition, the president was to record seven messages in a row: four related to various national organizations, one for the United Way, the Disney one, and finally one as a "kick off" for Monday Night Football telecasts.
However, the changes that Prince made and Eisner and Sklar approved by fax from California were never given to the teleprompter operator, John Mings. It had to be hurriedly typed in by hand. Mings told the Imagineers, "Actually with Clinton, I don't have much to do, anymore. He usually carries a speech in hand and then makes a lot of changes improvising as he goes along."
*  *  *  *  *
Thanks, Jim! and see this for Part Two: The President Clinton Recording Session.
In the meantime, check out his books, including his new books Vault of Walt: Volume 10: Final Edition,   Kungaloosh! The Mythic Jungles of Walt Disney World and Hidden Treasures of Walt Disney World Resorts: Histories, Mysteries, and Theming, much of which was first published on this site.

Follow yourfirstvisit.net on Facebook or Twitter or Pinterest!!
RELATED STUFF