Fridays with Jim Korkis: Pin Trading at Walt Disney World
By Dave Shute
Welcome back to Fridays with Jim Korkis! Jim, the dean of Disney historians, writes about Walt Disney World history every Friday on yourfirstvisit.net.
WALT DISNEY WORLD PIN TRADING
By Jim Korkis
Limited Disney pin trading has returned to Walt Disney World with certain restrictions.
Disney buttons and pins have existed for decades. I can still clearly remember the excitement in 1986 when Coca-Cola, to celebrate the 15th anniversary of Walt Disney World, released 60 Disney character pins displayed in a wooden frame with a glass cover. These pins could be purchased separately or in a set.
The Olympic Games offered pins to spectators as early as 1912 and continued to do so for decades along with other sporting events. Sometimes special venues like hot air balloon festivals also having pin trading. Disney executives attended some of these venues in the mid-1990s before deciding to try to market pins.
It was at Walt Disney World that Disney Pin Trading as we know it today officially began. It was meant to be a temporary offering during the Millennium Celebration starting in October 1999 that included the debut of Pin Central at Epcot as the first dedicated Disney Pin Trading location.
This was all under the direction of Ed Storin who at the time was Manager of Special Events and was working closely with Epcot for the upcoming celebration.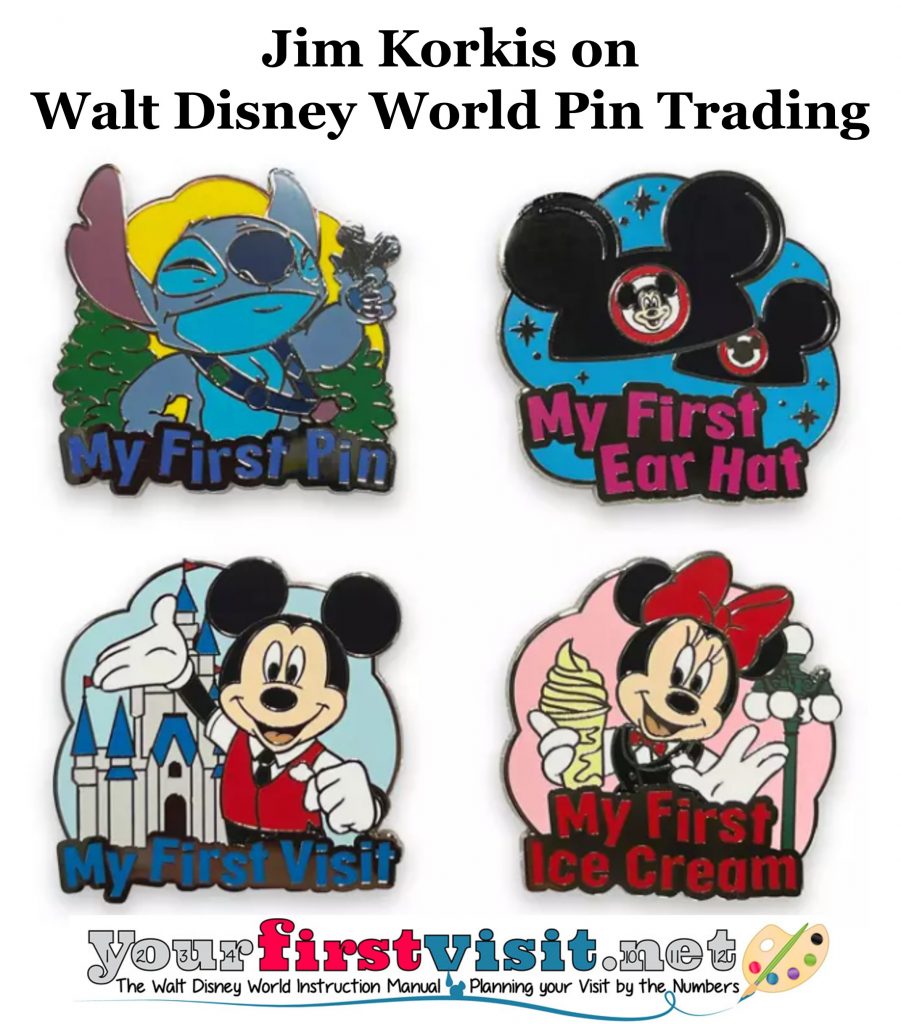 Due to its overwhelming popularity that year, the trading program was extended and now over twenty years later, guests can collect or trade Disney pins at a variety of Disney destinations worldwide including on the Disney Cruise Line. Pin trading started at Disneyland in April 2000, at Tokyo Disneyland in November 2000, and at Disneyland Paris in October 2001.
Pin trading is the activity of making a mutually agreeable exchange of one Disney pin for another, usually at some Disney location like a theme park or an event. Disney "pin etiquette" says that a "tradable" pin is one that is "a cloisonné, semi-cloisonné or hard-enamel metal Disney pin" that includes the Disney copyright.
As long as the criteria are met, cast members are required to trade with a guest.
Jim Greene led a team for two to three years to set the guidelines and rules for pin trading. Greene said, "It wasn't about just selling our guests a pin. It was about engaging guests so we gave guests on a hotel package a free, flex 'Celebrate the Future Hand in Hand' pin in 2000 that was fairly unattractive.
"We told them they could trade it with cast members with a black lanyard for another pin they wanted. So the adventure started. Over the course of eighteen months we gave out one and half million of the free pins."
There have been too many pins produced over the decades (including ones exclusively for cast members) to collect them all, so generally a Disney collector might limit the collecting to a particular character, theme or film. New pins can become available weekly and older ones go out of production quickly. In fact, the pins released from 1990 to 2010 are often worth a lot more than the newer ones released today.
Primarily, the Disney Design Group was responsible for the pin images, and on average it took 180 to 200 days to turn a Disney pin concept into a reality to be sold.
The most expensive pin made was a Dream Jeweled Mickey Mouse pin covered in 130 different semi-precious stones that retailed for $1,295 and was released in a limited edition of three.
"We found the more pins we put out, the more guests and cast wanted to trade," said Storin. "Cast members got excited because they became pin collectors and traders themselves. It became more than just merchandise. It was about the experience. Pin trading became like an attraction."
Thanks, Jim! And come back next Friday for more from Jim Korkis!
In the meantime, check out his books, including his new books Kungaloosh! The Mythic Jungles of Walt Disney World and Hidden Treasures of Walt Disney World Resorts: Histories, Mysteries, and Theming, much of which was first published on this site.

Follow yourfirstvisit.net on Facebook or Twitter or Pinterest!!
RELATED STUFF