Fridays with Jim Korkis: Toy Story Mania!
By Dave Shute
Welcome back to Fridays with Jim Korkis! Jim, the dean of Disney historians, writes about Walt Disney World history every Friday on yourfirstvisit.net.
TOY STORY MANIA! IN DISNEY'S HOLLYWOOD STUDIOS
By Jim Korkis
With the opening of Toy Story Land in Disney's Hollywood Studios, the Toy Story Mania! attraction was re-themed with a new entrance to look like walking into a carnival game box that's supposed to be the box that the Toy Story Mania! game came in.
The queue is adorned with super-sized board games and playthings: Crayola crayons, Candyland, Chutes and Ladders, Tinkertoys, Viewmaster reels of Disney animated films, A Barrelful of Monkeys, Checkers, Little Golden Books and much more.
Two new characters were added when the attraction's Toy Story Land entrance debuted in June 2018: Lenny, Andy's walking binoculars, and Chuckles the clown, who was introduced in Toy Story 3, are represented in Toy Story Mania! by way of the boxes they originally came in.
With the shift from Pixar Place to Toy Story Land, several changes were made to the games of the attraction to include characters from Toy Story 3. Rex was replaced in the Hamm and Eggs game by Buttercup, a unicorn, while Bo-Peep's Baaa-loon Pop game was replaced by Rex and Trixie's Dino Darts.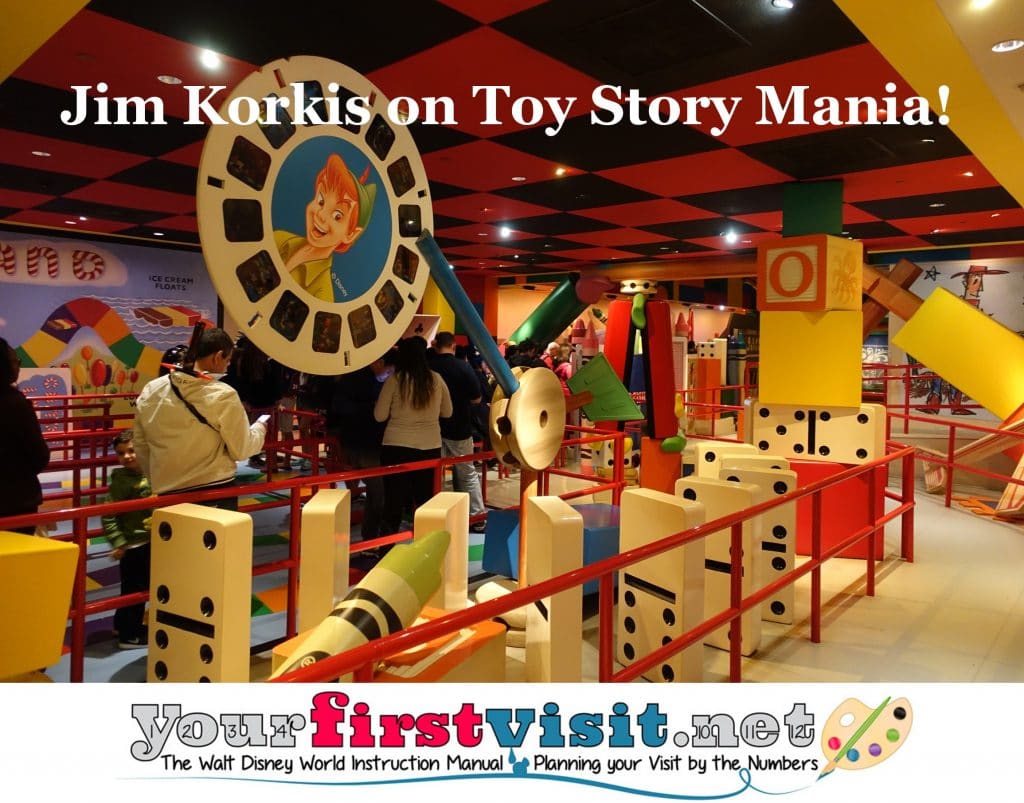 However, the innovative technology remained, including a five foot tall Mr. Potato figure in the queue line who sings songs (written by the group Riders in the Sky who wrote the song Woody's Roundup), dances, tells jokes and can remove his ear and put it back on. He is the carnival barker figure (sold separately) for the game.
Mr. Potato Head also marked the first Audio-Animatronics figure whose mouth appeared to form words and vowel sounds.
"I think guests will most enjoy Don Rickles' fast tongue (Rickles provided the voice for the character in all the Toy Story feature films and shorts) and mellifluous movement this figure possesses as it accompanies his voice with both mannerisms and actions," said Jimmy Thomas, principal Manufacturing technical and mechanical designer for Mr. Potato Head.
"There are too many different things to list from a technical standpoint by comparison to any other audio-animatronics figure that we have built thus far at Imagineering."
The loading area of Toy Story Mania! is themed as the floor of Andy's room with the iconic blue cloud wallpaper, Andy's bed and dresser, and books and toys along the walls, so the guest seems to have shrunk to the size of a toy. The murals located in the load area are the biggest attraction murals painted since Epcot was built.
Guests are situated back-to-back four to a vehicle so everyone has a front row seat. A computer prompts various sounds, lighting and other themed effects depending on where the vehicle is along the track.
Each vehicle consists of four "spring-action shooters" used throughout the attraction to launch virtual darts at balloons, rings around aliens and eggs at barnyard targets. With 56 screens programmed with 3-D animation from Walt Disney Pixar Animation Studios, each game lasts approximately thirty seconds.
"With the use of more than 150 computers over various networks, the technology in this attraction makes it feel like it's never the same experience twice," said Walt Disney World Senior Engineer Jose Corpuz.
Another innovation was an offline loading area for guests with disabilities.
"As a result of this unique approach to accessibility, guests traveling in wheelchairs or using other mobility aids such as walkers, canes or crutches have as much time as they need to board either a specially designed Wheelchair Accessible Vehicle or to transfer into a standard vehicle," said Mark Jones, Operations manager, Walt Disney World Services for Guests with Disabilities.
*  *  *  *  *
Thanks, Jim! And for more on Toy Story Land, see this.
And come back next Friday for more from Jim Korkis!
In the meantime, check out his books, including his new books Kungaloosh! The Mythic Jungles of Walt Disney World and Hidden Treasures of Walt Disney World Resorts: Histories, Mysteries, and Theming, much of which was first published on this site.

Follow yourfirstvisit.net on Facebook or Twitter or Pinterest!!
RELATED STUFF