Fridays with Jim Korkis: Disney's Caribbean Beach Resort
By Dave Shute
Welcome back to Fridays with Jim Korkis! Jim, the dean of Disney historians, writes about Walt Disney World history every Friday on yourfirstvisit.net.
DISNEY's CARIBBEAN BEACH RESORT
By Jim Korkis
Disney's Caribbean Beach Resort opened October 1, 1988 with calypso music and games as the first Disney moderate resort hotel. When the resort opened it was the fifth largest hotel complex in the United States. It was designed by Fugleberg Koch Architects of Winter Park, Florida.
In keeping with the Caribbean theme, the resort is split into five island-themed "villages": Aruba, Martinique, Barbados, Trinidad and Jamaica. These two story buildings blend tranquil pastel walls and white-wood railings. They feature vividly colored metal roofs.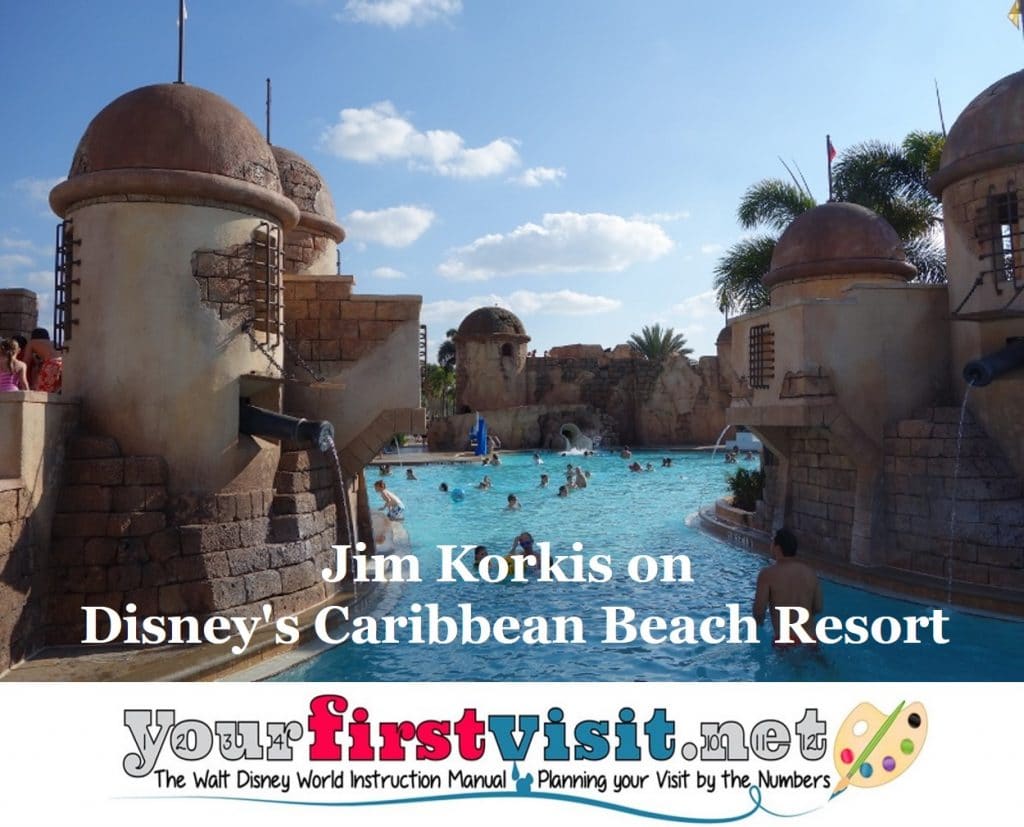 These areas surround the 45 acre lake called Barefoot Bay. A mile-long promenade filled with walking/running trails and small white sandy beaches surround the bay.
In the center of the man-made lake is Caribbean Cay, an island with a playground, picnic area, and lots of lush foliage. Caribbean Cay is connected to the promenade on each side by a footbridge.
Cay (pronounced "key") refers to a small, low-elevation, sandy island on the surface of a coral reef and comes from the Spanish word "cayo." It is a popular term for islands in the Caribbean area. Key West was originally called "Cayo Hueso".
"We're building a fun experience, a vacation," said Wing Chao, vice president of the Disney Development Company when the resort opened. "A hotel is an extension of the guest experience. When they leave the Magic Kingdom they can continue their fantasy at their accommodation. We want the theming to be so pervasive that guests feel like they're walking onto a movie set."
That movie set was meant to reflect the brightly colored and laid back atmosphere of the Caribbean with references to its history as a haven for pirates. That includes a pirate themed pool area with cannons that shoot water. A pirate-ship-themed playground sits in the middle of a kids' pool.
Older kids can climb a spiral staircase to the top of a turret for an 82-foot trip down the larger slide and through the fortress wall.
In January 2009, Disney refurbished many rooms in the Trinidad village with a pirate theme that included nautical details and pirate ship-shaped beds. Unique touches in the room include the dresser resembling crates and the mini-fridge fitting inside a barrel.
Until 1997, guests could purchase jewelry called "Plata del" that was handcrafted from 370 year old silver coins salvaged from a Spanish galleon that sank off the cost of Florida in 1622. Each piece of jewelry was struck directly from "Piece of Eight" recovered from the shipwreck site and came with a certificate of authenticity.
The Custom House that served as the resort's reception building, where guests check in and check out, featured architectural elements like verandahs, handrails, canopies and tile floors that were typical to government buildings of the Caribbean islands.
In 2018, a major refurbishment project resulted in Old Port Royale now acting as "the port of entry" for the resort, where guests can access check-in, concierge services and other resort amenities
The Old Port Royale pool is themed after a Spanish fortress Fuentes del Morro. Port Royale is also a setting for both the movie and the Magic Kingdom theme park attraction "Pirates of the Caribbean."
*  *  *  *  *
Thanks, Jim!  There's much more on Disney's Caribbean Beach Resort beginning here.
And come back next Friday for more from Jim Korkis!
In the meantime, check out his books, including his new books Vault of Walt Volume 9: Halloween Edition, and Hidden Treasures of the Disney Cruise Line.

Follow yourfirstvisit.net on Facebook or Twitter or Pinterest!!
RELATED STUFF