A Friday Visit with Jim Korkis: The U.S. Presidents at Walt Disney World
By Dave Shute
Welcome back to Fridays with Jim Korkis! Jim, the dean of Disney historians, writes about Walt Disney World history every Friday on yourfirstvisit.net.
US PRESIDENTS AT WALT DISNEY WORLD
By Jim Korkis
As we celebrate Presidents' Day this month, I thought I would take a look back at American Presidents who visited Walt Disney World.
Since it opened in 1971, Walt Disney World has hosted every American President while they were in office, except for Gerald Ford and Donald Trump.
Ford did visit Disneyland in Anaheim in 1975, and his daughter Susan inaugurated River Country at Fort Wilderness Resort and Campground. Trump was scheduled to host a Republican fund raiser event at the Grand Floridian December 2019 but it was relocated to Miami.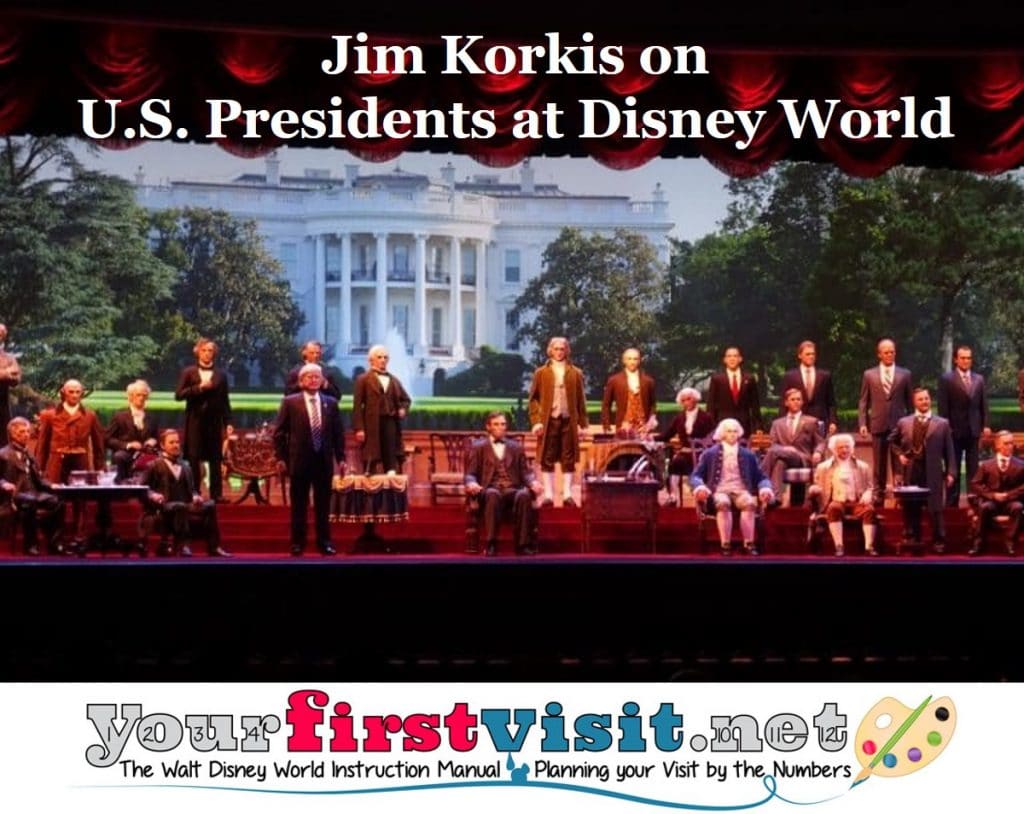 Of course, all the presidents are represented in Magic Kingdom's Hall of Presidents as audio-animatronics doppelgangers.
Jimmy Carter came to the Magic Kingdom in 1978, speaking from a podium decked out with flowers for the 26th World Congress of the International Chamber of Commerce.
Ronald Reagan made two trips to Epcot during his time in office, the first on March 7, 1983 when he visited the American Adventure. He viewed the attraction.
After the presentation, the President visited with students participating in the World Showcase Fellowship Program, an educational and cultural exchange program that no longer exists at Epcot, but was designed to enable outstanding young adults to represent their various countries for one year in the pavilions of World Showcase. That concept evolved into the College and International Program.
His second trip on May 27, 1985, was billed as the President's Inaugural Bands Parade.
Dozens of marching bands were unable to perform at Reagan's second inauguration because of severe cold weather. Disney CEO Michael Eisner, who was part of the viewing group in Washington, D.C., offered him the opportunity to have the bands perform for him at Epcot. Only eighteen of the original fifty bands were able to participate while Reagan observed from a special bulletproof plexiglass booth outside the American Adventure.
A star-and-striped costumed Mickey Mouse (who had previously posed for photos with the president, even giving First Lady Nancy a kiss on the lips) led off the parade with the combined Osceola and St. Cloud bands.
The bands were followed by a spectacular daytime fireworks display, the release of 15,000 balloons, and a flyover by four F16 fighter jets.
George H.W. Bush had two visits of his own to Epcot in 1990 and 1991. Walt Disney World's 20th Anniversary Celebration was the setting for the first gathering of President Bush Sr.'s Daily Points of Light award recipients. This award is still given to outstanding community volunteers across the U.S.
It was held at the American Gardens Theater in EPCOT. President George W. Bush responded in kind in 2004 and named Walt Disney World itself a Daily Point of Light.
On January 19, 2012, Barack Obama gave a speech on travel and tourism set in front of Cinderella Castle at the Magic Kingdom, joking that: "I confess I am excited to see Mickey. It's always nice to meet a world leader who has bigger ears than me." In actuality, although Obama waved at the Partners' Statue in Hub, he did not have a photo opportunity with a costumed Mickey Mouse.
At a later appearance in 2012, Obama spoke to the National Association of Latino Elected Officials conference held at the Contemporary Resort.
Even though both Bill Clinton and George W. Bush visited Walt Disney World property during their presidencies, they never actually went inside the parks. Bill Clinton just visited the Disney Institute in 1996 while George W. Bush delivered speeches at both the Contemporary Resort in 2003 and then the Grand Floridian Resort and Spa in 2006.
*  *  *  *  *
Thanks, Jim!  There's more on the (pre-President Biden) Hall of Presidents here.
And come back next Friday for more from Jim Korkis!
In the meantime, check out his books, including his new books Vault of Walt Volume 9: Halloween Edition, and Hidden Treasures of the Disney Cruise Line.

Follow yourfirstvisit.net on Facebook or Twitter or Pinterest!!
RELATED STUFF