A Friday Visit with Jim Korkis: Polishing the Dragons
By Dave Shute
Welcome back to Fridays with Jim Korkis! Jim, the dean of Disney historians, writes about Walt Disney World history every Friday on yourfirstvisit.net.
YOUR PERSONAL DISNEY LIBRARY (36)
By Jim Korkis
The title of Polishing the Dragons refers to making sure that every detail, no matter how small or seemingly inconsequential, looked marvelous when filming the 360 degree film Wonders of China: Land of Beauty, Land of Time for the China pavilion at Epcot.
At nearly 250 pages, Polishing the Dragons by Jeff Blyth, the director of not only this film but also several other Circle-Vision films for Disney, is a fascinating glimpse into the challenges of making this film that played for twenty years at Epcot as well as ten years at Disneyland.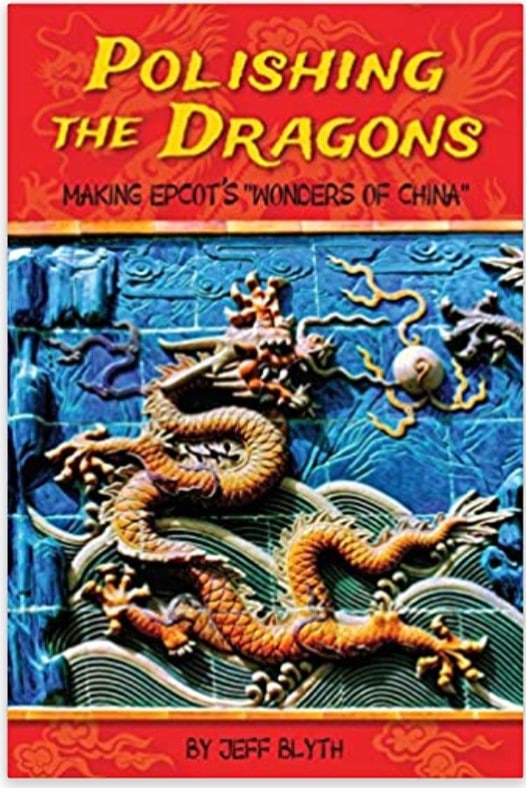 At the time the film debuted on opening day at Epcot in 1982, people realized how amazing it was to catch such an overwhelming glimpse of the beauty of China, since the Disney film crew were the first non-Chinese outsiders to be allowed to film certain sites, and had to carefully maneuver through government restrictions.
In 2003, the film was replaced by a newer film entitled Reflections of China that incorporated some of the footage from the original film, and was also directed by Blyth.
Birnbaum's Walt Disney World: The Official Vacation Guide stated about the Wonders of China, "Every step of the way, the film crews were besieged by curious Chinese, even in empty Mongolia. For the Huangshan Mountain sequence, which lasts only seconds, the crew and about three dozen hired laborers had to carry the 600-pound camera uphill for nearly a mile.
"The Chinese government would not permit Disney cameramen to shoot aerial footage in some areas, so Chinese crews were sent aloft to record the required scenes, first on videotape and later—after approval from the Disney director in charge of the project—on film."
The book is very well put together, with a distinctive kinetic "feel" to the cover and interior pages. The conversational tone of the text is very appealing and gives an intimate insight into the mind of the filmmaker and why certain decisions were made.
The book contains 400 full color photographs from the author's personal collection. The book is an expansion of a personal journal that Blyth kept for decades, which is an exciting revelation since it could mean future books chronicling some of Blyth's other work for Disney.
Blyth's work on Wonders of China led to more work for Disney, including The Eternal Sea (at Tokyo Disneyland), American Journeys (at Disneyland, the Magic Kingdom, and Tokyo Disneyland), and Portraits of Canada for EXPO 86 (also EPCOT).
Blyth directed the 1989 feature film Cheetah, a G-rated family adventure filmed on location in Kenya for Disney Studios, executive produced by Roy E. Disney.
He also directed the most ambitious Circle-Vision production ever made, From Time to Time, a premiere opening day attraction at EuroDisneyland (later Disneyland Paris). This film, with a few revisions, also played as The Timekeeper at Tokyo Disneyland and the Magic Kingdom.
I admit that I was a little hesitant that I might not enjoy a book just dedicated to a film that disappeared from Epcot years ago, but I found it fascinating once I started reading, because it comes across as a very personal journey with both amusing and frightening anecdotes, like one of the crew falling into Qianhai Lake, one of the most polluted but historic lakes in China. Obviously, the information about this film will never appear elsewhere or in this great detail.
For fans of original Epcot, Circle-Vision films, or China itself during a particular period of time, this book is definitely a "must have". I still recommend it for others as well to add to their personal Disney libraries.
*  *  *  *  *
Thanks, Jim! and come back next Friday for more from Jim Korkis!
In the meantime, check out his books, including his two new books,  Vault of Walt Volume 9: Halloween Edition, and Hidden Treasures of the Disney Cruise Line.

Follow yourfirstvisit.net on Facebook or Twitter or Pinterest!!
RELATED STUFF