A Friday Visit with Jim Korkis: Cooking with Mickey and the Disney Chefs
By Dave Shute
Welcome back to Fridays with Jim Korkis! Jim, the dean of Disney historians, writes about Walt Disney World history every Friday on yourfirstvisit.net.
YOUR PERSONAL DISNEY LIBRARY (34)
By Jim Korkis
Some of the difference in a Disney theme park experience is the food, and the memories created by the meals enjoyed especially when shared with family and friends. The variety of options to sate an appetite seem almost endless, from gourmet upscale to traditional comfort food with a twist.
Many food offerings are unique to the Disney theme parks, and many Disney fans can effectively argue that having a Monte Cristo sandwich at the Blue Bayou, or Cheddar Cheese Soup at Le Cellier Steakhouse, or Tonga Toast at Kona Café, just somehow tastes different than anywhere else, and it is not just the ambience of the location.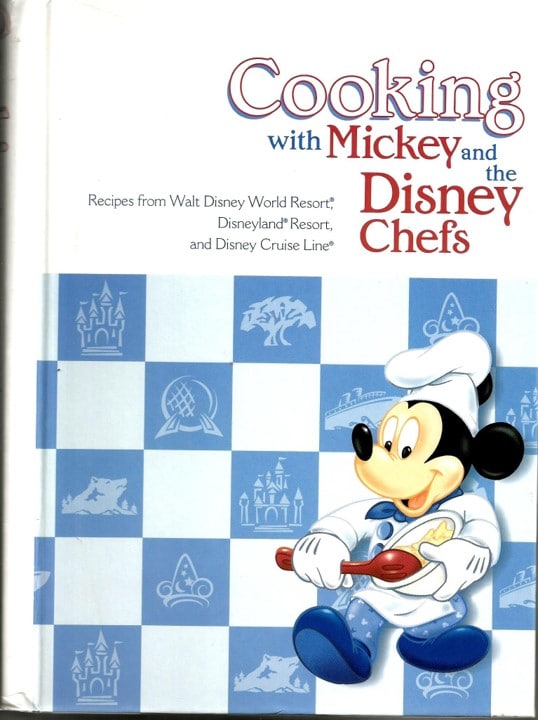 Of course, that is one of the challenges with Cooking with Mickey and the Disney Chefs as well. Despite how accurate the description or adept the home chef, the end result will taste very similar but not quite exactly as it is served at the parks. Like any good chef, the Disney chefs will often modify the ingredients on the spot based on taste, smell and look.
My grandmother drove me crazy because every time I tried to record her making her famous Greek wedding cookies (Kourabiedes), she did little different things each time. She learned the recipe as a young girl and would never write it down. Despite my many attempts, I have never been able to quite duplicate them and if I blinked or turned away for a second, she did something that I missed writing down.
Released by Disney Editions in 2004, Cooking with Mickey and the Disney Chefs has eighty pages of recipes from Walt Disney World, which is one of the reasons I have chosen to review it. In addition, there are nearly an additional eighty pages devoted to recipes from the Disneyland Resort and the Disney Cruise Line.
Author Brandon wrote, "The aim of this cookbook is to present favorite recipes that are 'home-cook' friendly – though the Disney chefs must serve hundreds, all of the recipes here have been adapted to family-size servings, and tested for home use."
Pam Brandon has been involved with several best selling Disney-related cookbooks over the years. She is a food and travel writer and managing editor of Edible Orlando magazine.
She is also food columnist for the Palm Beach Post, the Orlando Sentinel and more, including being a consultant to Birnbaum's official Disney guidebooks. In addition to Disney cookbooks, she has written other recipe and cookbooks, primarily centering on Florida. She is often identified as Disney Parks Food Writer.
Of course not all the favorite Walt Disney World recipes are included in the book, one of the reasons for so many other Disney cookbooks by Brandon, such as A Cooking Safari with Mickey: Recipes from Disney World's Animal Kingdom.
One of the complaints that some Disney fans have about Cooking with Mickey and the Disney Chefs is that it features no photos of the many dishes. While pleasingly laid out, the interior is just the text of the recipes. There is no additional information about the location where it is served or the recipe itself.
Many favorite dishes find recipes here, including both the Cobb Salad and the Grapefruit Cake with Cream Cheese Frosting available at The Hollywood Brown Derby restaurant at Disney's Hollywood Studios. Being a Disney historian and old movie fan, I regretted that the amusing and intriguing stories behind the creation of those particular two items were not included, especially since Walt Disney himself enjoyed both of those items as a frequent diner at the Hollywood restaurant.
However, I content myself that the book offers those official recipes as served at the park, along with so many others.
*  *  *  *  *
Thanks, Jim!  And come back next Friday for more from Jim Korkis!
In the meantime, check out his books, including his new Halloween-appropriate Vault of Walt Volume 9: Halloween Edition, and soon-to-be-released Hidden Treasures of the Disney Cruise Line.


Follow yourfirstvisit.net on Facebook or Twitter or Pinterest!!
RELATED STUFF