A Friday Visit with Jim Korkis: The Art of Disney Costuming
By Dave Shute
Welcome back to Fridays with Jim Korkis! Jim, the dean of Disney historians, writes about Walt Disney World history every Friday on yourfirstvisit.net.
YOUR PERSONAL DISNEY LIBRARY (33)
By Jim Korkis
This month many readers are thinking about Halloween costumes, and some in particular of Disney Halloween costumes. Sometimes people will buy costumes, and other times try to use their own skills and cleverness to piece together an acceptable version of their favorite character for themselves or their children.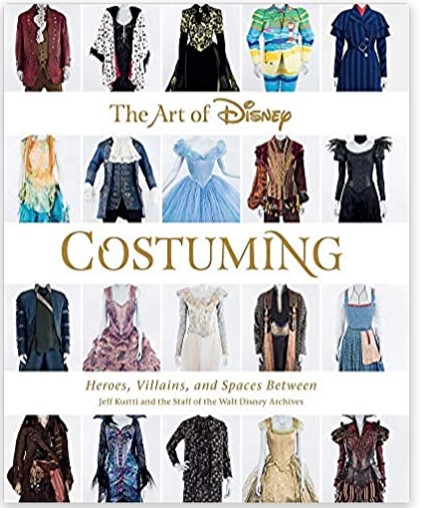 So, The Art of Disney Costuming is highly appropriate to review this month. When most Disney fans think of Disney costumes, they probably immediately think of the costumes that appeared in Disney movies (both live-action and animation) and television. Some of those costumes are iconic and are actually trademarked.
For instance, Snow White's costume is trademarked not just for the actual colors but the proportion of those colors. Since the character is public domain, Disney does not want someone coming up with a character too reminiscent of the Disney version.
Some fans might even think of the costumes for audio-animatronics characters. I remember spending an hour listening to Alice Davis, who had costumed It's A Small World and Pirates of the Caribbean, regale a group of us with stories about the various challenges.
Because of how they move, different parts of a costume on an audio-animatronics character will wear out more quickly, like the elbows. Also the costume has to be designed so it can be removed since you can't move the arms and legs to pull off a shirt or pants.
That situation, of course, relates to Walt Disney World but the reason I am doing this review is because this book also touches on cast member costumes. Walt Disney World has one of the largest working wardrobes in the world. Cast members are told that they are not wearing uniforms but are wearing costumes because they are "on stage" and are part of a larger story being told in their area.
I remember when I was a "friend" of Merlin, I actually had three of the exact same costume. One I was wearing as I performed. The second was in Wardrobe for back-up in case something happened when I was on stage. The third was in the wash and being checked for repairs. The three rotated during the week. That is just for one performer. Mickey Mouse has over a hundred different costumes because of special occasions, events and more.
Later, when I worked backstage at Epcot, I still checked out shirts, pants and more from Wardrobe just like the other people I worked with in that same area.
The Art of Disney Costuming is meant to be a companion to a D23 exhibit in 2019. It is 11 by 14 inches, so it is so large to showcase beautiful color photos and concept sketches, but only 176 pages long, so some of your favorites may be missing.
The abbreviated length prevents more information about each individual costume from being shared, and the book concentrates more on costumes created in the last two decades rather than some of the classic pieces. The book is divided into sections and has an extensive index, so it is fairy easy to find what is being shown. However, keep in mind that the book is more an overview than an in-depth study.
Author Jeff Kurti is one of my favorite Disney authors. Not only is he knowledgeable and accurate, but when he produces books for Disney Editions, he is very skillful in maneuvering through the many company restrictions to still provide interesting and unique information that cannot be found anywhere else.
I always enjoy that he includes sidebars, and in this book they focuse on some of the costumers who don't usually get recognition, like Chuck Keehne who made the first Mouseketeer ears for the original television show among many other accomplishments.
Kurtti is the author of over two dozen books as well as being a writer-director of documentary content. He has worked for Walt Disney Imagineering and Corporate Special Projects. He recently co-authored a book on the Disney monorails.
*  *  *  *  *
Thanks, Jim!  And come back next Friday for more from Jim Korkis!
In the meantime, check out his books, including his new Halloween-appropriate Vault of Walt Volume 9: Halloween Edition, and soon-to-be-released Hidden Treasures of the Disney Cruise Line.


Follow yourfirstvisit.net on Facebook or Twitter or Pinterest!!
RELATED STUFF