A Friday Visit with Jim Korkis: The Gardens of the Walt Disney World Resort
By Dave Shute
Welcome back to Fridays with Jim Korkis! Jim, the dean of Disney historians, writes about Walt Disney World history every Friday on yourfirstvisit.net.
YOUR PERSONAL DISNEY LIBRARY (29)
By Jim Korkis
One of the things that makes an experience at a Disney theme park so different from other entertainment venues is the landscaping.
In 1985, I got a chance to interview Director of Disney Landscape Design Bill Evans. He told me, "(Walt Disney) wanted a lot of green plant stuff. That was one of the elements Walt felt would separate his park from the Coney Island format. This was to be a park that would be clean and beautiful and colorful and a very pleasant place to be. We kept this in mind when we set about to put a green frame around all those adventures and rides."
I doubt many Disney fans consciously realize that Walt used the word "park" to describe Disneyland, because he intended it to be like the best of the city parks he had seen in his travels around the world with lots of well-maintained lawns, impressive trees, a wide variety of colorful flowers and more. Disney Legend Evans understood that philosophy and incorporated it into every Disney theme park worldwide, including Walt Disney World.
Evans authored the hardcover seventy-two page book Disneyland World of Flowers in 1965 to help guests appreciate what Walt Disney himself described in the foreword as a "tour of the Park's unique international botanical collection."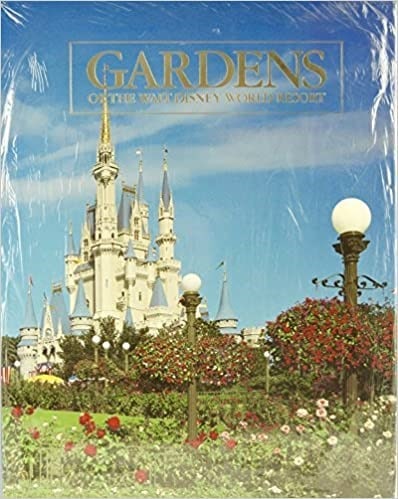 Of course, there are significant differences between Disneyland and Walt Disney World, including the climate and soil, that dictate certain horticultural choices. In 1988, the 211 page hardcover Gardens of the Walt Disney World Resort, with significant input from horticulturist Katy Moss Warner, was released.
Warner was Director of Disney's Horticulture and Environmental Initiatives at the Walt Disney World Resort in Florida. With a team of nearly 700, she was responsible for the landscapes of Florida's four theme parks, fifteen (at that time) resorts and more than 70 miles of roads on the roughly 30,000-acre property.
What makes that even more impressive is that when she first started with the department, it was considered part of the Disney custodial team and only operated after the guests had left for the evening.
From 1976 to 2000, she provided the leadership to ensure that Disney's horticultural traditions of beautiful gardens and environmental responsibility were sustained in Florida. She was the champion that guided the department to be a more significant and integrated part of the company.
She was responsible for starting the Epcot International Flower and Garden Festival in 1994, as well as many other accomplishments including expanding the concept of "themed" landscaping. After leaving Disney she continues to be active in horticulture like being the president of the American Horticultural Society and America in Bloom.
The premise of the book is that the landscaping at WDW is "magical…special places where the talents of Disney's landscape architects, landscape construction personnel and landscape maintenance cast members combine to create living and changing scenery on a larger-than-life scale…which can be appreciated as unique international botanical collections…or simply enjoyed for their beauty."
While the book is overflowing with large, colorful photos by Gene Duncan, the text by Dee Hansford is both lyrical and informative. Where else would you find the information that The Toy Soldier shop in the United Kingdom pavilion was modeled after Sir Walter Scott's Abbotsford Manor or that the waterfall in the Norway pavilion was incorporated because it is "a symbol of the importance Norwegian people place on their wonderful native woodlands and of their regard for the rivers and streams that nurture their land's growth"?
Of course, since this book was published in 1988, it only covers the Magic Kingdom and Epcot, and so is usually considered outdated and forgotten by those Disney fans who are eager each year to visit the annual Epcot Flower and Garden Festival.
As I have mentioned before, just because a book is old does not mean that it doesn't still contain valuable information that has not appeared elsewhere. While the wonderful landscaping of Walt Disney World is best enjoyed in person, this book is a great way to better understand what someone is seeing while they are there.
*  *  *  *  *
Thanks, Jim! And come back next Friday for more from Jim Korkis!
In the meantime, check out his books, including his latest, Disney Never Lands, and about planned but unbuilt concepts, and Secret Stories of Walt Disney World: Things You Never You Never Knew
, which reprints much material first written for this site, all published by Theme Park Press.


Follow yourfirstvisit.net on Facebook or Twitter or Pinterest!!
RELATED STUFF