A Friday Visit with Jim Korkis: Marc Davis In His Own Words
By Dave Shute
YOUR PERSONAL DISNEY LIBRARY (28)
By Jim Korkis
Disney related books are getting more and more expensive, with several costing over a hundred dollars each. For those of us on a very limited discretionary budget for such purchases, the question is always whether such a book could possibly be worth the cost even with a discount on Amazon. My personal opinion is that this book is.
Marc Davis In His Own Words is a massive two volume set that totals 750 pages at the large size of 11 x 2.7 x 12.5 inches. Previous books that included Davis focused on his work in animation as one of Disney's fabled Nine Old Men. For instance, I also have in my library Marc Davis: Walt Disney's Renaissance Man (2014) that showcases some of his amazing art work on characters ranging from Princess Aurora to Tinker Bell to Maleficient and Cruella De Vil.
What makes this book unique is that other than a brief introductory chapter on the animation done by Davis, it focuses completely on his work in WED/Imagineering for the Disney theme parks worldwide.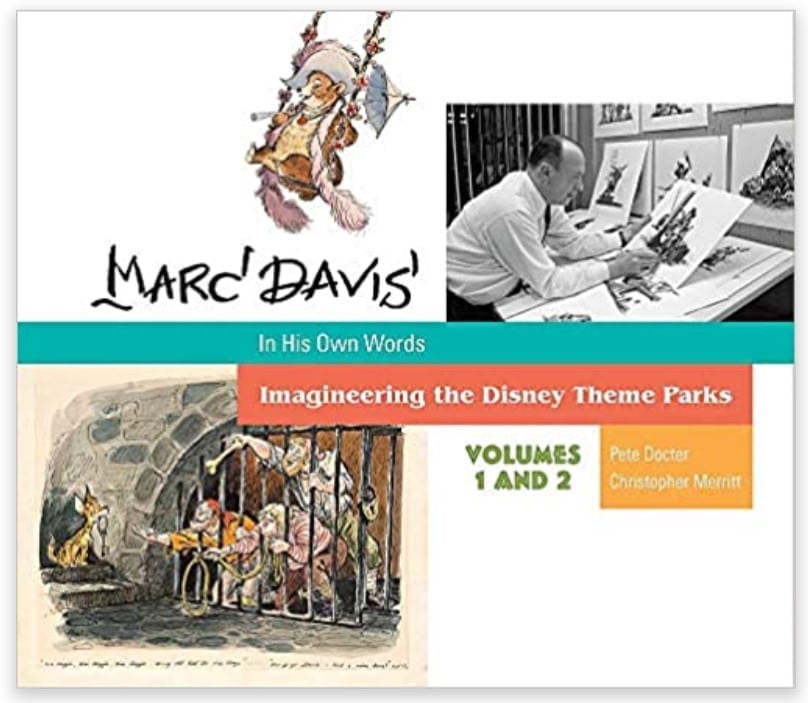 Although Davis had designed the Chicken of the Sea mermaid figurehead for the pirate ship in Fantasyland that opened in 1955 (since a desperate Walt pulled from his animation crew to do work on the park before it opened), it was not until late 1960 that Davis was officially pulled out of animation and into WED where Walt Disney wanted him to "plus" the Jungle Cruise attraction. It was the start of a career that saw Davis making major contributions to such attractions as the Pirates of the Caribbean, Country Bear Jamboree and Haunted Mansion, among others.
Marc Davis In His Own Words overflows with beautiful artwork done by Davis from all of those attractions and many more including some proposals that never developed like Thunder Mesa and The Enchanted Snow Palace in large, colorful images.
The two authors spent five years researching and designing the book because they didn't just want to include art that has never before been shared but they wanted the text to be in Davis' "own words" so they had to search hundreds of interviews done by Davis over the decades. In addition, there are short supplemental quotations from those who worked with Davis to add some insight into the artwork.
The authors are both highly talented and beloved in addition to being internationally recognized as authorities in Disney history. Pete Docter is perhaps best known as a director for Pixar animated features like my favorite, Monsters Inc., as well as winning Oscars for Inside Out and Up along with many, many other awards and nominations.
Christopher Merritt has a background as an art director and production designer for theme parks worldwide and is currently an Imagineer. He is the author of two of the favorite books in my personal library: Knott's Preserved (2010) and Pacific Ocean Park: The Rise and Fall of Los Angeles' Space Age Nautical Pleasure Pier (2014).
When Merritt contacted me for permission to use my interviews with Marc Davis, I did not hesitate for even a second. I was not compensated in any way (eg. no free copy of the book) although my name does appear in the acknowledgements along with dozens of others. Just having that small appearance in this magnificent book is pretty gratifying.
My advice is to save your pennies and keep looking for discounts. Just before the Christmas holidays, the book was listed on Amazon for only seventy dollars which is still pricey, but a great value.
*  *  *  *  *
Thanks, Jim! As you note, Marc Davis In His Own Words is quite expensive–but if you can afford it, the value is there.  The only more expensive book in my Disney Library is The Walt Disney Film Archives. The Animated Movies 1921–1968, which I actually bought twice, giving one as a thank-you gift to Josh for putting up with me…
Come back next Friday for more from Jim Korkis!
In the meantime, check out his books, including his latest, Disney Never Lands, and about planned but unbuilt concepts, and Secret Stories of Walt Disney World: Things You Never You Never Knew
, which reprints much material first written for this site, all published by Theme Park Press.


Follow yourfirstvisit.net on Facebook or Twitter or Pinterest!!
RELATED STUFF