A Friday Visit with Jim Korkis: The Disney Inn
By Dave Shute
Welcome back to Fridays with Jim Korkis! Jim, the dean of Disney historians, writes about Walt Disney World history every Friday on yourfirstvisit.net.
THE DISNEY INN
By Jim Korkis
The former Walt Disney World Golf Resort was originally a building located in the middle of the Palm and Magnolia golf courses. It was designed to look like a two story country club and did not have any guest rooms.
Guest wings were added in 1973 as part of Walt Disney World's Phase 2 expansion. It retained the name The Golf Resort, and was not generally considered a Walt Disney World resort because of its small size and not being on the monorail loop, among other things.
In February 1986, Disney expanded the resort and renamed it The Disney Inn in hopes of attracting more than just golfers, promoting it as having the intimate and rustic charm of a quiet country inn. It was mildly re-themed to Snow White and the Seven Dwarfs in hopes of reinforcing the Disney connection.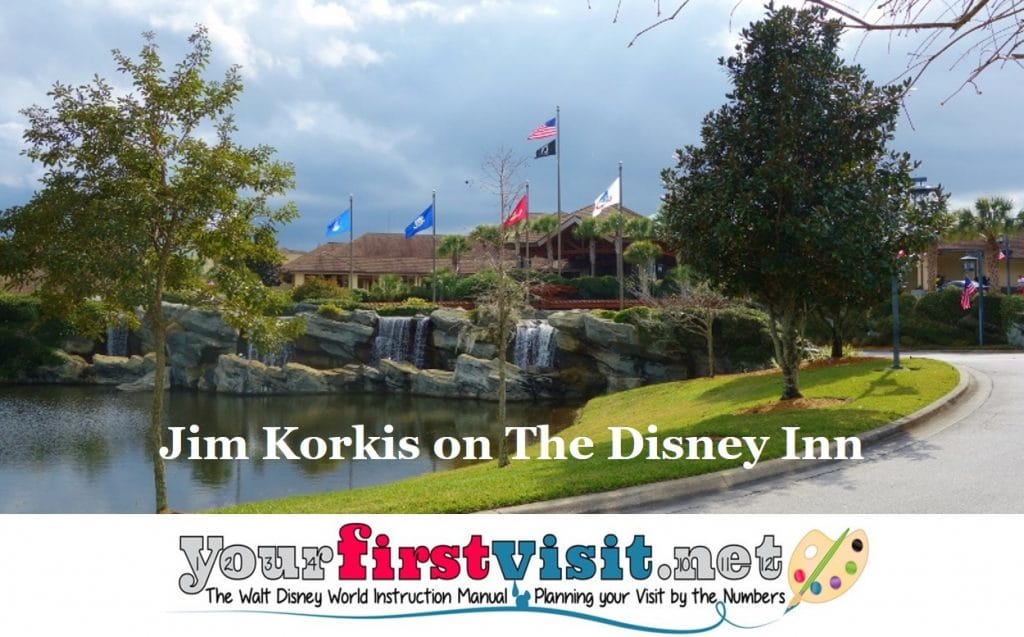 In 1996, the resort was purchased by the U.S. Department of Defense for $43 million for use in the MWR (Morale, Welfare and Recreation) program. This limited the resort to eligible active and retired military personnel (and others) although Disney still owns the land on which the resort sits. The resort was renamed Shades of Green because, at the time, all military fighting uniforms had some shade of green.
My friend Rich Cullen, who still works at Walt Disney World, worked the front desk of the Disney Inn during its last three years of existence and generously shared some of his memories of the resort before it became Shades of Green.
Rich Cullen: "It is my understanding that when people heard the name 'Golf Resort' they thought they had to be golfers to stay there.  The story goes that when the name was changed to The Disney Inn and a Snow White theme was created, occupancy went up significantly, [and] not just people who couldn't get into the Contemporary or the Polynesian.
"From what I remember, at Christmas time Dopey and Snow White would make nightly appearances with the kids and I believe warm cider was served. I also remember that Mrs. Claus would make appearances to read a Christmas story.
"The rooms were large compared to other Disney resorts, a little less than 500 square feet as I recall. The newer rooms were brighter and the decor had a cottage charm with details like an oak headboard but nothing crazy in terms of a Snow White/Dwarfs theme.  There were just subtle touches that didn't hit you over the head.  The wonderful sign at our entrance was a yawning Sleepy holding a candle as if he was going off to bed and that logo was on everything.
"Most of the remodeled rooms had a framed original muted color print that included some images of objects relating to the story of Snow White. The rooms had two queen beds and a pull out love seat as well as a small round table with two chairs. Some of the rooms had King beds which we commonly reserved for honeymooners.
"Three types of room view categories: Garden View, Golf Course View (both of which were roughly $185 during the regular season) and Pool View (that was $195 during the regular season).
"The Garden Gallery was the main restaurant right off of our lobby and it served breakfast, lunch and dinner. Their specialty was "fried ice cream" which was similar to the fried ice cream that was popular at the Mexican chain restaurant called Chi-Chi's.
"We still served a lot of golfers. There were actually three golf courses.  The Palm, The Magnolia and a great nine hole walking course called Oak Trails. There were two swimming pools at the Inn with the large family pool being in the shape of Mickey Mouse's head.
"I met a lot of celebrities who stayed there because it was quiet and more secluded, like actor Robert Conrad, Samuel E. Wright (voice of Sebastian the crab), the band Kansas, animator Bill Justice, the illusionist Franz Harary and so many more. I have so many fond memories of working there but the cast members I work with today don't know it even existed!"
*  *  *  *  *
Thanks, Jim! For more on Shades of Green, see this. And come back next Friday for more from Jim Korkis!
In the meantime, check out his books, including his latest, Disney Never Lands, and about planned but unbuilt concepts, and Secret Stories of Walt Disney World: Things You Never You Never Knew
, which reprints much material first written for this site, all published by Theme Park Press.


Follow yourfirstvisit.net on Facebook or Twitter or Pinterest!!
RELATED STUFF