A Friday Visit with Jim Korkis: the Mickey Mouse Revue
By Dave Shute
Welcome back to Fridays with Jim Korkis! Jim, the dean of Disney historians, writes about Walt Disney World history every Friday on yourfirstvisit.net.
THE MICKEY MOUSE REVUE
By Jim Korkis
This week, Mickey and Minnie's Runaway Railway opened at Disney's Hollywood Studios and is the first dark ride featuring the mouse that started it all. In the past, Imagineers proposed several different Mickey Mouse dark rides, including Mickey's Mad House using a traditional Wild Mouse Coaster to experience the wild antics of early black-and-white Mickey Mouse animated cartoons.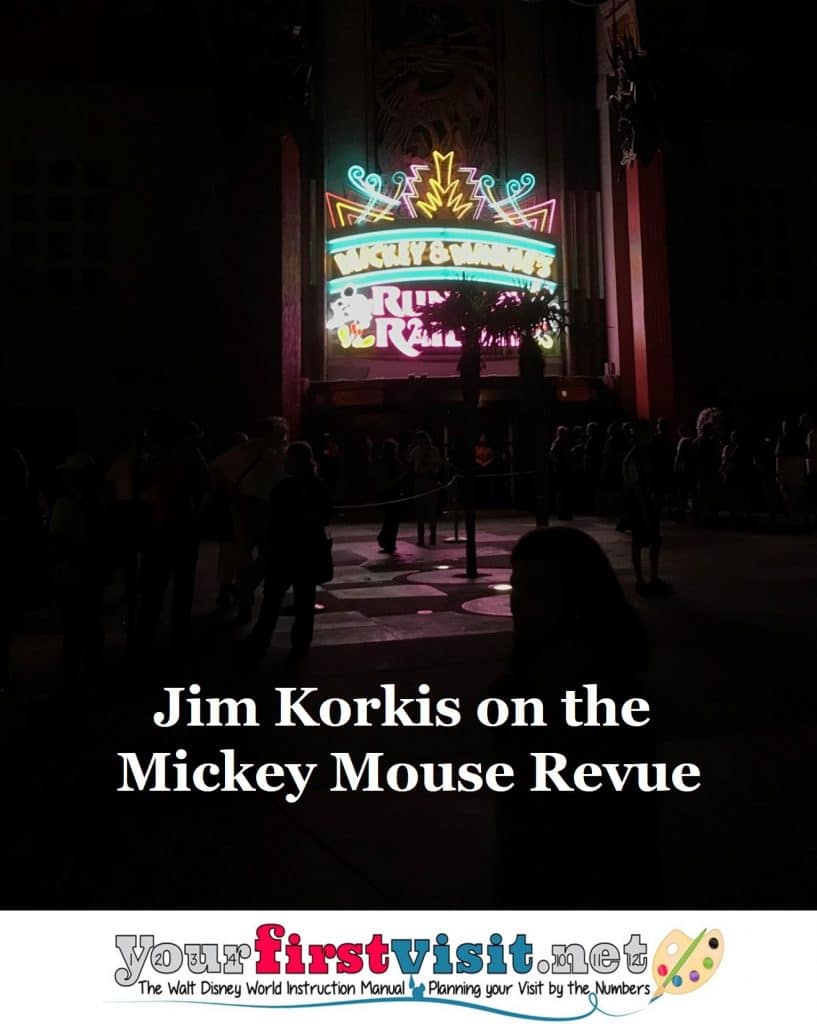 However, the very first theme park attraction actually built with Mickey was a signature attraction at the Magic Kingdom in Florida when it opened in 197. It was a show featuring over eighty audio-animatronics Disney animated characters called The Mickey Mouse Revue, created primarily by Disney Legend Bill Justice.
"(Walt Disney Imagineering) had designed some imaginative shows for the parks, but we seemed to be getting away from our heritage. What we needed was a reminder of what Walt had accomplished. I pulled out a sheet of paper and got to work," Justice told me in an interview. "Mickey Mouse would have to be the main figure.
"The show we had in mind was this: Mickey Mouse would lead an orchestra of Studio characters through a medley of Disney tunes. He had led orchestras in many of his cartoons so it seemed a natural fit. Then on the sides of the stage and behind the orchestra, scenes from our most popular animated features would appear one by one. Mickey and his orchestra would close the performance.
"One big problem surfaced: Mickey. With 33 functions crammed into a 42-inch body, he was the most complex audio-animatronics figure to date. He also became my biggest programming challenge because I had to do extreme movements so it would appear that Mickey was keeping up with the tempo."
Imagineers John Hench and Blaine Gibson were also significantly involved in the show. There was an eight minute pre-show featuring an overview of Mickey's animated career as well as the use of sound in animation.
There were a total of seventy-three different Disney animated characters who performed in the show, from the Fab Five to Humphrey the Bear, Timothy Mouse, Winnie the Pooh, Baloo, Scrooge McDuck and many, many more that filled the 86-foot-long stage. However, there were a total of 81 figures since some characters appeared at different places on the stage, like the Three Caballeros, or in different costumes.
Justice said, "Roy O. Disney looked the finished model over, then paid me the best compliment I ever had in my career: 'This is the kind of show we should spend our money on'."
The attraction closed at Walt Disney World on September 14, 1980, and was moved to Tokyo Disneyland, where it was an opening day attraction in April 1983, and continued to operate until May 2009.
Justice recalled, "The theater seated 504 people, but the space available for the pre-show could only accommodate 300 because of a mistake that someone had made. Unfortunately, there was no time or money left to make further changes. It came as a shock when I was told my pride and joy was being moved to Tokyo Disneyland. 'Because it never played to full capacity'. Of course not! How can you fill 504 seats with 300 people?
"Tokyo Disneyland wanted it because it was so cute. It saved the Disney Company money because it was the only attraction that was shipped directly to Japan rather than being replicated. It helped make the opening deadline on time. It would have been time consuming and expensive to build it from scratch in Tokyo. It was the first attraction closed at the Magic Kingdom."
At the Magic Kingdom, the building eventually became the home to another Mickey attraction, Mickey's PhilharMagic, that opened in 2003, where once again Mickey is leading an orchestra although he only appears briefly in the show.
*  *  *  *  *
Thanks, Jim! And come back next Friday for more from Jim Korkis!
In the meantime, check out his books, including his latest, Disney Never Lands, and about planned but unbuilt concepts, and Secret Stories of Walt Disney World: Things You Never You Never Knew
, which reprints much material first written for this site, all published by Theme Park Press.


Follow yourfirstvisit.net on Facebook or Twitter or Pinterest!!
RELATED STUFF