A Friday Visit with Jim Korkis: Project Future
By Dave Shute
Welcome back to Fridays with Jim Korkis! Jim, the dean of Disney historians, writes about Walt Disney World history every Friday on yourfirstvisit.net.
YOUR PERSONAL DISNEY LIBRARY (26)
By Jim Korkis
With the upcoming 50th anniversary of Walt Disney World, more attention has been given to how this popular vacation destination was originally developed. When this book came out in 2010, there were very few reliable resources for people to satisfy their curiosity, so it filled a gap in Disney history.
Project Future was one of the code names for the Walt Disney World project before it was officially announced. At one point it was also known as Project Winter and later as Project X to try to keep the plans secret.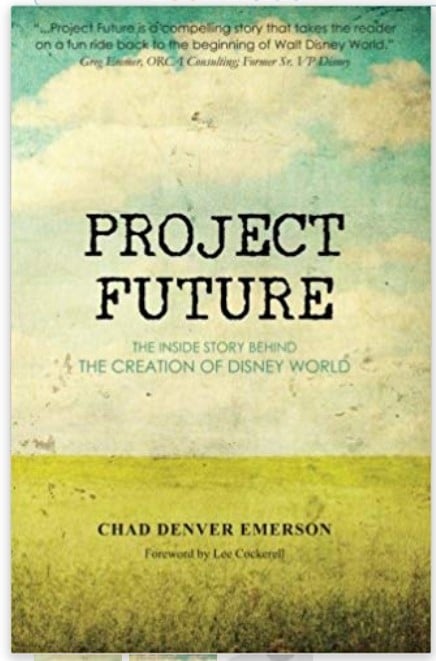 Emerson was a tenured law professor teaching Property, Land Planning, and Intellectual Property courses at Faulkner University's Jones School of Law. who also had an interest in Disney. He started his own publishing company AyeFour (now no longer in existence) to publish books about Disney and this was the first book issued by that entity.
This book began as an academic paper on improvement districts (specifically Reedy Creek in Florida) and was revised and expanded for this publication which is one of the reasons it concentrates so heavily on the business and legal issues of building Walt Disney World and not on the creative decisions.
For readers looking to understand and appreciate the contributions of people like John Hench, Bill Evans, Dick Irvine and so many others, this book will not be helpful in the least. There is no discussion about the actual construction, the design and building of the attractions, or the challenges with the creation of the resort hotels.
However, for those wanting to get some clarity on the some of the financial and political manuvering that was done to build the vacation kingdom, this book will provide that insight and hopefully spark further investigation but it may have limited appeal to a general Disney fan.
There are no direct quotes anywhere in the book from people who worked on the project, which surprised me, because Emerson spent more than two years researching the material, and in the course of that research, interviewed people like Harrison "Buzz" Price, Robert Price Foster, former Governor Claude Kirk, and Tom DeWolf, who were all key figures in the building of WDW.
In addition, the book features laudatory quotes from Greg Emmer, Brad Rex and Lee Cockerell, who I know all had stories to share.
Thanks to dividing the information into short sections, the book can be read fairly quickly and the content is very concise. It is organized as a chronological timeline from the beginning of the search for a new site in 1959 to the opening of WDW in 1971. The information is accurate and the fact that it was published roughly a decade ago does not detract from its correctness, although later books have expanded upon this basic overview provided in the text.
There are no illustrations or visual aids in the book, and since the text details massive land transactions, a map or two would have been helpful to put things into proper perspective. The cover is an attempt to show an empty wilderness upon which Disney built its east coast kingdom but it does not represent the Central Florida wilderness at the time, nor is the image immediately appealling or suggestive of what is inside the covers.
There are two appendices. One is six pages with one paragraph descriptions of some of the key people mentioned in the book and their connection to Project Future. The other appendix is a four page brief timeline for the project. A brief bibliography is included as well.
The book may prove "dry" reading for most Disney fans and most, if not all, of the information shared in the book now exists in other books about the history of Walt Disney World and on websites. However, if you want a quick glimpse of the business behind building Walt Disney World, this may be the book for you.
*  *  *  *  *
Thanks, Jim! I bought this book in 2010, and used it in this post—one of my favorites on this site.
And come back next Friday for more from Jim Korkis!
In the meantime, check out his books, including his latest, Disney Never Lands, and about planned but unbuilt concepts, and Secret Stories of Walt Disney World: Things You Never You Never Knew
, which reprints much material first written for this site, all published by Theme Park Press.


Follow yourfirstvisit.net on Facebook or Twitter or Pinterest!!
RELATED STUFF