A Friday Visit with Jim Korkis: The Disney Institute
By Dave Shute
Welcome back to Fridays with Jim Korkis! Jim, the dean of Disney historians, writes about Walt Disney World history every Friday on yourfirstvisit.net.
THE DISNEY INSTITUTE
By Jim Korkis
CEO Michael Eisner and his family visited the Chautauqua Institution in 1985 in upstate New York. Chautauqua offered lectures, performances, recreation, and, most specifically, classes designed for adults to enhance their education during the summer months. Eisner felt this would be a great idea to build at Walt Disney World and would attract older, more affluent guests who were not interested in the theme parks.
In order to save on costs on the venture, it was decided to convert the already existing Lake Buena Vista villas and townhouses into housing for what would become the Disney Institute, and just build the additional classroom facilities there.
The new structures were designed by Tom Beedy and given the look of a small, friendly New England town. Facilities at the 457-room lakeside resort were designed to accommodate about 900 people at its peak, a fairly modest number considering the other resorts and attendance at the theme parks.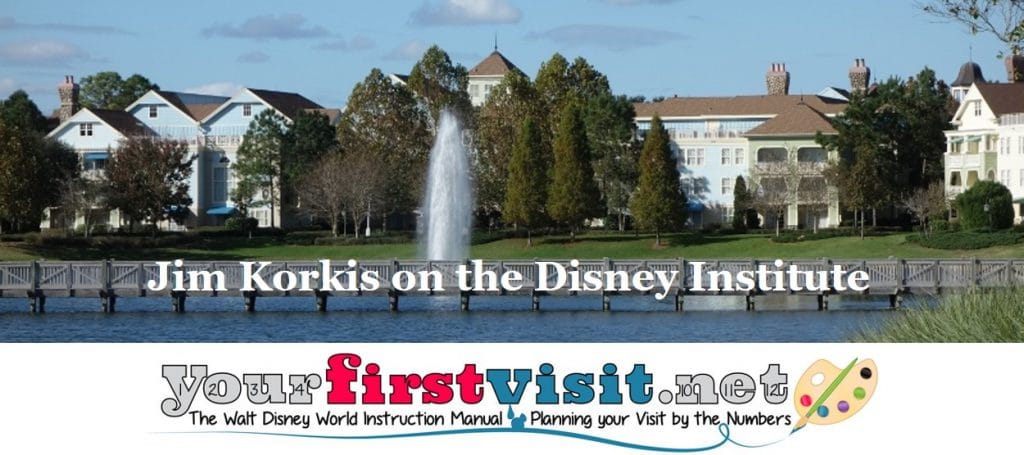 New structures included a 38,000-square-foot two-story sports and fitness center with a full basketball court, indoor pool, and a full-service spa with seaweed facial or an "aroma therapy" massage; a 225-seat Performance Center that was acoustically perfect and featured side boxes in the audience; a 400-seat movie theater without a balcony; and a 1,150-seat uncovered amphitheater (which proved to be a huge mistake when it rained, or the Orlando heat was too intense so could not be used).
Some upgrades to the Lake Buena Vista living accommodations were made, but most of these were merely cosmetic, so for example there were few outlets to plug in and recharge any devices like a computer. The prices were going to be the same as the premium resorts on property but without the same amenities.
The Disney Institute opened on February 9, 1996 with the motto "You won't believe what you can do!"
Too often guests stayed at other resorts and simply drove in to attend classes or performances. The classrooms were designed to be small for an intimate experience but even with a full classroom it was not enough to cover the cost of the overhead for instructors, materials, maintenance and more.
When Disney Institute opened in 1996, guests could choose from more than 80 programs in nine different program track areas, including Entertainment Arts (which also encompassed all the animation classes), Sports and Fitness, Life Styles, Story Arts (with classes like As Walt Would Tell It), Culinary Arts, Design Arts, Environment (including a class where guests could make their own mini-Mickey Mouse topiary), Performing Arts (with a radio and television studio) and Youth Programs. Within six months many of these classes were cut, with only the more popular ones surviving and another round of massive cuts happening later in 1997. The Disney Institute in its first year of existence had the highest guest satisfaction ratings on all of WDW property.
Individual classes were each offered generally twice or three times a week (usually every other day) and were roughly two to three hours long. There was a morning session and an afternoon session. There was a two hour break for lunch and in the evening there were events either in the Performance Center or the Cinema.
Eventually, the guest enrichment programs slowly disappeared entirely and Disney Institute closed as a physical location in 2002. The Disney Institute still exists today in name offering expensive business classes on location to corporate clients throughout the world from their cubicles in Celebration.
Many things on the physical site were gutted and razed when the area was transformed into the Saratoga Springs resort that opened on May 17, 2004.
*  *  *  *  *
Thanks, Jim! And come back next Friday for more from Jim Korkis!
In the meantime, check out his books, including his latest, Disney Never Lands, and about planned but unbuilt concepts, and Secret Stories of Walt Disney World: Things You Never You Never Knew
, which reprints much material first written for this site, all published by Theme Park Press.

Follow yourfirstvisit.net on Facebook or Twitter or Pinterest!!
RELATED STUFF