A Friday Visit with Jim Korkis: Fantasmic!
By Dave Shute
Welcome back to Fridays with Jim Korkis! Jim, the dean of Disney historians, writes about Walt Disney World history every Friday on yourfirstvisit.net.
FANTASMIC AT DISNEY'S HOLLYWOOD STUDIOS
By Jim Korkis
The origins of Fantasmic! go back to September 1990 when Robert McTyre, vice president of Disneyland Entertainment, got a phone call from CEO Michael Eisner.
McTyre recalled, "He said, 'We don't have anything big and new and fabulous for Disneyland in 1992 and we need to come up with something'. Basically, it was an interim step to keep interest in Disneyland high before the 1993 addition of Mickey's Toontown. We got the troops brainstorming and someone suggested a nighttime river spectacular like the IllumiNations show at Epcot."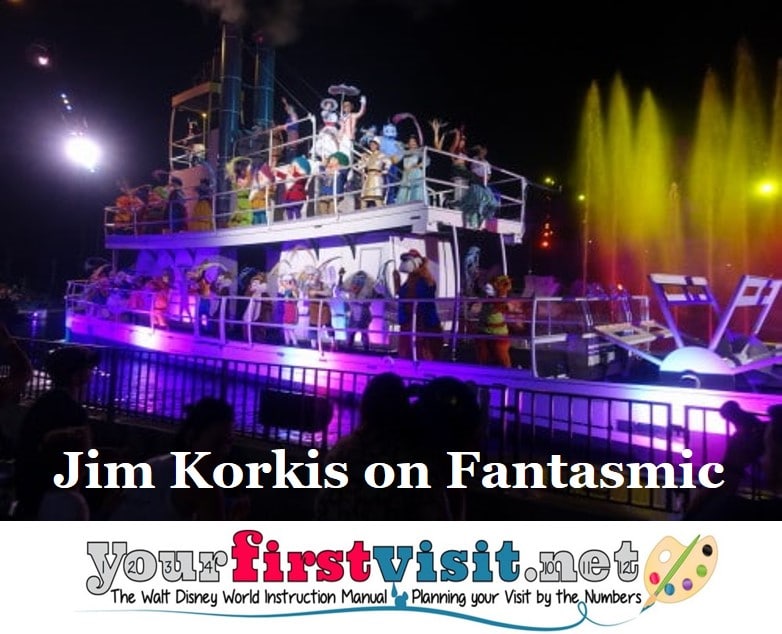 Artistic creator and director of the show (and later of the Walt Disney World version as well) was Barnette Ricci, who started as a performer at Disneyland and then became the choreographer for the Kids of the Kingdom performers when they debuted in 1968.
She went on to direct and choreograph the original Disneyland's Main Street Electrical Parade in 1972, as well as multiple other shows for Disneyland, Walt Disney World and other venues including the 1985 Radio City Music Hall presentation with 82 Disney characters and the Rockettes.
In August 2019, she was made a Disney Legend at the D23 Expo. She retired from the company in 2013 after forty years working in a variety of capacities.
"We were asked to create something spectacular for Disney using the Rivers of America," Ricci said. "We wanted something truly unique that combined a lot of spectacular effects that people hadn't seen before and with a story about Mickey Mouse that would really involve people.
"The core for the show was the water screens. It would be unique to project Disney animation onto one of those screens. Mickey Mouse's imagination creates these images and the audience gets involved with Mickey. We were given only twenty months, far too little time.
"I spent months of research studying all the Disney classics. I wanted to find just the right scenes that could be edited together successfully. One challenge was that the new lyrics had to match the mouth movements of the original animation in which characters were often saying far different lines. Originally the show was going to be called Imagination but Disney found it couldn't copyright or trademark that word so created its own unique word.
"Particularly challenging were synchronizing the movements of the performers with the computer controlled animation and special effects. It's timed to the 30th of a second (the number of frames per second of the films being projected) and if things are two frames off, you can tell. They must be exactly on."
The show was so successful that a second version was developed for Walt Disney World for 1998 with Ricci once again in charge. The Disney animated feature Pocahontas was released in 1995 and was supposed to be a prestige box office hit.
While it was very successful financially, it was still considered a disappointment in comparison to The Lion King (1994) that had been rushed into release to allow the better animators more time to finish Pocahontas.
At the time the WDW version of Fantasmic! was first developed, the expectation was that Pocahontas would be a major success, which influenced the design of the show. An onstage battle scene from the movie has Governor Ratcliffe and his fellow Englishmen fight against the Native Americans. John Smith attempts to help Pocahontas' tribe.
There are several other significant changes in the Walt Disney World version, including the finale with the boat from Steamboat Willie loaded with Disney characters rather than the Mark Twain steamboat.
The Hollywood Hills Amphitheater stage in Florida is significantly larger than Disneyland's waterfront version, featuring a man-made, 50-foot-tall mountain as the centerpiece backdrop. The moat around the island itself can hold 1,900,000 gallons of water.
*  *  *  *  *
Thanks, Jim! And come back next Friday for more from Jim Korkis!
In the meantime, check out his books, including his latest, Disney Never Lands, and about planned but unbuilt concepts, and Secret Stories of Walt Disney World: Things You Never You Never Knew
, which reprints much material first written for this site, all published by Theme Park Press.


Follow yourfirstvisit.net on Facebook or Twitter or Pinterest!!
RELATED STUFF