A Friday Visit with Jim Korkis: Disney's All-Star Sports Resort
By Dave Shute
Welcome back to Fridays with Jim Korkis! Jim, the dean of Disney historians, writes about Walt Disney World history every Friday on yourfirstvisit.net.
DISNEY'S ALL-STAR SPORTS RESORT
By Jim Korkis
Twenty-five years ago, Walt Disney World introduced in its All-Star resorts a value-level resort experience, less expensive than the moderate and deluxe priced accommodations already available at other Walt Disney World resort hotels, to compete with nearby non-WDW hotels around the perimeter of the property.
Even though these value resorts are less expensive than other Disney-owned options, they still feature a number of Disney amenities and advantages including proximity to the theme parks.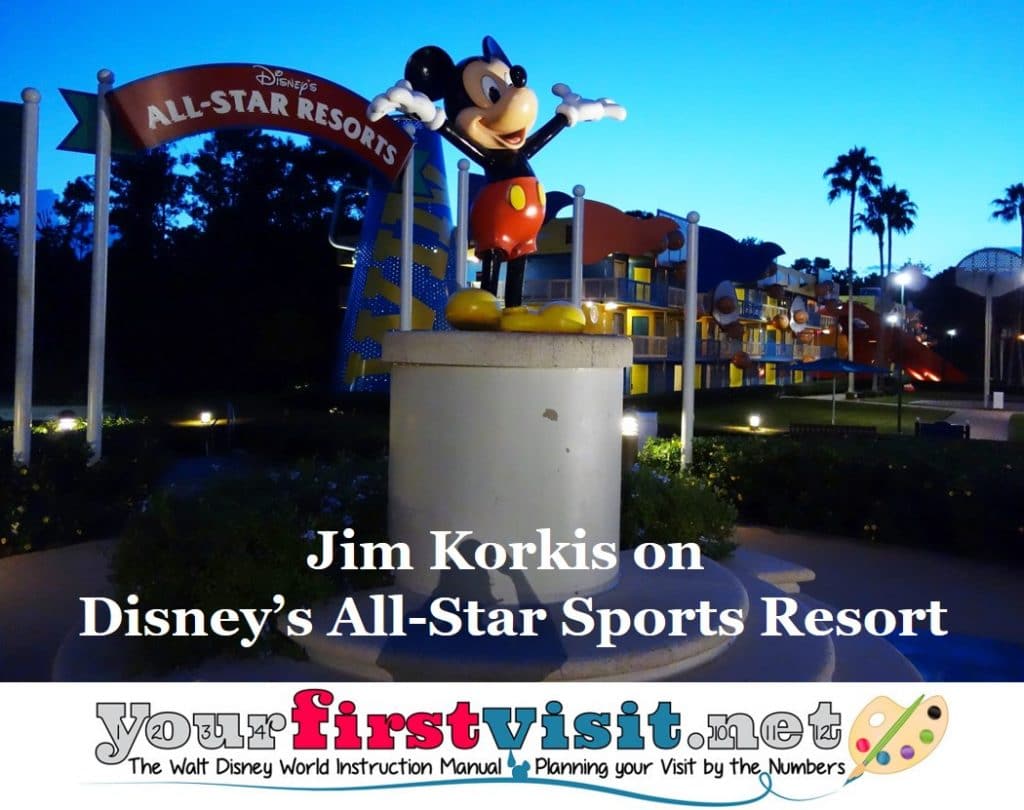 The first WDW value resort was the All Star Sports resort that opened April 29, 1994 and was divided into five sections devoted to competitive sports: Touchdown (football), Center Court (tennis), Home Run Hotel (baseball), Surfs Up (surfing) and Hoops Hotel (basketball).
Surf's Up! buildings opened first on April 29, 1994 followed by Hoops Hotel (May 13, 1994), Touchdown (June 26, 1994), Home Run Hotel (July 22, 1994), and Center Court (August 11, 1994).
The design, by Miami company Architectonica with the Disney Development Company, was the model for the two subsequent All-Star resorts (Movies and Music) that also featured outsized icons highlighted by neon and fiber optics to bring the themes to life.
When the resort opened, Don Robinson, general manager of the All Star Resorts, said, "The theming, architecture and landscaping all work together to make this a 'fan'- tastic setting."
Some of these design elements include:
The 55-foot-tall gold star in front of Stadium Hall weighs over 55,000 pounds. The 46-foot silver star by Surfboard Bay weighs 33,000 pounds.
At the Hoops Hotel court, there are five Washingtonia Palms "playing" a team of five Sabal Palms. The palms are arranged as if the game is about to "tip off". Forty five foot tall megaphones house the stairwells and giant whistles mark the buildings' entrances.
The whistles measure 60 feet long and 20 feet high. The pea inside the whistle is approximately 9 feet in diameter. Pennants from college teams (Blue Devils, Tigers, Boilermakers, Gators) and over 70 giant basketballs roughly five feet in diameter line the railings.
At Surf's Up, it would take six surf dudes standing on each other's shoulders to carry one of the oversized 38 foot tall surfboards to the beach. Approximately 950 colorful Red Snapper and Dolphin fish appear to be swimming along a "wavy" balcony. The 38 feet high shark fins that mark the buildings' main entrances would belong to a 300 foot long Great White Shark.
At Center Court, it would take 9,474,609 regulation-sized tennis balls to fill one of the ball cans that decorate the stairwells at Center Court. Those balls placed end to end would stretch from WDW to Key West. The tennis racquets that line the railing are approximately 51 feet tall. The "tennis" balls attached to the balconies at Center Court are almost five feet in diameter.
At Touchdown, a football player would have to be more than 200 feet tall to be able to wear one of these giant football helmets. The football field is even decorated with giant Xs and Os, while poles and numbers on the buildings show the 40 yard line, 30 yard line, and so on.
At the Home Run Hotel, a 40-foot tall White Ash tree would be needed to make a baseball bat the size of the ones located on the railings. It would take more than 20 million 12-ounce cans of Coke to fill just one of the large Coke cup containers.
*  *  *  *  *
Thanks, Jim! My complete review of All-Star Sports begins here. And come back next Friday for more from Jim Korkis!
In the meantime, check out his books, including his latest, The Vault of Walt Volume 8: Outer Space Edition, his recent  Disney Never Lands, and about planned but unbuilt concepts, and Secret Stories of Walt Disney World: Things You Never You Never Knew
, which reprints much material first written for this site, all published by Theme Park Press.

Follow yourfirstvisit.net on Facebook or Twitter or Pinterest!!
RELATED STUFF