A Friday Visit with Jim Korkis: Disney Unbuilt
By Dave Shute
Welcome back to Fridays with Jim Korkis! Jim, the dean of Disney historians, writes about Walt Disney World history every Friday on yourfirstvisit.net.
YOUR PERSONAL DISNEY LIBRARY (20)
By Jim Korkis
Previously, I reviewed Ware's book about extinct attractions at the Disney theme parks worldwide and my impressions of that book are echoed in this book as well.
Disney Unbuilt is not a book for anyone who wants definitive dates, names of people involved in the project, excerpts from press releases and newspapers, quotes from Imagineers, statistics or any other kind of hard facts or original research.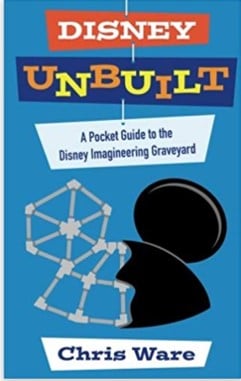 However, as a quick snapshot of many of the parks, lands, attractions, restaurants, and hotels that failed to materialize, this is a fun little book much like a casual conversation with friends: "Did you hear that Disney was thinking of building such and such?" For some fans that will be enough. For others, hopefully it will spur them to do further research on something that caught their interest.
An entire book could be written about Mineral King from Walt's initial inspiration to the variety of proposals that were developed to the legal battles to other alternative locations that were considered and much more. In this book, the project is given one page.
The proposed Venezuela pavilion at World Showcase included some of the last work of legendary Imagineer Claude Coats and a theme song called Discover Venezuela written by X. Atencio (who wrote the lyrics for the Pirates of the Caribbean and the Haunted Mansion attractions) that would have played in the cable car that snaked its way overhead through the pavilion and much more.
In this book, the pavilion is given just two paragraphs, one of which speculates without any citation that having a boat ride going through a rainforest may have been the problem for some reason. The entry doesn't mention Coats or Atencio or Collin Campbell's evocative concept art.
I've always had a fascination with projects that Disney never made. Often the project is announced with elaborate, colorful concept artwork and somewhat vague but excited quotes from Disney executives or Imagineers. Anticipation builds among Disney fans and then it suddenly disappears or transforms. Often the Disney Company wants to pretend that the original announcement never existed and try to direct attention to something else.
Within the last few years we saw that happen at Walt Disney World with projects like the New Fantasyland area that would have had individual meet-and-greet areas for different princesses like Princess Aurora, and Hyperion Wharf that morphed into Disney Springs.
In addition, as difficult as it is to get and verify information about existing things at Disney theme parks, it is very challenging to try to find material about something that was abandoned like the Alpine Hotel that was to overlook Blizzard Beach but was changed into Coronado Springs instead.
That hotel is not mentioned in the book but Fort Wilderness Junction is along with the "usual suspects" of the Asian, Venetian and Persian resorts that would have opened near the Magic Kingdom by 1975. The gas crisis in 1973 and the fact that it lowered projected attendance put an end to those projects.
I am certainly impressed that Ware was able to find so many projects as much as I am frustrated that he only covers them in brief entries. Ware has written for his local newspaper for several years and has been a long-time Disney fan. Again, as a quick overview, the book might make a nice addition to your personal Disney library as long as you recognize that most of the full story behind these things is missing.
*  *  *  *  *
Thanks, Jim! And come back next Friday for more from Jim Korkis!
In the meantime, check out his books, including his latest, The Unofficial Walt Disney World 1971 Companion: Stories of How the World Began, and Secret Stories of Walt Disney World: Things You Never You Never Knew
, which reprints much material first written for this site, all published by Theme Park Press.

Follow yourfirstvisit.net on Facebook or Twitter or Pinterest!!
RELATED STUFF