A Friday Visit with Jim Korkis: Extinct Attractions at Disney Theme Parks
By Dave Shute
Welcome back to Fridays with Jim Korkis! Jim, the dean of Disney historians, writes about Walt Disney World history every Friday on yourfirstvisit.net.
YOUR PERSONAL DISNEY LIBRARY (19)
By Jim Korkis
Things at Disney theme parks are constantly changing. Sometimes things disappear quietly in piecemeal fashion over a period of time. Other times things seem to vanish overnight as if they were never there in the first place, like the Metrophone booth in Walt Disney World's Tomorrowland.
At Walt Disney World, Disney learned never to announce too far in advance that something like Mr. Toad's Wild Ride will be removed, because it will spark protests and attempts to stop it from happening.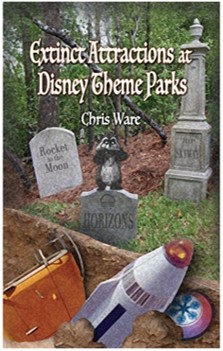 Extinct Attractions at Disney Theme Parks is a 172 page book that attempts to list some of the major attractions at Disney theme parks worldwide that have gone to the figurative Imagineering graveyard. While the book covers Disneyland, Disney California Adventure, Tokyo Disneyland, Disneyland Paris, Hong Kong Disney and even Shanghai Disneyland, roughly 56 pages are devoted to Walt Disney World, which is a sizable chunk of the book.
One of the reasons for that length is that Ware doesn't just list Mickey's Toontown Fair or the Wonders of Life pavilion at Epcot, but each individual element of those locations. So Cranium Command, Coach's Corner, Goofy About Health, Sensory Funhouse, Wonder Cycles, Body Wars and Making of Me each receive their own entry.
However none of the entries in the book are highly detailed. Some are barely three sentences in length (Flight to the Moon, Skyway, etc.) while others might run two pages (Horizons, ExtraTerrorestrial Alien Encounter, etc). Basically, it is very much a quick snapshot comparable to a casual dinner conversation that might go "Gee, do you remember when such and such was at the park? I used to go there as a kid and I remember…."
So for scholars or those looking for definitive dates, names of people involved, quotes, material from press releases or newspapers, full description of the attraction, statistics or other hard facts, this book will be disappointing. However as a memory jogger, or a springboard to do further research on something that catches your fancy, the book is a nice addition to your personal library.
The Walt Disney World section is divided into Magic Kingdom, Epcot, Disney's Hollywood Studios, and Disney's Animal Kingdom. Since the focus is on attractions, there is no coverage of things that went missing from the resorts or other areas of the property like the water parks. However, there are brief entries for Disney's River Country, Discovery Island (the one that used to be near Fort Wilderness Resort and Campground) and Pleasure Island.
The book describes Ware's credentials to write about these things as "Chris Ware has been a writer for over a decade and contributes to his local newspaper. He grew up ten minutes from Disneyland. In addition to his writing career, he has built a successful business buying and selling Disneyana collectibles."
There is also a Chris Ware who is a popular cartoonist and no relation to the writer of this book. This Chris Ware hasn't done any original research or interviews to perk up the material or provide a different perspective but where else can you find a book listing the attractions that went extinct at the Disney theme parks?
So if your expectations are not too high, this book may provide an enjoyable way to spend a few minutes of your time.
*  *  *  *  *
Thanks, Jim! And come back next Friday for more from Jim Korkis!
In the meantime, check out his books, including his latest, The Unofficial Walt Disney World 1971 Companion: Stories of How the World Began, and Secret Stories of Walt Disney World: Things You Never You Never Knew
, which reprints much material first written for this site, all published by Theme Park Press.

Follow yourfirstvisit.net on Facebook or Twitter or Pinterest!!
RELATED STUFF