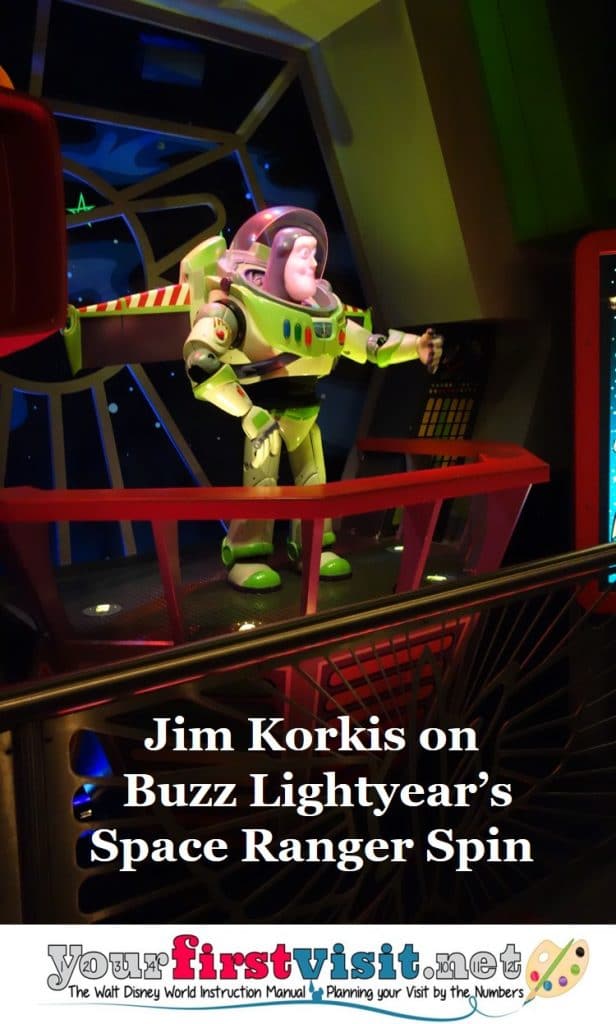 Welcome back to Fridays with Jim Korkis! Jim, the dean of Disney historians, writes about Walt Disney World history every Friday on yourfirstvisit.net.
BUZZ LIGHTYEAR'S SPACE RANGER SPIN
By Jim Korkis
Officially opening on November 23, 1998, Buzz Lightyear's Space Ranger Spin puts guests in the middle of a giant arcade game, where they shoot at targets with their ion laser cannons to rack up points as they ride in a vehicle called XP-37 Space Cruisers that can rotate 360 degrees. The attraction, even the queue line, is scaled to size of a toy.
The storyline is Evil Emperor Zurg (voiced by Frank Welker) is stealing crystallic fusion cells (that look like batteries) for his Ultimate Weapon of Destruction. Firing at the "Z" emblems (which the Imagineers claimed stood for "Zap!" not "Zurg") throughout the ride defeats the bad guys and garners points.
New recruits of Star Command (the guests) are sent to defeat him. An audio-animatronics Buzz Lightyear figure (voiced by Pat Fraley) using a Viewmaster explains the mission.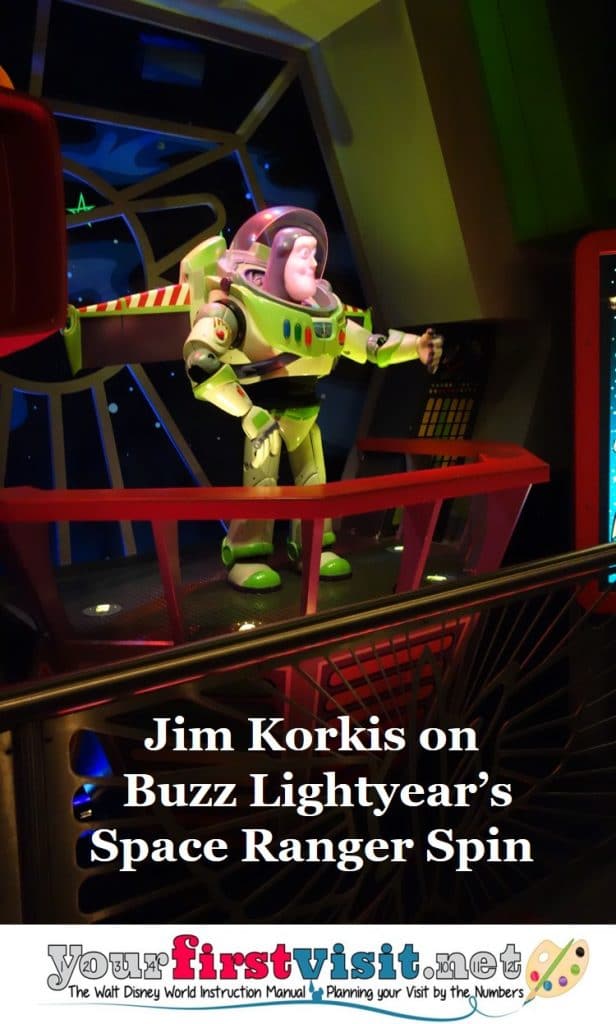 "Trying to recreate all of Buzz's facial expressions with an audio-animatronics figure alone would be impossible," said Tom Brentnall, senior imaginer engineer on the project. "It's kind of a Madame Leota effect in a figure with a moving head. The projector and head now move in unison to stay aligned. Fitting the projector into Buzz's body without affecting the head movements required some optical modifications involving a belt sander, a band saw and some glue."
WDI worked closely with Pixar on a full-sized mock-up to animate Buzz's computer-generated facial expressions, and get them to project accurately from behind on to the translucent mask.
Variations of the attraction can be found at Disneyland, Tokyo Disneyland, Disneyland Paris and Shanghai Disneyland.
The location was previously home to the If You Had Wings attraction (Eastern Airlines) from 6/5/72 through 6/1/87, If You Could Fly (Delta Airlines) from 6/6/87 until 1/3/89 and then Delta Dreamflight from 6/6/89 to 1/1/96. Then it was the unsponsored Take Flight attraction until 1/5/98.
The Imagineers were tasked with using the same walls and ride track under a tight deadline. The same WDI team under the supervision of Paul Osterhout that redid the Enchanted Tiki Room so that it was under new management was put in charge.
They resorted to blacklight paint finishes to simulate some of the dimensionality of the scenery, 3-D painting on interior walls, and computer-generated murals applied to vinyl as cost saving measures.
"The whole thing looks like molded plastic with the big rivet heads and highly polished finishes," said Osterhout. "It's like playing in the Buzz Lightyear action playset.
"Tomorrowland is a neighborhood with each building having a public function. We didn't have a police station before, but now we do – it's the home of Buzz Lightyear and the Space Rangers.
"We had to take the existing system that moves at maybe three feet per second and make it different and exciting. That's when we came up with the spin that allows riders to control their own ride vehicle with a joystick making it a different experience every time because the guests have complete control over where the vehicle goes and which targets they shoot at. That's going to keep them coming back."
"One of the challenges we face now at the Magic Kingdom is how to introduce the newer 'classic' Disney characters to the Park," explained Imagineering senior vice-president Eric Jacobson. "Characters should live on at the Magic Kingdom. The idea of creating a show about the fantasy world of Buzz Lightyear – not the whole world of Toy Story – in Tomorrowland suddenly clicked. It was a perfect fit."
*  *  *  *  *
Thanks, Jim! And come back next Friday for more from Jim Korkis!
In the meantime, check out his books, including his latest, The Unofficial Walt Disney World 1971 Companion: Stories of How the World Began, and Secret Stories of Walt Disney World: Things You Never You Never Knew
, which reprints much material first written for this site, all published by Theme Park Press.

Follow yourfirstvisit.net on Facebook or Twitter or Pinterest!!