A Friday Visit with Jim Korkis: Spinning Disney's World
By Dave Shute
Welcome back to Fridays with Jim Korkis! Jim, the dean of Disney historians, writes about Walt Disney World history every Friday on yourfirstvisit.net.
YOUR PERSONAL DISNEY LIBRARY (18)
By Jim Korkis
Charlie Ridgway was hired at Disneyland in January 1963 as a publicity man for the park. In 1969 he was offered the job as Publicity Manager for Walt Disney World and re-located to Florida. He helped launch the opening of Walt Disney World in 1971 and EPCOT Center in 1982, as well as with special projects for celebrations such as Donald Duck's 50th birthday in 1984. He retired in 1994 and was made a Disney Legend in 1999.
I knew and liked Charlie and interviewed him several times over the years. He was a gentle, generous, funny person and a wonderfully accurate source of information about Disneyland and early Walt Disney World.
I even shared part of one of those interviews with him about the opening of Walt Disney World in a previous yourfirstvisit column.
"Charlie defined Disney public relations," stated Rick Sylvain, who was hired by Ridgway to join Disney's public relations team in 1995. "He never lost his childlike enthusiasm for all things Disney. That enthusiasm was infectious. As a new recruit, you had two options: try to keep up with him or get out of the way.
"Disney doesn't throw around accolades lightly. So being named a Disney Legend and having his name on a window of Main Street U.S.A. speaks to the esteem Disney held for Charlie."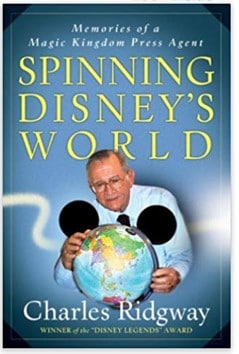 Since his business was providing stories for the media, it is no surprise that his book is filled with great stories of interacting with Walt and Roy Disney as well as Michael Eisner. There are no chapter titles in the 230 page book but fortunately there is an index to help locate information.
The book is filled with stories that no one else has ever told, including Charlie planning the 80th birthday party of journalist Lowell Thomas at WDW in 1972 that included World War I Ace Eddie Rickenbacker, World War II's General Jimmy Doolittle, inspirational speaker Norman Vincent Peale and more.
Ridgway writes: "At the banquet that night (at the Contemporary), Lowell showed his home movies, things like Tom Dewey playing softball at Lowell's farm while a smiling Franklin D. Roosevelt looked on from his open touring car." Lowell moved from the Contemporary to the Polynesian ("which was his favorite") for three more days.
Try to find that story anywhere else or "We flew into Orlando several times (on Walt's plane 234MM) during construction of Walt Disney World. We always landed at Herndon Field instead of McCoy (later Orlando International) where they regularly announced 'Mickey Mouse 234 approaching'. Then after landing, it was 'The Rat is on the ramp'."
What about the story of Walt and Bob Hope entertaining the U.S. Olympic team on its way to Japan in 1964 on a riverfront stage in Frontierland at Disneyland? When the little train from Nature's Wonderland let out its shrill whistle unexpectedly, Hope quipped, "Walt, your waffles are ready".
Even with all the gems in the book, Charlie had enough for another book and I kept urging him to write a sequel for almost a decade, until his death in 2016. Unfortunately, like other Disney Legends Jack Lindquist, Marty Sklar and John Hench who were in the middle of new books when they passed away, the same situation happened for Charlie.
Fortunately, this book does exist and shares with us all a different perspective and new information on both Disneyland and Walt Disney World.
*  *  *  *  *
Thanks, Jim! And come back next Friday for more from Jim Korkis!
In the meantime, check out his books, including his latest, The Unofficial Walt Disney World 1971 Companion: Stories of How the World Began, and Secret Stories of Walt Disney World: Things You Never You Never Knew
, which reprints much material first written for this site, all published by Theme Park Press.


Follow yourfirstvisit.net on Facebook or Twitter or Pinterest!!
RELATED STUFF