Basic 2019 December Disney World Itinerary
By Dave Shute
This  draft Walt Disney World itinerary is designed for the three weeks following Thanksgiving 2019.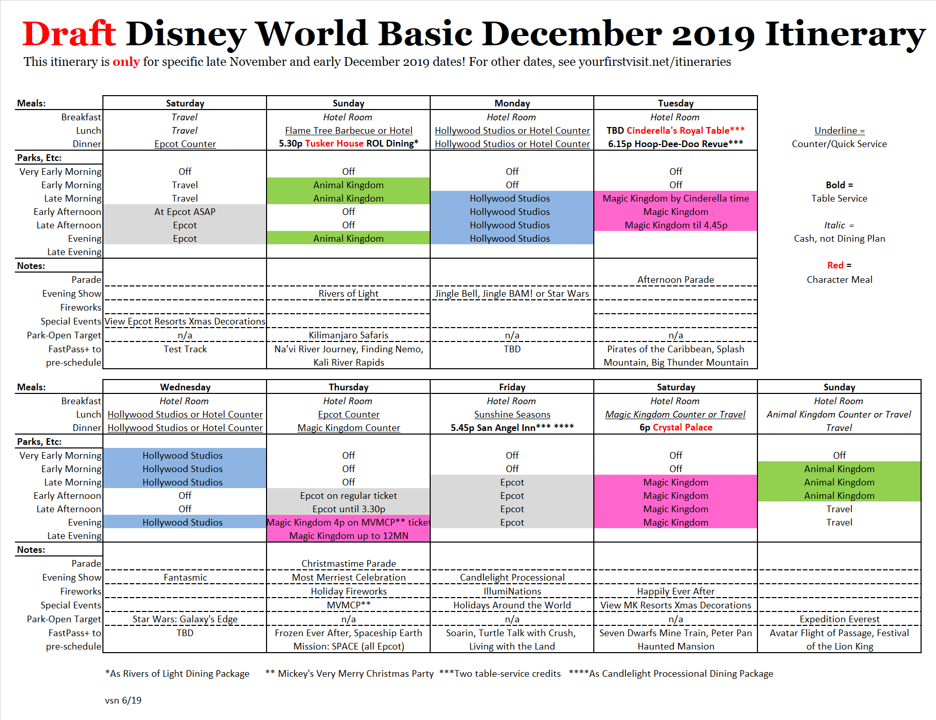 The days in the parks, dining, and special events to target are all set.
It is a draft in the sense that I have not yet confirmed (or posted) the daily touring plans and pre-booked FastPass+ selections that support it.  In particular, I am waiting for Hollywood Studios FastPass+ tiers to be confirmed. The daily touring plans will be set well before the 60 day FastPass+ windows open, at the end of September for the earliest date discovered by this itinerary.
If you aren't going one of those weeks, see Other Itineraries for alternatives the rest of the year, which are published about six months ahead.
A detailed  To-Do List covers all the planning steps you need to undertake now. And by the end of September I will provide detailed daily guidance.
ITINERARY DESIGN GOALS
The basic December itinerary was designed to meet several goals: to ensure that you
See the best that Walt Disney World has to offer, including all of its special Christmas season offerings
See the parks in the order that works best for kids (essentially Epcot first, as it is potentially the most disappointing, and the Magic Kingdom last, as it is likely to be the best loved)
Avoid unnecessary waiting, by using FastPass+ and other tactics…
Given all the evening shows and late nights, have as few early mornings as practical
The 2019 version differs from previous ones in a couple of ways:
It shifts the Christmas Party night from Tuesday to Thursday, to create an earlier bedtime on Tuesday
The two Hollywood Studios days are re-shaped to account for Galaxy's Edge, with an early morning plugged in on Wednesday
It adds some time to Magic Kingdom, as I suspect that the projection-based new fireworks at the party will trap people in the hub for more of the early evening than past iterations–meaning folks will miss a ride or two that they could have seen during the Christmas Party in past years.
If you can't do the dates required for the Basic Itinerary, see Other Itineraries for alternatives for both the December week and the rest of the year.


Follow yourfirstvisit.net on Facebook or Twitter or Pinterest!!
RELATED STUFF