A Friday Visit with Jim Korkis: Walt Disney's Imagineering Legends and the Genesis of the Disney Theme Park
By Dave Shute
Welcome back to Fridays with Jim Korkis! Jim, the dean of Disney historians, writes about Walt Disney World history every Friday on yourfirstvisit.net.
YOUR PERSONAL DISNEY LIBRARY (17)
By Jim Korkis
While this book is a decade old, because of the material being covered in it, the information is timeless and still valuable today. It was the policy of the Disney Company that most people's contributions to the magic remain anonymous in order to promote the Disney brand as well as the fact that many different talents may have collaborated on the final product.
When it came to the theme parks, it meant that the Imagineers were often not credited or their names might appear in an article but without any explanation of specifically what they did.
"Imagineer" is a Disney word coined by Harrison "Buzz" Price that combined the two words "imagination" and "engineer" indicating that it was equally important not just to dream up an idea but to find a way to make it a reality.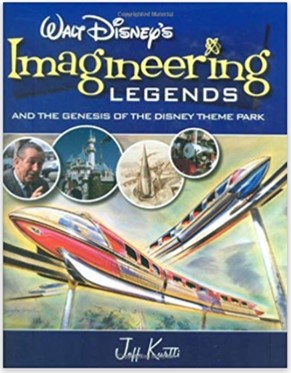 This book concentrates on the classic "first" Imagineers who worked directly with Walt Disney himself, including Harper Goff, Ken Anderson, Herb Ryman, Sam McKim, Richard Irvine, Bill Cottrell, Marvin Davis, Bill Martin, Marc Davis, Claude Coats, Bill Evans, Rolly Crump, Yale Gracey, Blaine Gibson, Fred Joeger, Harriet Burns, Wathel Rogers, Roger Broggie, Bob Gurr, the Sherman Brothers, Buddy Baker, George Bruns, X. Atencio, Ub Iwerks, Bill Walsh, James Algar, Ward Kimball, and, of course, John Hench.
Each person receives their own chapter covering their lives and identifying their projects. Photographs show these Imagineers at work, painting, sculpting and model-making among other things. The book is filled with their color concept art usually unseen by the general public.
The newer generation of Tony Baxter, Joe Rohde, Kim Irvine, Tom Fitzgerald and others do not appear, probably because a sequel was intended but never produced.
Author Jeff Kurtti has been a leading Disney authority for decades and is still very active in Disney scholarship with several new books scheduled for release this year.
The late Bruce Gordon who is the co-author (and regrettably passed away much too young, just before this book came out) was an Imagineer for roughly a quarter of a century and not only significantly contributed to many Disney attractions like Splash Mountain but authored many important books about the many worlds of Disney.
Both of them are noted for their accuracy in their writing and because of their direct acquaintance with these people, their ability to share information and anecdotes that appear nowhere, else from Imagineering yo-yo contests in the halls to the lawyer who won the handstand walking contest.
Their stated goal was to familiarize people with the core team of creative people who worked with Walt on the theme parks and related projects and in that, they succeeded.
In the process, the book covers not only these specific individuals but the history of Imagineering and how it operated under Walt's supervision. It can certainly be argued that some people like Mary Blair and Alice Davis have been ignored because of the restrictions of space. However, for some of the others who have been included, this is the only information on them and their lives that exists in an easily accessible resource.
For me, one of the additional joys of the book are the people sharing their personal stories of working with Walt Disney giving great insight into a man who was really a boy who never grew up. This book is recommended for a much better understanding of the people behind Disneyland and Walt Disney World.
*  *  *  *  *
Thanks, Jim! And come back next Friday for more from Jim Korkis!
In the meantime, check out his books, including his latest, The Unofficial Walt Disney World 1971 Companion: Stories of How the World Began, and Secret Stories of Walt Disney World: Things You Never You Never Knew
, which reprints much material first written for this site, all published by Theme Park Press.


Follow yourfirstvisit.net on Facebook or Twitter or Pinterest!!
RELATED STUFF