A Friday Visit with Jim Korkis: Test Track at Epcot
By Dave Shute
Welcome back to Fridays with Jim Korkis! Jim, the dean of Disney historians, writes about Walt Disney World history every Friday on yourfirstvisit.net.
TEST TRACK AT EPCOT
By Jim Korkis
The Test Track attraction that replaced the original World of Motion attraction at Epcot officially opened March 1999. Test Track then was closed in 2012 for renovations, and re-opened in December 2012.
The up-to-65 mph speed track of almost a mile in length remained much the same in the 2012 renovation, with the major change being the storyline.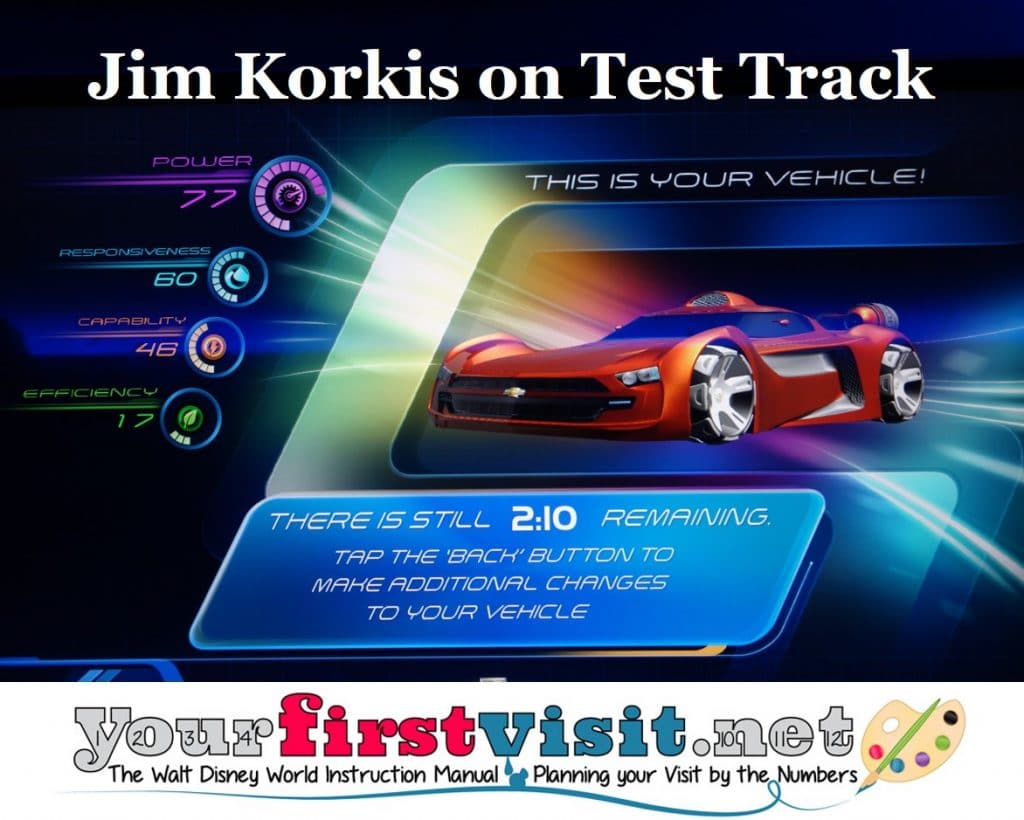 The changes include a pre-ride interactive design center where guests can design their own custom vehicle and a post-show state-of-the-art showroom that features high-tech games. Throughout the ride, guests see how their designs performed in each individual test.
The first version of the Test Track attraction was notorious for its many delays before opening. Among other things, the original wheels and axles on the cars could not handle the speed demands, and the original ride programming system couldn't handle the number of cars needed for the highest capacity since each car had three on-board computers. Re-setting after a shutdown could take up to an hour. The challenges were eventually resolved and the attraction was one of the first at Disney parks to have a single rider line.
Kevin Rafferty was the Walt Disney Imagineering Senior Show Writer for the original attraction. As a young man, he worked at Disneyland's Plaza Inn washing dishes. His dream was to be an animator, and he was a week away from an interview with Disney Feature Animation when he saw an opening in the Art Services Department at Walt Disney Imagineering, and his portfolio and prior Disney work experience were enough to get him the job.
Rafferty recalled the creation of the original attraction: "The Test Track attraction isn't very story dependent. The story is that there are more than 15,000 parts that go into every new GM car and truck and that before they arrive in the showrooms, each and every new part has been tested…and re-tested in labs by technicians and out on test tracks by professional test drivers.
"The attraction story is basically all about this vehicle testing and that you, the guest, get to experience what it's like to be a test driver.
"My role began from the spark of the idea before we landed on Test Track, when a core group of us were discussing what we could do to refurbish the original World of Motion attraction presented by GM that no longer wanted to sponsor the ride.
"We ran a few of our initial ideas past some GM executives and they challenged us with the thing Imagineers love to hear: 'What if you guys started from scratch on this? What would you do?' GM had mentioned to us that their 'story' is not only about manufacturing but it's about testing.
"Then we were faced with 'How could we make an attraction out of that?' We immediately began talking about a test track-like ride idea and came up with the concept and logical story.
"GM invited us out on a research trip to several of their proving grounds, including their main test track facility in Milford, Michigan. After spending a day riding with professional test drivers and experiencing the rigors of their daily schedule, including driving over rough roads, braking, road handling and speeding along their four mile speed loop, our idea was validated.
"It was my job to help design and develop a logical scene-by-scene story progression throughout the attraction and then write the plaque copy and scripts for the pre-show 'lab' exhibits and videos, the 'briefing room' (with actor John Michael Higgins, playing director of operations Bill McKim) and ride narration, as well as pitching the idea's progression to our management along the way. By the way, this also includes riding the ride a zillion times before opening to test and adjust the show and ride timing."
*  *  *  *  *
Thanks, Jim! And come back next Friday for more from Jim Korkis!
In the meantime, check out his books, including his latest,  The Vault of Walt Volume 7: Christmas Edition, and his Secret Stories of Walt Disney World: Things You Never You Never Knew
, which reprints much material first written for this site, all published by Theme Park Press.


Follow yourfirstvisit.net on Facebook or Twitter or Pinterest!!
RELATED STUFF