A Friday Visit with Jim Korkis: Poster Art of the Disney Parks
By Dave Shute
Welcome back to Fridays with Jim Korkis! Jim, the dean of Disney historians, writes about Walt Disney World history every Friday on yourfirstvisit.net.
YOUR PERSONAL DISNEY LIBRARY (13)
By Jim Korkis
Released in 2012 by Disney Editions, Poster Art of the Disney Parks is still a popular seller because it is timeless. At roughly eleven and half by fourteen and a half inches, the pages are large enough so that even when there are several images on an individual page they still are big enough to be seen clearly and when there is only one, it is spectacular.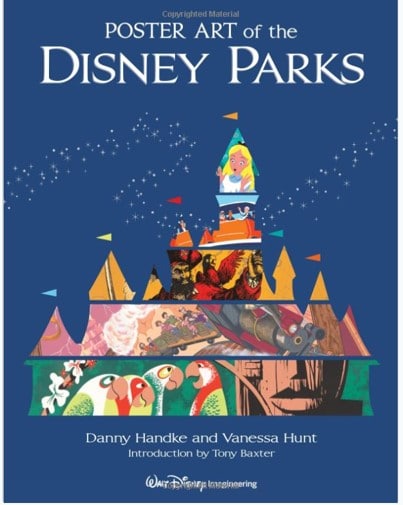 Both Handke and Hunt are Imagineers who specialize in artwork, so it is not surprising that this is a beautifully done book when it comes to displaying art. However, while the focus is on the art, there is still plenty of room for explanatory text, although, as always, I would have liked even more including background on some of the talented artists.
After an informative introduction by Imagineer Tony Baxter, there are nine chapters: Here You Leave Today…, Main Street, U.S.A., Adventureland, New Orleans Square and Liberty Square, Frontierland, Fantasyland, Tomorrowland, Tokyo DisneySea, and Disney California Adventure. The book ends with a bibliography and an index by artist.
For Walt Disney World fans, it is interesting to compare the Disneyland and Walt Disney World posters for the same attraction like The Enchanted Tiki Room and the Tropical Serenade. Also, there are several examples of posters of attractions that are uniquely Disney World, like The Hall of Presidents
In the summer of 1956, Disneyland sported an exciting new visual method to entice guests to unfamiliar at the time Disneyland attractions, exhibits and restaurants: brightly silk screened framed attraction posters adorned the area below the Main Street Train Station at the entrance of the park, the Penny Arcade, and also the distinctive Avenue of the Flags entrance in Tomorrowland.
Later in 1959, the posters would decorate the bottom of the monorail support pylons. Walt Disney considered his theme park analogous to a motion picture experience, so these posters served as "Coming Attractions" posters like at a movie theater to excite and familiarize guests with what "shows" were in the park.
The early posters with their simple but dramatic graphics were intentionally designed with limited blocks of color to keep the silk-screen process uncomplicated. Disneyland used silk-screening to render each poster, but Walt Disney World favored a 4-color lithography process even when the artwork was basically the same.
Over the years, talented Disney Imagineers designed attraction posters, including Claude Coats (Alice in Wonderland), Rolly Crump (Flying Saucers) and Mary Blair ("it's a small world"). Between 1956 and 1987, 32 different ride posters were created by Disney artists on large masonite panels that were used as the model for the finished silk-screened print.
As the park evolved, certain attraction posters, like the one for the Monorail (done by Paul Hartley), required updated images or text and a new version of the poster was made.
A great site for more information about Disney park posters is here.
I know some Disney fans who bought two copies of this book so they could use a razor blade and remove some of the full-sized pages to frame in their houses. I am not quite that fanatical although I have purchased some full sized reproductions at the Art of Disney Gallery at WDW for a similar purpose.
*  *  *  *  *
Thanks, Jim! And come back next Friday for more from Jim Korkis!
In the meantime, check out his books, including his latest,  The Vault of Walt Volume 7: Christmas Edition, and his Secret Stories of Walt Disney World: Things You Never You Never Knew
, which reprints much material first written for this site, all published by Theme Park Press.


Follow yourfirstvisit.net on Facebook or Twitter or Pinterest!!
RELATED STUFF