A Friday Visit with Jim Korkis: Prep & Landing
By Dave Shute
Welcome back to Fridays with Jim Korkis! Jim, the dean of Disney historians, writes about Walt Disney World history every Friday on yourfirstvisit.net.
A PREP & LANDING CHRISTMAS
By Jim Korkis
Once again this year, WDW guests can experience the nighttime event Jingle Bell, Jingle BAM! at Disney's Hollywood Studios. However, some guests may be unaware of the origins of Santa's elves, Wayne and Lanny, who are part of the Prep & Landing crew.
Walt Disney Animation Studios wanted to revive original seven minute shorts to precede Disney theatrical features and the first one was How to Hook Up Your Home Theater with an inept Goofy released in 2007.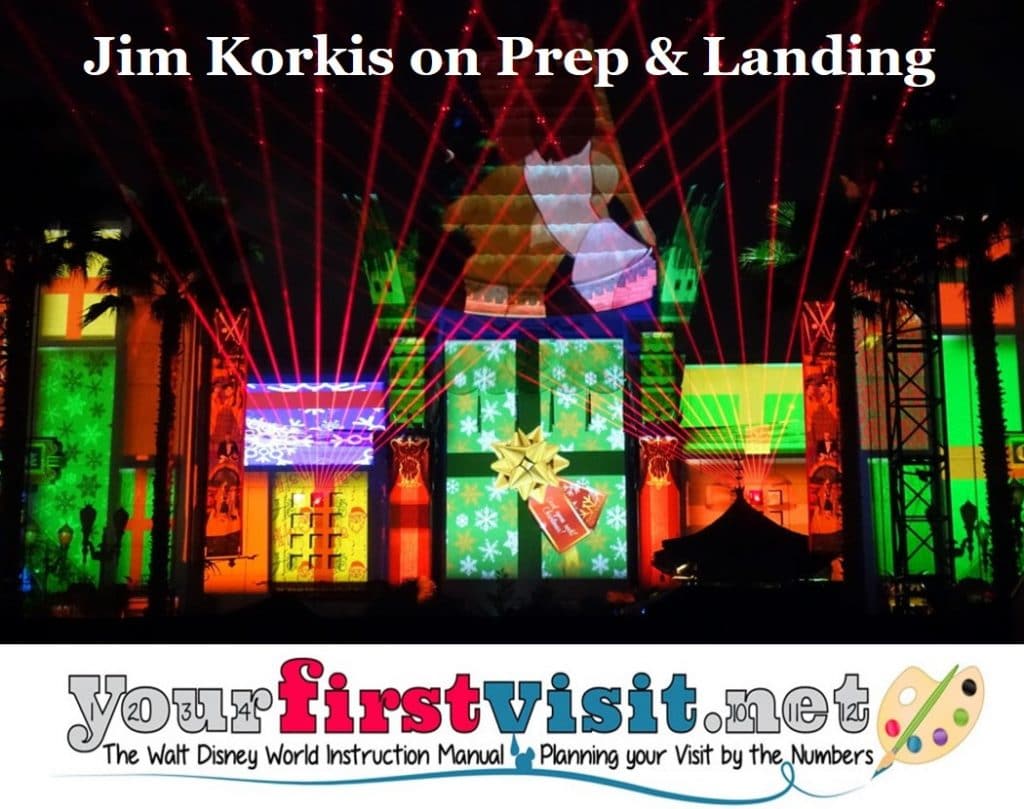 Chris Williams, who worked in the story department, had pitched the initial idea of Prep & Landing as another installment of that program along with several other ideas. Not only did Chief Creative Officer of Disney Animation John Lasseter like the idea of a stealth group of Santa's elves preparing the landing area for Santa like a crew on an aircraft carrier but he felt that instead of a short that it should be expanded to a half hour television Christmas special like the ones he remembered watching when he was younger.
"Chris Williams was the one who initially dreamed up the idea of this elite group of elves who each year help get houses ready for Santa's arrival. And when Chris got too busy directing Bolt (2008) to do Prep and Landing, John Lasseter turned to Stevie (Wermers-Skelton) and I and asked if we'd be interested in developing Chris's idea," said co-writer and co-direct of Prep & Landing Kevin Deters.
"Chris had already created the characters of Lanny, the excited rookie, and Wayne, the jaded veteran. But that was just for the seven-minute-long short version of Prep & Landing. We were looking to tell a far bigger story with these characters. So we worked closely with John to expand our storyline, flesh out the world of the North Pole and these elves."
The first Prep & Landing television half hour special was released in December 2009. It won several Annie and Emmy awards. It was followed by a seven minute short in 2010 called Operation: Secret Santa and by another half hour special in 2011. Prep & Landing: Naughty vs. Nice also garnered Annie and Emmy awards but failed to attract as large an audience as expected resulting in the cancellation of a third half hour special.
To help promote the new Naughty vs. Nice special, an eight page comic book (Mansion: Impossible!) story of Wayne and Lanny preparing Marvel's The Avengers' Mansion appeared as a back-up story in the "all ages" editions meant for younger readers of Marvel Adventures Avengers #19, Marvel Adventures Super-Heroes #20, and Marvel Adventures Spider-Man #20.
It was written by Deters and drawn by Joe Mateo, who had received an Emmy Award as a storyboard artist for his work on the first special and also storyboarded the second special as well.
The Jingle Bell, Jingle BAM! holiday fireworks show began at Disney's Hollywood Studios in 2016 and has continued to run each year during the Christmas season festivities after that. Wayne and Lanny conduct a search-and-rescue mission to return Santa to the North Pole in time for Christmas. Oogie Boogie from The Nightmare Before Christmas film has kidnapped Santa Claus and Wayne and Lanny eventually rescue the Big Guy.
The show is a combination of state-of-the-art projections on the Chinese Theater along with lasers and lights, special effects (snow falling at the conclusion) and a fireworks finale which is the "BAM!".
It also includes montage scenes from several Disney animated films including Mickey's Christmas Carol, Beauty and the Beast, Pluto's Christmas Tree, Bambi, Tim Burton's The Nightmare Before Christmas and many more as backdrop to various standard Christmas songs interspersed with brief segments of Wayne and Lanny trying to find and rescue Santa.
Wayne and Lanny have also made appearances in digital windows from 2011 – 2015 at Walt Disney World's former Osborne Family Spectacle of Dancing Lights, and in a specially animated two minute pre-show segment for Disney's California Adventure night time water spectacular show World of Color during the holiday season from 2011-2013.
*  *  *  *  *
Thanks, Jim! For more on Jingle Bell, Jingle BAM!, see this.
And come back next Friday for more from Jim Korkis!
In the meantime, check out his books, including his latest,  The Vault of Walt Volume 7: Christmas Edition, and his Secret Stories of Walt Disney World: Things You Never You Never Knew
, which reprints much material first written for this site, all published by Theme Park Press.


Follow yourfirstvisit.net on Facebook or Twitter or Pinterest!!
RELATED STUFF