A Friday Visit with Jim Korkis: Disney's Tiki Culture
By Dave Shute
Welcome back to Fridays with Jim Korkis! Jim, the dean of Disney historians, writes about Walt Disney World history every Friday on yourfirstvisit.net.
TIKI CULTURE AT WALT DISNEY WORLD AND DISNEYLAND
By Jim Korkis
Brandon Kleyla, sometimes known as Trader Brandon, just released a small book entitled The Field Guide to Tiki Decorating, available only directly through him at www.traderbrandon.com.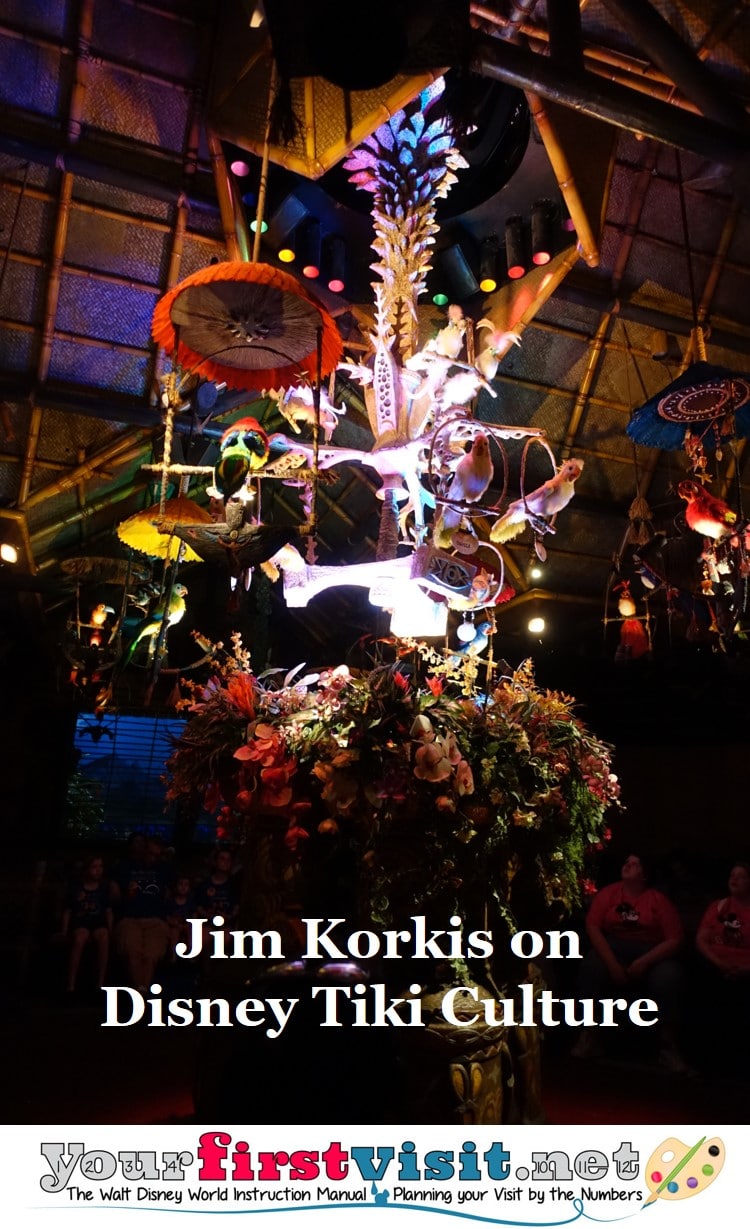 Why is that of interest to WDW fans? Kleyla is a former Disney Imagineer who was responsible for designing Trader Sam's Enchanted Tiki Bar at the Disneyland Hotel and Trader Sam's Grog Grotto at The Polynesian Village Resort. It took him seven years to do both the Disney locations.
"The book started because people were asking me to write a Trader Sam's related book which obviously because of Disney trademark restrictions on intellectual property I can't," shared Kleyla with writer Seth Kubersky. "But I started putting together thoughts together of what I could share about creating a backstory, music, lighting…kind of a big overview.
"I'm sad because I don't really enjoy Trader Sam's as a guest because I've slept in there. I've lived in there. But I get to enjoy sitting in a corner, just watching everyone else and seeing them react so I get that side of it."
Disneyland, of course, was partly responsible for the revival of Tiki Culture in the 1960s. Stouffer's sponsored the Plaza Pavilion and the Tahitian Terrace restaurants at Disneyland and had contracted to sponsor the new "adventure in eating and dining" called The Enchanted Tiki Room which would share the kitchen with those other two dining locations. Posters were printed up and guests alerted.
Reservations (the first ever restaurant at Disneyland to have reservations) were to be spaced at one hour intervals and after the main course had been completed the performing audio-animatronics tropical birds would spring to life in dozens of overhead bird cages.
Walt soon realized that guests would be so enchanted that they stopped eating and didn't finish in time for the next seating. In addition, the space was so small that it would have limited capacity as a restaurant. (That is certainly the situation with both Trader Sam's locations, with lengthy wait times for the limited indoor space.)
The Enchanted Tiki Room–where all the birds sing words and the flowers croon– opened June 23, 1963 at Disneyland and it was the first to feature audio-animatronics technology developed by WED (Imagineering) from recently declassified military documents about the launching of rockets and releasing the various stages (open/close the same as bird beaks).
The building was the first fully air-conditioned building at the park, in order to make sure the computers in the basement of the attraction did not overheat. Since the attraction was owned by WED rather than Disneyland, guests paid an extra seventy-five cents (the cost at that time of an "E" Ticket) to experience it.
An almost identical copy of the show (but with a much different pre-show) called Tropical Serenade opened with Walt Disney World in 1971. It was rehabbed as The Enchanted Tiki Room (Under New Management) in 1998. It returned to its original format in August 2011 with a slighted edited version of the original show. [A review is here–Dave.]
Of course, the Polynesian Village Resort that also opened in 1971 has many references to Tiki Culture, including since 2015 Trader Sam's Grog Grotto located inside the Great Ceremonial House where guests can order a HippopotoMai-Tai in a souvenir mug. The interactive interior of the Grotto seems to be a tribute to Walt's original plans for such a food and beverage area over half a century ago.
*  *  *  *  *
Thanks, Jim! And come back next Friday for more from Jim Korkis!
In the meantime, check out his books, including his latest, Secret Stories of Mickey Mouse,  and his Secret Stories of Walt Disney World: Things You Never You Never Knew
, which reprints much material first written for this site, all published by Theme Park Press.


Follow yourfirstvisit.net on Facebook or Twitter or Pinterest!!
RELATED STUFF