A Friday Visit with Jim Korkis: Duffy the Bear
By Dave Shute
Welcome back to Fridays with Jim Korkis! Jim, the dean of Disney historians, writes about Walt Disney World history every Friday on yourfirstvisit.net.
DUFFY THE BEAR
By Jim Korkis
A new best friend for Duffy the Bear, Cookie, had her global debut July 2018 at Hong Kong Disneyland. The Disney Company has been attempting to capitalize on the Duffy craze by introducing new characters, starting in 2016 with Shellie May and Gelatoni. Stella Lou joined in 2017 and this year a yellow female dog who is a "foodie" named Cookie has joined the squad.
Olu, a turtle, made his debut at the Aulani resort on July 27. As Mickey Mouse and Duffy were sailing the islands looking for a perfect birthday present for Shellie May, they heard the sounds of a 'ukulele calling them over to a cove where a kindhearted turtle named 'Olu played happy tunes. They decided he would be a perfect present to sing "a special song of friendship and love."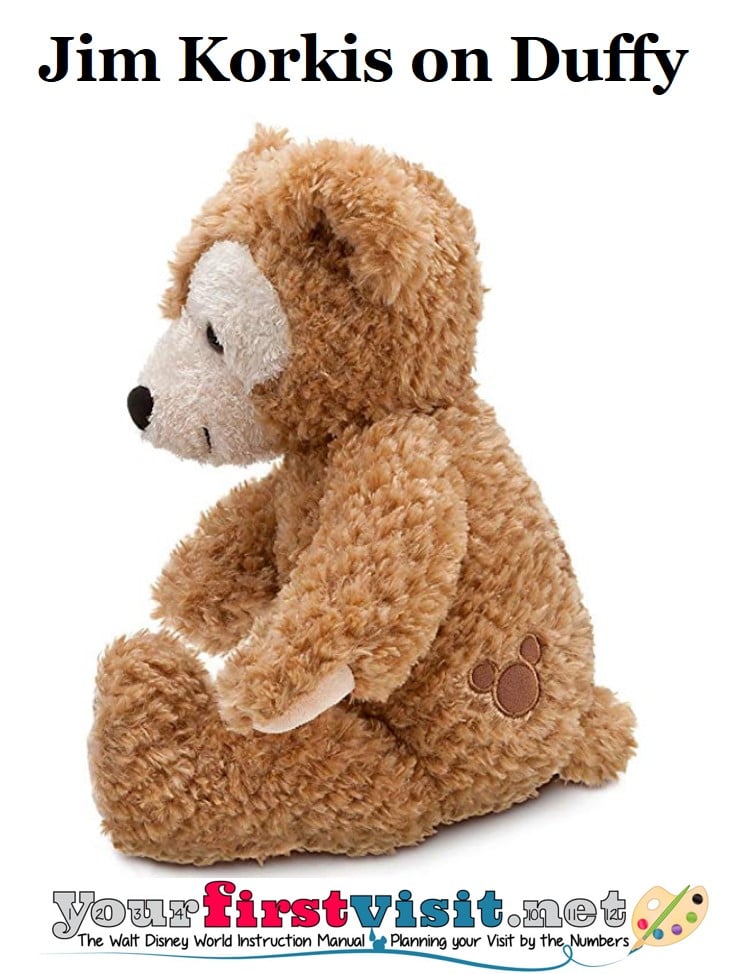 Like many things, Duffy got his start at Walt Disney World. Beginning in 1988, WDW was home to the Disney Teddy Bear and Doll Weekend event that lasted for twenty years, ending in 2008. Disney noticed that Disney-themed bears were generating high prices so with the opening in August 2002 of Once Upon A Toy at Downtown Disney Marketplace, it was decided to introduce an exclusive Disney bear.
Dubbed the "Disney Bear", it was risky because the introduction of the character would not be supported by any previous appearances in animation, comics, records or any other media. Basically, there was the hope that people's love for teddy bears, and especially one with four "Hidden Mickeys" who was meant to be Mickey's friend, would be enough to generate sales. He was only available at Walt Disney World.
Yet, despite all efforts to re-theme the bear, the product was considered a "dud" by the Disney Company, who cleared their shelves and sent the remaining stock to their outlet stores.
The Disney Bear was indeed cute, and the Japanese have always had an affection for things that have cuteness. The product was introduced to Tokyo DisneySea Resort as a special limited promotion for the Harborside Christmas celebration in 2004 in the American Waterfront area. It was still called the Disney Bear.
In December 2005, the bear was re-named Duffy because he was carried in Mickey's duffel bag and marketed not just as a product to sell, but an experience to share. The character definitely fit in with the themes of Tokyo DisneySea including water exploration and adventure which is one of the reasons for Duffy's sailor suit.
Duffy became established as a "photo and fashion" character. In Japan, costumes for Duffy expanded at a frightening rate including many limited editions.
Of course, the Disney Company saw that guests were buying multiple Duffys to carry around as well as all the costumes, so they decided to re-introduce the character in the Disney parks.
The official relaunch was October 14, 2010, at Epcot at Walt Disney World because Duffy was a world explorer, although he was also re-introduced that same day at Disney California Adventure in California.
Officially, the Disney Company maintains that Duffy is not a revised version of the "failed" Disney Bear. Rather, Duffy is a "cousin" of the Disney Bear.
In January 22, 2010, the Oriental Land Company—the owner of Tokyo DisneySea–introduced a "friend" for Duffy, a little girl bear in a soft shade of pink named Shellie May. Actually, at one point, they considered the girlfriend would be a pink cat with polka dots (to theme in with Minnie Mouse) and dark red Mickey head silhouette imprint on her behind. Some prototypes were made.
Duffy brings happiness and Shellie May's slogan is that she brings joy. She especially brings joy to the financial bottom line because the Oriental Land Company launched sets of matching costumes for Duffy and Shellie May, including new matching set costumes for every season. There seems to be no limit to the number of costumes. Nor any limit to the number of new friends for the pair that interconnect with other available merchandise.
The marketing phrase for Duffy is "Where will you take Duffy next?" For the Disney Company the answer is "to the bank….every day."
*  *  *  *  *
Thanks, Jim! And come back next Friday for more from Jim Korkis!
In the meantime, check out his books, including his latest, More Secret Stories of Disneyland, and his Secret Stories of Walt Disney World: Things You Never You Never Knew
, which reprints much material first written for this site, all published by Theme Park Press.


Follow yourfirstvisit.net on Facebook or Twitter or Pinterest!!
RELATED STUFF