Free Dining Early Next Week…or Not?
By Dave Shute
"We've announced that already, right?"
–Bob Iger, Morgan Stanley Technology, Media and Telecom Conference, 2/26/18
Free Dining may drop as early as Monday April 23, later that week, or as late as Monday April 30. The earlier dates (that is, the 23rd or 24th) are widely believed to be the most likely.
Update 4/23: No free dining today. Many rumors that it will come out tomorrow! Rumors also that the first eligible check in date for the general public will be 8/20.
The rumor I posted about last week had it coming out April 27. The source of that rumor—a post from a Brazilian travel agent—has been taken down.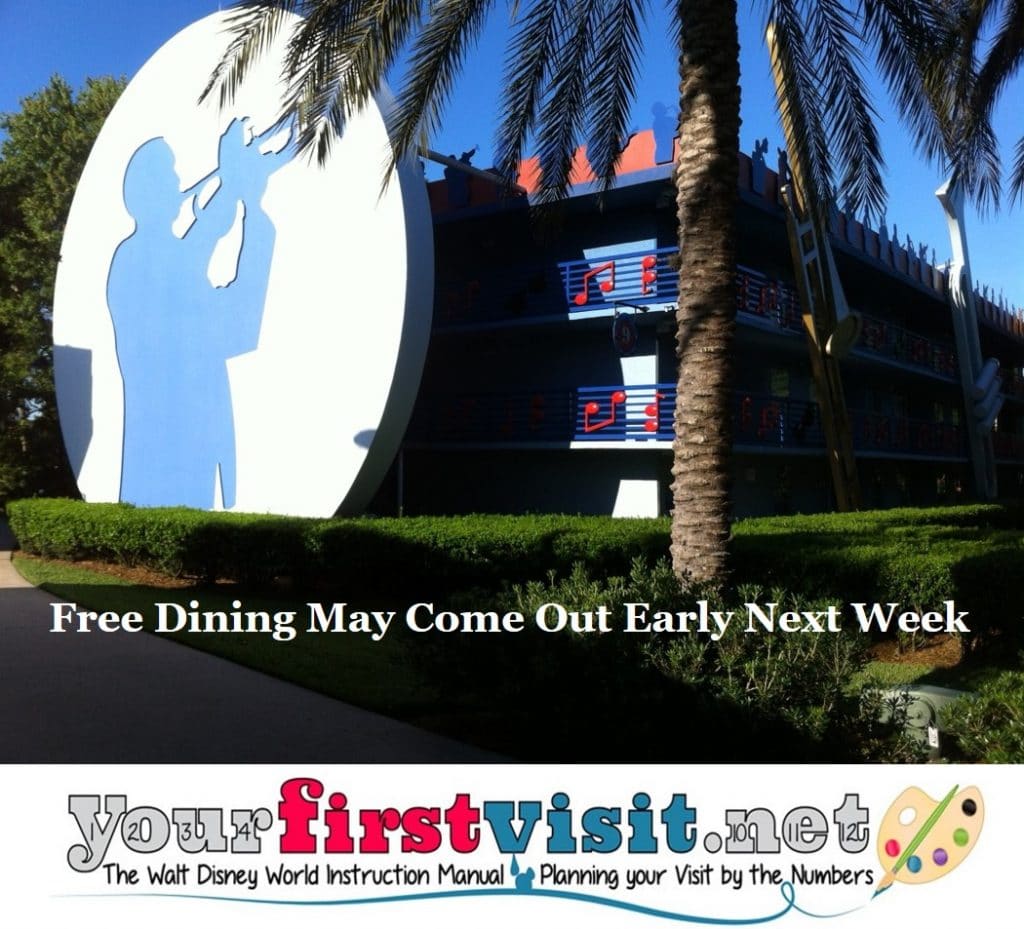 There's a couple of ways you can check to see if it's out and what the details are.
However, I can think of one reason why Free Dining might come out later than the common view of April 23 or 24th. Recall that when Disney raised ticket prices in February, it noted that "later this year" it would be shifting multi-day tickets to seasonal pricing—in effect, a ticket price increase, at least for certain dates.
I've thought since that announcement that one of the most sensible times for Disney to move to seasonal multi-day ticket prices would be after the Toy Story Land mania started, but before Free Dining was announced. That way, the new ticket prices would be in effect for many free dining packages.
Well, with the announcement of FastPass+ tiers at Toy Story Land earlier this week , I think we are in that period. So I would not be surprised to see the new set of multi-day ticket prices come out on Sunday April 22 or early next week, and Free Dining to come out in turn a few days after that—so that folks have some time to calibrate their free dining plans in the context of the new ticket prices.
I am posting this as speculation—it's based neither on a rumor nor a leak. The Walt Disney Company has been—with one exception—pretty tight-lipped about its timing plans for the new ticket pricing other than "later this year."
The exception was a comment by Bob Iger in late February at the Morgan Stanley Technology, Media and Telecom Conference that "we have talked about putting into place flex pricing on the multi-day pass, and that's coming sometime towards the end of the year."
The bald words make an introduction of multi-day pricing in April perhaps look unlikely, but there were a couple of times during this conference when Iger seemed not fully in command of his memory (see the quote at the head of this page). So it is at least conceivable to me that he misspoke…or that seasonal multi-day ticket pricing would go into effect for visits after, say, August 31, still "towards the end of the year," but announced in April…
If something else happens, which I suppose is likely, you can complain to me in person on April 28 at Epcot.
*Note by the way that you can no longer link to this site from Disboards, because an inadvertent, but totally real and totally my fault, violation of its terms of service has led to my site being censored on it until the Second Coming. And don't try to get around the filters, or the entire thread you are posting on might be removed—there's a reason why the free dining thread there is now on its third iteration…

You can still refer to "Dave Shute's site" with no link.
However, I've not yet been banned from Josh's forum, so there's that…


Follow yourfirstvisit.net on Facebook or Twitter or Pinterest!!
RELATED STUFF