A Friday Visit with Jim Korkis: All-Star Movies
By Dave Shute
Welcome back to Fridays with Jim Korkis! Jim, the dean of Disney historians, writes about Walt Disney World history every Friday on yourfirstvisit.net.
THE ICONS OF DISNEY'S ALL-STAR MOVIES RESORT
By Jim Korkis
All-Star Movies was the third and final resort hotel to be completed in the All-Star Complex of value resorts that also includes All-Star Sports and All Star-Music. It features buildings themed to Disney movies.
The Mighty Ducks and 101 Dalmatians sections opened January 15, 1999, the Fantasia (based on both the original movie and its 2000 sequel) and Herbie: The Love Bug sections opened in March, and the final section, Toy Story, opened in April 1999.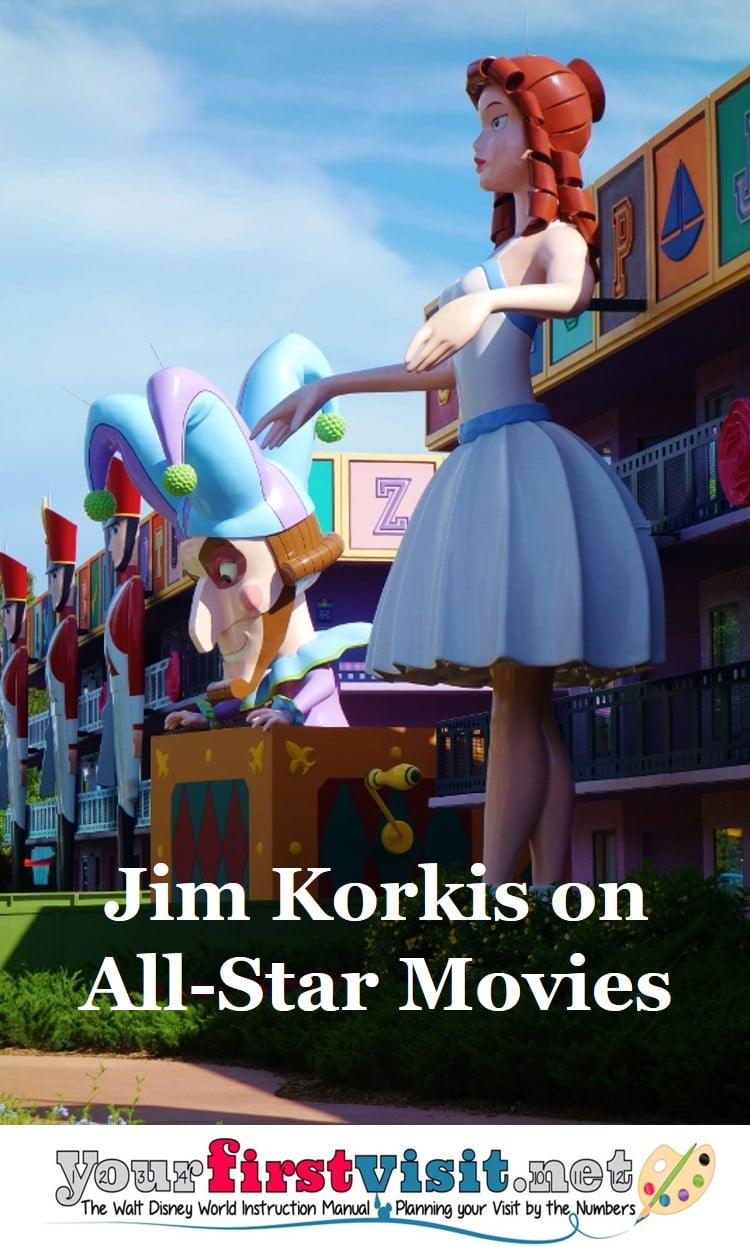 The Disney character icons at the resort were all created at Walt Disney Imagineering's Tujunga facility in North Hollywood, California. (Dave note: images of almost everything Jim refer to in the post are here.)
"The Dalmatians (Pongo and Perdita) are tall but thin. With Buzz Lightyear (forty-seven feet high and weighing thirty thousand pounds) you've got spindly legs topped by a Winnebago. You could literally have an apartment in his chest cavity," said technical director for show production John Nelson.
"It is one of the biggest sculpted pieces Tujunga has ever done. Painting him in terms of time and materials was equivalent to painting fifteen cars."
Pongo is forty feet tall and Perdita is thirty-five feet and their ninety-nine spotted puppies decorate the railings. There is a total of four miles of handrails on the buildings at the resort. Impressions of paw prints and dog bones are embedded in the cement walkways.
The building also cleverly features thirty-six foot high fire hydrants to imply that all those dogs have an outlet for relief.
Woody from Toy Story is only twenty-five feet high but the brim of his cowboy hat measures eighteen feet in diameter. There is a total of 142 Green Army Men with an average height of eight feet tall standing guard on two building rooftops and in the six Buckets O'Soldiers.
Eric Merz, who supervised the structural engineering for the icons, was especially fond of the thirty-six foot tall brooms from Fantasia that carried buckets. He recalled, "As far as taking an inanimate object like that, combining the engineering and making it come alive…Well, when the brooms and buckets got to the field and were all assembled, everyone took a breath and said, 'wow'!"
The Fantasia section contains elements from the sequel Fantasia 2000 that wouldn't be released until a year after the section opened, so special permission was required of Roy E. Disney, who among other titles was then chairman of Feature Animation and the producer of the film.
"It's been a great lot of fun to watch these characters (from the sequel) get replicated in the size they are," said Roy Disney. "The ballerina is such a pretty little thing in the movie – just a six-inch high doll. It's fantastic to see her blown up to this giant size!"
Besides the ballerina, characters from that film included a jack-in-the-box and several toy soldiers.
Herbie is approximately five times his normal size and each car weighs seven tons with tires that are nine feet in diameter.
Imagineer John Hench designed several of the icons working with director of sculpting Valerie Edwards in producing the maquettes used for the final figures. Hench commented, "We use startling icons, beautifully finished in gutsy colors. People smile when they see them. It's one of the magic elements of Disney Parks – engaging optimism."
While the character icons were created at Tujunga, an additional sixty or so other objects were fabricated by outside contractors in Kansas City, Pittsburgh, Providence R.I., New Orleans, Los Angeles and even Orlando.
"There is no one in the country that has the capacity to build all of these," stated construction manager Rob Brown.
*  *  *  *  *
Thanks, Jim! Images of almost all these icons are here. And come back next Friday for more from Jim Korkis!
In the meantime, check out his books, including his latest, Call Me Walt, and his Secret Stories of Walt Disney World: Things You Never You Never Knew
, which reprints much material first written for this site, all published by Theme Park Press.


Follow yourfirstvisit.net on Facebook or Twitter or Pinterest!!
RELATED STUFF