A Friday Visit with Jim Korkis: Your Disney Library (3)
By Dave Shute
Welcome back to Fridays with Jim Korkis! Jim, the dean of Disney historians, writes about Walt Disney World history every Friday on yourfirstvisit.net.
YOUR DISNEY LIBRARY: THE WALT DISNEY WORLD THAT NEVER WAS
By Jim Korkis
I have always had a fascination with Walt Disney World projects that were announced, often with elaborate concept art and detailed descriptions, but for a variety of reasons, usually financial, were never built. Since Walt Disney World is so huge, it has been the home to many such abandoned concepts over the decades.
In 2010, Walt Disney World fans were teased with the prospects of Hyperion Wharf, "a nostalgic yet modern take on an early 20th century port city and amusement pier" that at night would be an "electrical wonderland", taking over the old Disney Springs Pleasure Island location, and also a new Fantasyland concept at the Magic Kingdom presented at the D23 Expo in 2009 that would have had a variety of elaborate Disney Princess meet-and-greet opportunities located within individual princess cottages, including ones for Cinderella and Briar Rose (Sleeping Beauty). Also included in that proposal was a large Disney Fairies area dubbed Pixie Hollow to be completed as the expansion's last phase.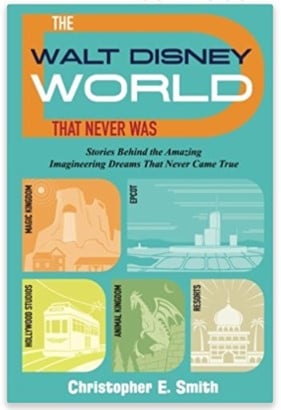 Neither of those Imagineering dreams appear in The Walt Disney World That Never Was, but they are indicative of how many similar proposals have been presented during the nearly half century since WDW has been open that Smith has been able to find more than enough interesting stories to fill roughly 170 pages of text.
Those stories include background information on Thunder Mesa, Fire Mountain, never-built World Showcase pavilions, David Copperfield's Magic Underground, Beastly Kingdom, Buffalo Junction and many more.
When he published The Walt Disney World That Never Was, author Christopher E. Smith didn't have any previous credentials in the world of Disney history, although he now writes articles for Celebrations magazine, a hidden treasure of a slick full-color magazine that focuses on WDW published by Tim Foster that just released its 57th issue. (Copies of that magazine should be in your personal Disney library as well. https://www.celebrationspress.com/)
Smith is a lawyer in Alabama. He first visited Walt Disney World in 1984 at the age of seven and was so enchanted by the place that he returned dozens of times over the next thirty some years.
Unlike someone who personally interviewed Imagineers or had access to proprietary material, Smith's scholarship comes from previously existing printed sources including Disney Annual reports. He does owe a debt to those pioneering writers who earlier explored these topics in depth. However, it is nice to have all of this information, even if it is sometimes incomplete, compiled in one place.
The book is divided into the following sections: Magic Kingdom, Epcot, Disney's Hollywood Studios, Disney's Animal Kingdom and Resorts. Each section has three to five chapters written in a breezy, anecdotal style so that the reader gets a nice sense of what the project might have been and why it was never pursued. In addition, at the end of some chapters are descriptions of some elements that might be found today that were inspired by these plans that were cast aside.
I think that most WDW fans, both those with some knowledge of these stories and especially those with none at all, will be intrigued by what "might have been" at the world's premiere vacation destination. Like most Theme Park Press books, there are no visuals because of both financial and Disney approval reasons but a diligent reader with the information provided in the text should be able to locate plenty of artwork easily on an internet search.
I do recommend you including this book in your personal Disney library even if it doesn't necessarily bring any new information or new perspective to this material because for many of you, it will be your first time ever hearing about these things.
*  *  *  *  *
Thanks, Jim! And come back next Friday for more from Jim Korkis!
In the meantime, check out his books, including his latest, Call Me Walt, and his Secret Stories of Walt Disney World: Things You Never You Never Knew
, which reprints much material first written for this site, all published by Theme Park Press.


Follow yourfirstvisit.net on Facebook or Twitter or Pinterest!!
RELATED STUFF